Babubagan Sarbojanin Durgotsav Committee has "coined" a unique theme that, organisers hope, will gain currency among pandal-hoppers. The pandal at the 61-year-old south Kolkata puja will be decorated with coins. My Kolkata is the digital media partner for Babubagan Sarbojanin Durgotsav.
Theme and decorations
With Maa Tujhe Salam as the theme song, the puja will pay tribute to both Durga and the country.
"From 1947 till date, a number of commemorative coins have been released on important occasions. We have collected such coins and adorned the pandal with them. While some of the coins are original, the rest are replicas," said Sujata Gupta, the mastermind of theme and the club's treasurer.
The idol will be placed in a coin museum. "There will be a coin park. We have also replicated coins made of fibre and plaster of Paris. The original coins are from my husband and father-in-law's collection," said Gupta.
Idol
The clay idol made by artist Sanatan Pal will have a Durga statue engraved in a giant coin-like structure with a diameter of 16 feet. "The idol will be 14 feet tall. Once ready, it will resemble a special commemorative coin," Gupta said.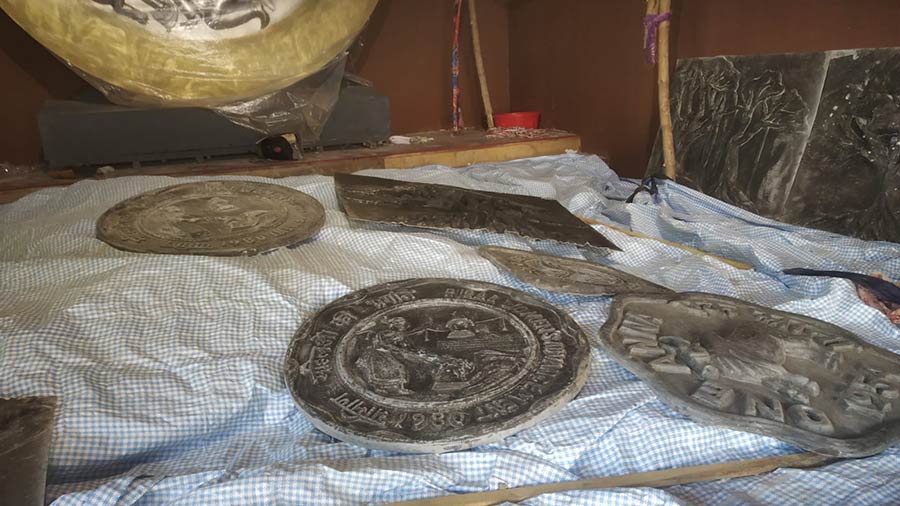 Replicas of various commemorative coins
Photograph: Babubagan Sarbojanin Durgotsav Committee
Theme music
Kalyan Sen Barat has composed a patriotic theme music for the puja. "The song Maa Tujhe Salam has been re-composed and used in a different way by the composer," said Gupta.
Looking back
The Babubagan puja usually focuses on Bengal's rich culture and tradition. In 2018, the pandal was a replica of a terracotta temple. In 2019, the decorations were based on patachitra.
"In 2020, we themed our pandal on Burdwan and highlighted the district's food, culture, and tradition. In 2021, we showcased the renaissance," said Gupta.
Social work
The club organises regular blood donation and health checkup camps. The committee will also distribute new clothes among the destitute.
How to reach
The Babubagan puja is right opposite Madhusudan Mancha. There are three Metro stations from where you can reach Dhakuria – Rabindra Sarobar, Kalighat and New Garia. From there, you can either take a bus or an auto.