Paintings by adolescent students who have remained confined in their homes for more than one-and-a-half years now because of the pandemic reflected their desire to be back on school campus.
Students from the city and outskirts took part in the 48th Sit-and-Draw Art Contest organised by Nehru Children's Museum recently.
Students aged between 12 and 16 were given two topics from which they needed to pick one. The topics were "Classroom" and "Durga Puja". The topics were announced 15 minutes before the competition started, said a museum official.
The competition was organised for two other age groups — 5 to 8 years who were asked to paint whatever they wanted to — and for 8 to 12 years who had to choose between topics "Yaas" and "Your Favourite Day". 
Twelve-year-old Ayantika Das portrayed herself sitting at her study table at home but her mind is transported to the classroom where she is playing with her friends.
"School was not only about studies but also meeting friends and playing with them. I have moved from Class VI to VII without going to school which feels very strange at times," said Ayantika, a student of Baranagar Rajkumari Memorial Girls' High School.
"I would chat or play with friends at school during recess or during the gap of a few minutes before a teacher would enter the class. None of that happens now. The most I can do is speak to my friends over the phone," said Ayantika.
Ayantika secured fourth position in her category.
For Class IX student Shaheed Hussain Laskar, a student of BDM International,  the classroom is now a computer screen.
The 13-year-old's painting shows a student sitting in front of a desktop in his living room, sharing a screen with his classmates.
An image which has been most prevalent during the pandemic whether it is a classroom or a webinar.
"This is how my friends and I attend classes now. When the topic was announced this image came to my mind," said Shaheed.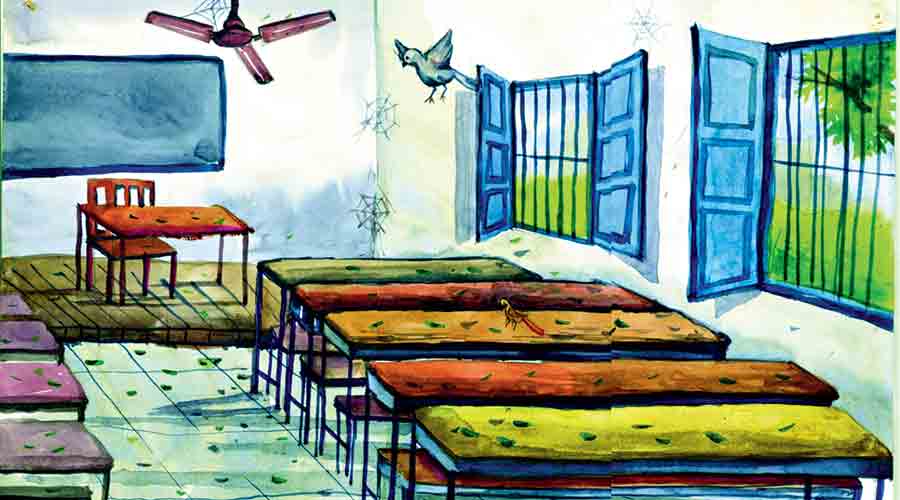 The painting by Raunak Kanti Khan depicts an empty classroom and a lone bird
The first prize went to Raunak Kanti Khan in the 12 to 16 category for his painting depicting an empty classroom.
The desk and benches are empty and so is the teacher's chair and the only living being among those desks and chairs is a bird.
Classrooms have been deserted for months now.
"We understand how the pandemic has impacted children and that they are losing interest in attending classes online," said Indrani Sengupta, secretary of the museum.
"The students did not get time to prepare as the topics were announced only 15 minutes before the event started. Their spontaneous thoughts found a place on their canvases," she said.