Two films by Satyajit Ray, Pikoo (1980) and Shakha Proshakha (1990), were screened at a special film night hosted by Chaitown Community on May 27 and 28 in collaboration with the Ray Society and its official merchandising company, admiRaytion. Chaitown is an artist's collective based in Lake Gardens well-known for its lively open-mic and storytelling meet-ups. In the month of his 102nd birthday, the Satyajit Ray Film Night was envisioned as a tribute to the peerless filmmaker cherished and revered by Bengalis and beyond.
"At Chaitown, we've been thinking of hosting film nights for a long time and we've finally come up with one. More such events would help keep the spirit of filmmakers like Satyajit Ray alive," said Akash Chakraborty, creative consultant at Chaitown Community. He added, "Pikoo and Shakha Proshakha are the only films that Satyajit Ray owns the complete rights to, which has aided in the effective screening. Both the films are very urban. The socio-political contexts, especially with regards to Shakha Proshakha, are as relevant today as they were back then. Corruption, immorality, family tussles, failed marriages and their impact on children have grown manifold in today's day and age. Ray, in his depiction of his characters struggling through society and life, was way ahead of his time."
On May 27, the short film Pikoo was screened. Ray created Pikoo for a French television channel and it happens to be one of his earliest works. "Pikoo is Ray's equivalent of an art film that hasn't been seen much by our audience. So, selecting it for our film night was instinctive," said Chakraborty. Pikoo is a 26-minute film adaptation by Ray based on his short story "Pikoor Diary". The story follows a lonely six-year-old boy living with his parents and grandfather. The protagonist, Pikoo, is deeply impacted by his parents' failed marriage and finds solace in his grandfather. Meanwhile, Pikoo's mother seeks solace in a man named Hitesh due to her husband's indifference. These events greatly affect Pikoo, and the film ends with him being unresponsive to the trauma of finding his beloved grandfather dead. This is Ray's way of portraying the silent grief experienced by young children in broken families.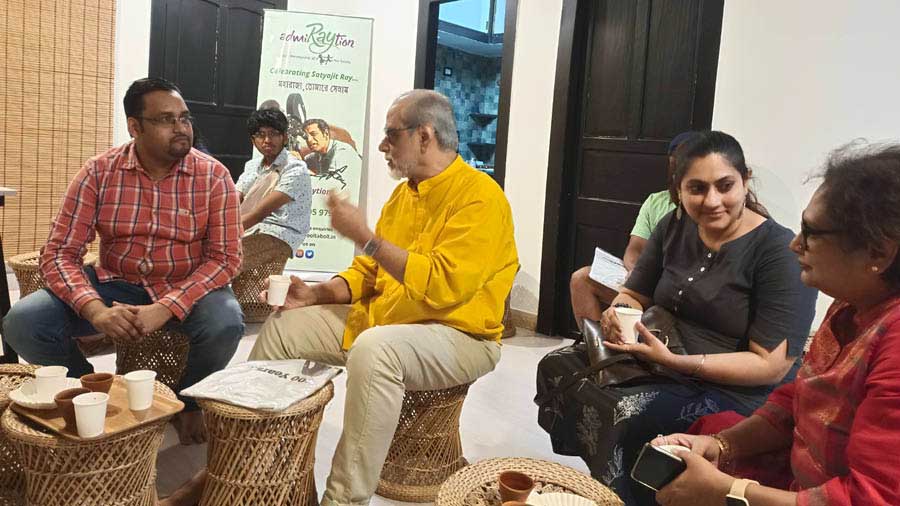 Film nights help to understand films in new perspectives through exchange of opinions, said Ray scholar Ujjal Chakraborty.
Chaitown Community
"He keeps the news of his grandfather's death a secret because he knew how unwanted the old man was in the eyes of his parents. However, this secrecy also symbolises a fresh start for Pikoo. When he goes to the balcony to paint the picture of a flower after witnessing his grandfather's death, Ray masterfully shows Pikoo turn the page where a raindrop had smeared the black colours before and destroyed his painting. Ray doesn't show us what Pikoo is drawing on the new page to imply that he doesn't know what lies in front of him but that he's ready to pick up his colours and paint. That's Ray's way of infusing hope about this little child and, in turn, about ourselves. Ray projected his own philosophy through Pikoo in his film," said Ujjal Chakraborty, recipient of the National Film Award and a widely known scholar on Ray.
Ray's film Shakha Proshakha, which was released a decade after Pikoo, was screened on May 28. The story revolves around the family of a retired industrialist, Ananda Majumdar, who has always lived by the ideals of "work is worship" and "honesty is the best policy". He lives with his son, Prashanta, who suffers from mental illness after a road accident, while his three other sons live apart. While on his sick bed, his sons pay him a visit and they leave with the old man realising that he has been living a facade— his sons are not the spitting image of their father's honesty. They are corrupt to their very core.
"All of Ananda's sons, except Prashanta and Protip, are corrupt. Instead of admitting their faults, they go on to justify themselves throughout the course of the film. Du nombori or corruption has been redefined by the characters in a vicious cycle of sorts," said Ujjal Chakraborty. He added: "Film nights like these are very important. People from all ages gather in front of a screen and watch these movies with rapt attention until the end, even though they've watched them a hundred times before. It helps to understand the film from new perspectives, aided by an exchange of opinions with various minds."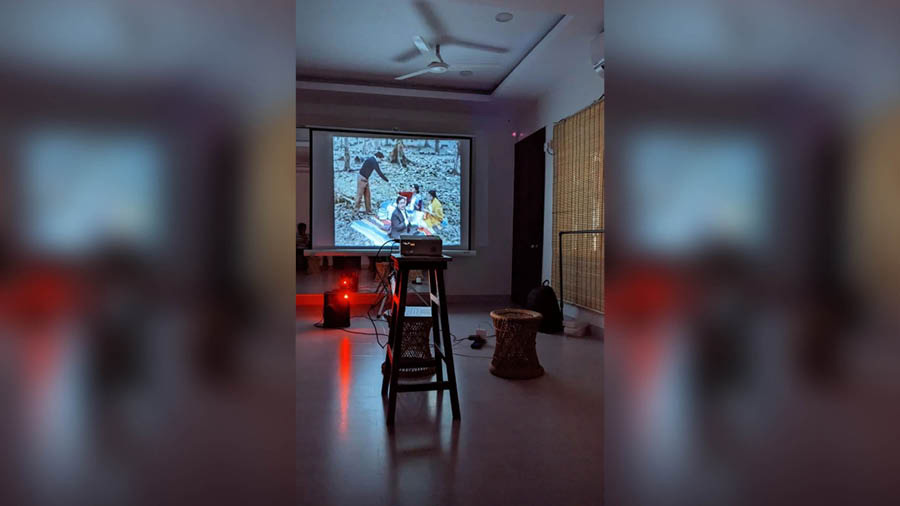 The films were screened in their original Bengali versions with English subtitles.
Chaitown Community
Rahul and Devina Mukherji, founders of admiRaytion, were a part of the audience and shared their views on the screening. "This film night was an effort to keep Ray's legacy alive across generations," said Devina Mukherji. "The last scene from Shakha Proshakha was particularly striking for me. It was a moment of truth and revelation to the patriarch of the family about his sons being corrupt. He is shattered on his sick bed as a father and as a human being. Ray has demystified the ethics of society and the people who infect the system," said Rahul Mukherji. Ray merchandise by admiRaytion are available online on Flipkart and Meesho.
Taylen Hippolyte, an intern with Chaitown from the US, also shared her thoughts about the films. "Despite the language barrier, I put together the context with the help of the subtitles. I really loved the family dynamics and the depiction of childhood in the films. Film nights like these are a great way to socialise and form new bonds, something which I'm really looking forward to with my internship here at Chaitown," she said enthusiastically.