Shared food habits and heritage and the love for a common language — Bangla — tug at the heartstrings of Epaar Bangla and Opaar Bangla, notwithstanding the barbed wire fence that divides the two lands.
This bond between Bangladesh and West Bengal was strengthened as students from both sides of the border take part in a series of debates.
The inaugural debate was held at Techno India University on July 18. Four students each from India and Bangladesh spoke in favour of and against the motion 'Bangla Bhaaber Bhasha, Kaajer Noye'.
On July 19, St. Xavier's College, Kolkata, hosted a debate on Sab Granthagaar-e Jadughore Porinito hoche. Ekbingsho Shatabdite Rabindranather Prasangikta Mriyomaan was the motion of the debate at Visva-Bharati, Santiniketan, on July 20. The Dhaka delegation debated with students of Calcutta University on Upamahadeshe Shashoker Aain Chhapiye Gechhe Aainer Shashonke at Netaji Bhavan on July 21. Adamas University, Barasat, witnessed a debate on Reality Show Bangla Sankritike Noshto Kore Dichhe.
The final debate will be held at Jadavpur University on July 23. The topic: Shikhkhar Adhikar Ache Medha Nei.
The inaugural session at Techno India University was attended by special guests and dignitaries.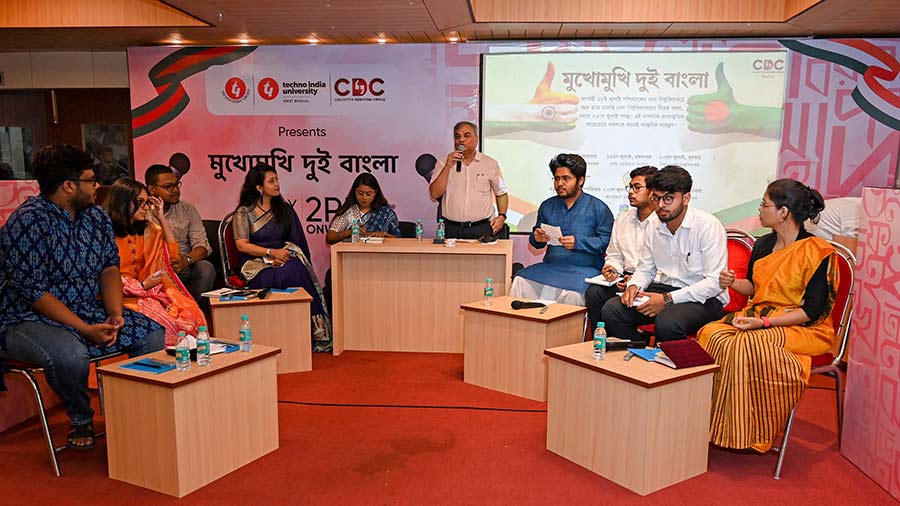 The debate was chaired by Pradeep Gooptu, trustee, Calcutta Debating Circle
Amit Datta
"We welcome cardiac surgeon and CDC president Kunal Sarkar, Bangladesh deputy high commissioner Andalib Elias, essayist-lyricist Chandril Bhattacharya, and filmmaker-actor Ashoke Viswanathan. We encourage debating as it inspires one to learn and express one's view," said Techno India Group co-chairperson Manoshi Roy Chowdhury in her welcome speech.
Four students each from India and Bangladesh spoke in favour of and against the motion Bangla Bhaaber Bhasha, Kaajer Noye.
Meftahul Islam Pantho, a student pursuing a master's degree in Philosophy from Dhaka University; Israt Jahan Noor Eva, who is pursuing an MPhil degree in Cultural Movement from Dhaka University; Srijoni Ghoshal, a third-year student at the Department of Bengali, St. Xavier's College; and Srijit Talukdar of the Department of Law, St. Xavier's University, spoke in favour of the motion.
Those speaking against the motion were K.M. Najib Hayder, a fourth-year BBA student of Dhaka University; Techno India University students Surosree Paul, fourth year, Electronics and Instrumentation Engineering; Shourjyo Sen, second year, Electronics and Communications Engineering; and Tamojit Misra, third year, Electronics and Communications Engineering.
All the arguments and counter-arguments were summarised and critiqued by Shahrima Tanjin Arni, who is pursuing a master's degree in Law from Dhaka University, at the end of the debate.
"This is my first time in Kolkata. We got the topic only last night and got to know who would be speaking for or against the motion just after reaching the venue. But that was all right because we follow Asian Parliamentary Format at any debating event in Bangladesh — we get the topic precisely half an hour before the debate starts," said Pantho.
"I have been debating for about nine years. I like it because a vigorous debate proves that there's no absolute truth. Debating becomes fiercely competitive in Bangladesh and feelings sometimes run high. But here the audience is more involved and attentive,'' he explained.
Recalling the process of entering names for the debate, Tamojit said, "We auditioned for taking part in the debate. We had thought it would be in English, but later came to know it would be in Bengali. This is the first time I took part in a debate in Bengali language. I had to balance regular classes while preparing for the debate. My father helped me a lot during this journey."
These debates are open to all, and one can contact the Calcutta Debating Circle should they want to visit any of the remaining debates.