The Ballygunge Government High School Alumni Association (BGHSAA) put together a special Vijaya Sammilani called "E Lagan Gaan Shonabar" on October 16 on the school premises. Close to 400 alumni and their families were a part of the event — from those who had graduated in the 1950s to the most recent batch of outgoing students in 2022.
In the welcome address titled "Back to school, back to roots", BGHSAA president Sumit Ghosh and general secretary Judhajeet Mukherjee paid tribute to the recently deceased alumni of the school, including Amitava Chanda and Dilip Samajpati, "the pillars of our association". Soon after, a soulful homage was presented by the latter's wife, Rukmini Mukherjee, through a performance of Rabindrasangeet.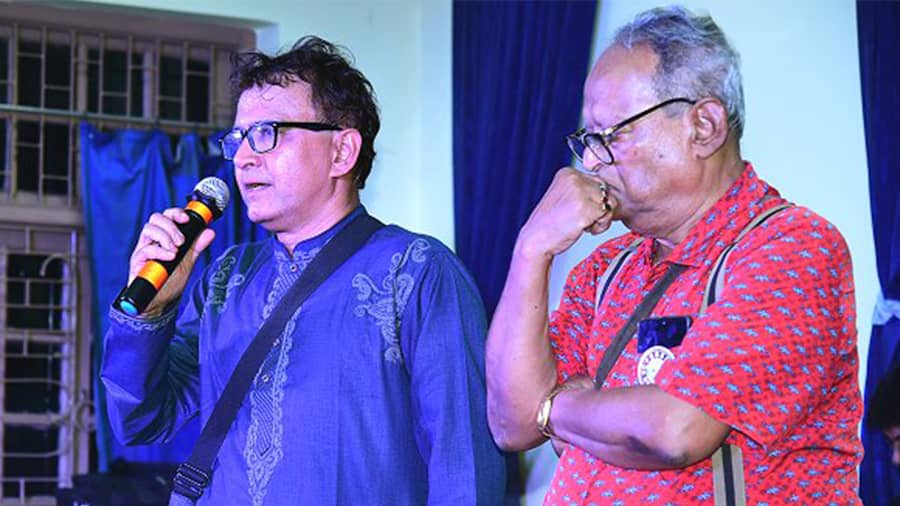 Judhajeet Mukherjee (left) along with Sumit Ghosh during the welcome address
Ballygunge Government High School Alumni Association
The cultural programme that followed featured a musical duet by alumnus Soumya Shankar Roy and his wife Amrita Roy, which regaled the audience with Bollywood as well as Bengali classics. Besides, the late autumn evening included songs by Gautam Sheel, a recitation by Dia Roy Choudhury, instrumental music by Shubhendu Shekhar Das and a Kathak performance by Sushmita Chatterjee and her team. Several artists and musicians were felicitated at the event, with the entire programme running according to the directions of Sanjay Dasgupta. Among the prominent alumni who graced the occasion were Prasad Ranjan Roy, former additional chief secretary, government of West Bengal; Debasis Ghosh, retired chief engineer, PWD; paediatrician Arunalok Bhattacharya; former ISL and I-League footballer Souvik Biswas; media and advertising professional Yadav Sen; and sports administrator Koushik Mukherjee.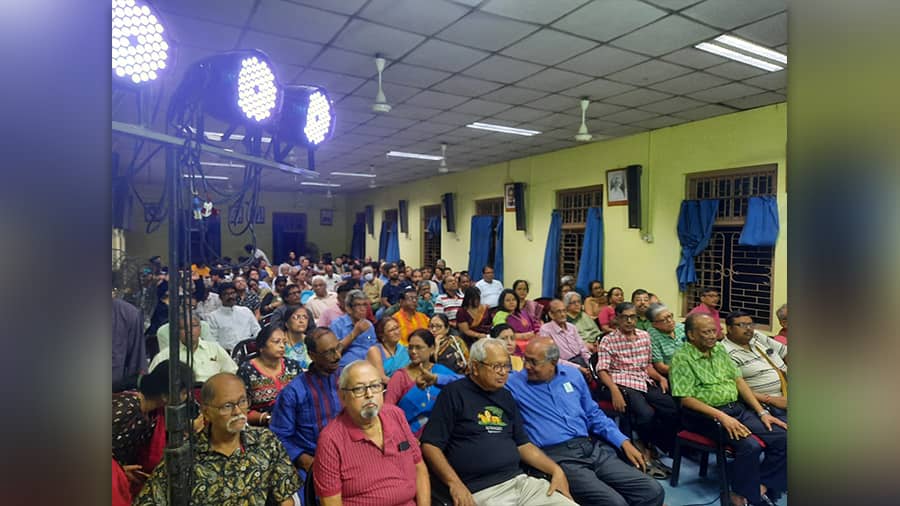 A couple of more events are lined up on the school's calendar for the upcoming winter
Ballygunge Government High School Alumni Association
"All of us were thrilled to be reunited with our childhood friends decades later. The event was a great success! We hope to meet once more in the forthcoming sports carnival and our gala reunion, both of which are planned for the winter," said Judhajeet Mukherjee, who is also a cricket coach and former Bengal player.