"Equality is non-negotiable," is Onir's simple but firm stand. That and more were in focus at the latest session of An Author's Afternoon, Prabha Khaitan Foundation's signature literary event, organised at Taj Bengal, in association with Shree Cement Limited, with My Kolkata as digital partner.
The filmmaker, screenwriter and producer best-known for his film My Brother…Nikhil, which dealt with AIDS and same-sex relationships, was introduced to the audience by Esha Dutta, Ehsaas Woman of India. Onir has recently turned author with I am Onir and I am Gay: A Memoir.
Onir, the maker of I Am — India's first and largest crowd-sourced film on social media in India which focuses on single motherhood, child abuse and LGBTQIA+ rights — was in conversation with Sandip Roy, writer, journalist and broadcaster based in Kolkata.
Excerpts from the session…
'When I was born, my grandfather named me Antigonius'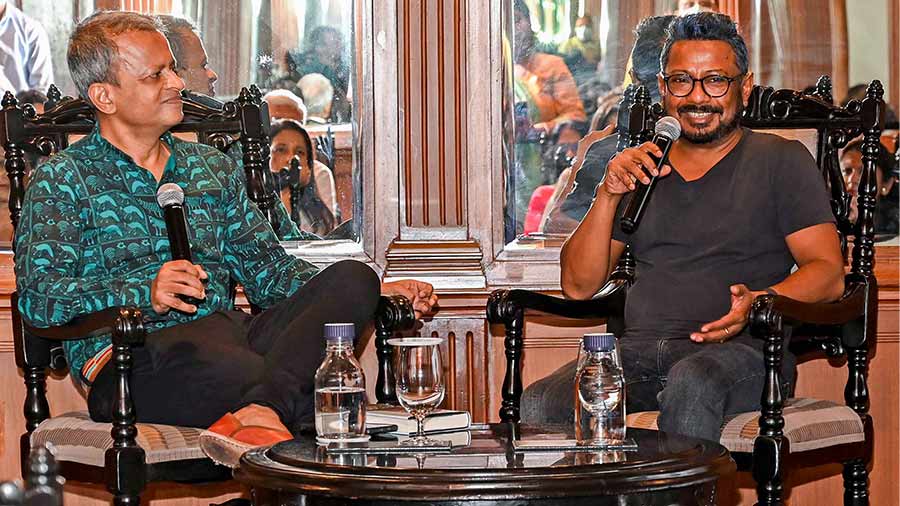 Onir was in conversation with (L) Sandip Roy at Taj Bengal
The conversation began with Roy expressing his curiosity about how and why Anirban Dhar became Onir and how the boy from Thimphu came to Kolkata.
"When I was born, my grandfather named me Antigonius and my sister Irene. She's still Irene. But from Antigonius, I went on to become Shantoshir, Debashis and Anirban, before finally naming myself Onir," the filmmaker said.
Onir landed in Kolkata from Thimphu with "a bagful of fears", which even included how best to cross a street so big and wide.
Having grown up in a completely matriarchal society, where men and women were truly treated equally, Onir was "unnerved" to see his sister being harassed and teased all the time. "In two years, I changed almost 28 hostels, paying guest and other accommodations. I couldn't get up on buses as they were always so crowded. All this changed after I joined Jadavpur University and met some wonderful people," he said.
Onir studied Comparative Literature at Jadavpur University and it proved to be a revelation of sorts. "For the first time, there was this professor speaking about Greek literature and sexuality without looking down upon it. That was my first exposure to knowing and understanding what it means to be gay. I was in JU when Hanif Kureishi came on campus. He had just made My Beautiful Launderette and as I was watching it, I could relate to it. Seeing the film, I could tell myself that yes, this is me."
'I've stopped analysing things and started living in the moment'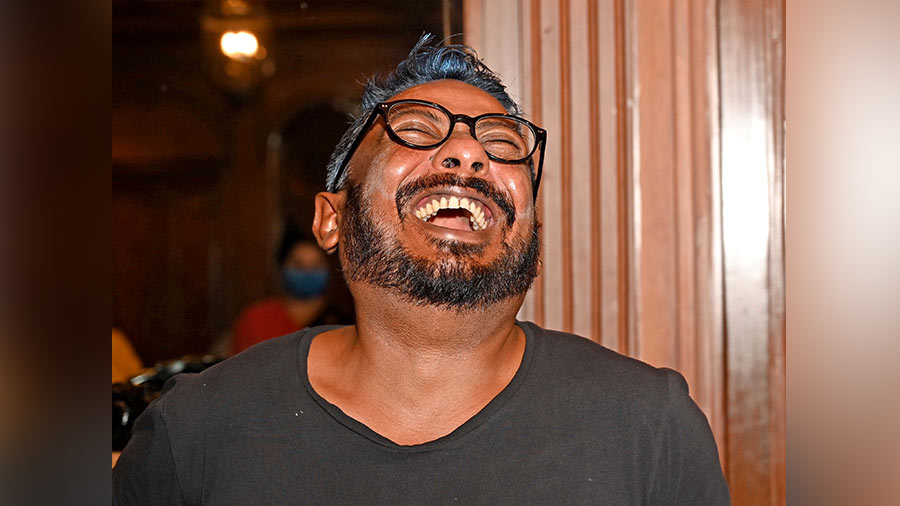 The conversation came to life with several candid moments as Onir spoke about his journey as a filmmaker
It was Shyam Benegal's Junoon and the role of Nafisa Ali that inspired Onir to make films. He also acknowledged the deep impact that Ritwik Ghatak had on his life, how he connected immensely with the theme of homelessness – something he too had experienced on moving from Thimphu to Kolkata – in Ghatak's films.
Coming to his book, I am Onir and I am Gay: A Memoir, Onir said: "While writing the book, I realised that through every relationship I've somehow been able to let go of all things negative and treasure what was most beautiful. Gradually, I've also stopped analysing things and started living in the moment. I don't plan or think too much about where any relationship is going to take me. At the same time, I feel extremely empowered by the fact that the friends I have are my family."
On why Onir chose his sister to help him write and edit the book, he explained that she is the one who "knows and understands me best".
"There are a lot of things about my childhood that she remembers better, since her memory is sharper than mine. I'm a disaster when it comes to spellings, grammar and so on and I knew that I'd be in safe hands as she has always been correcting my linguistic outpourings on other platforms," the filmmaker-turned-author said.
'The more you get empowered, the more resistance there is'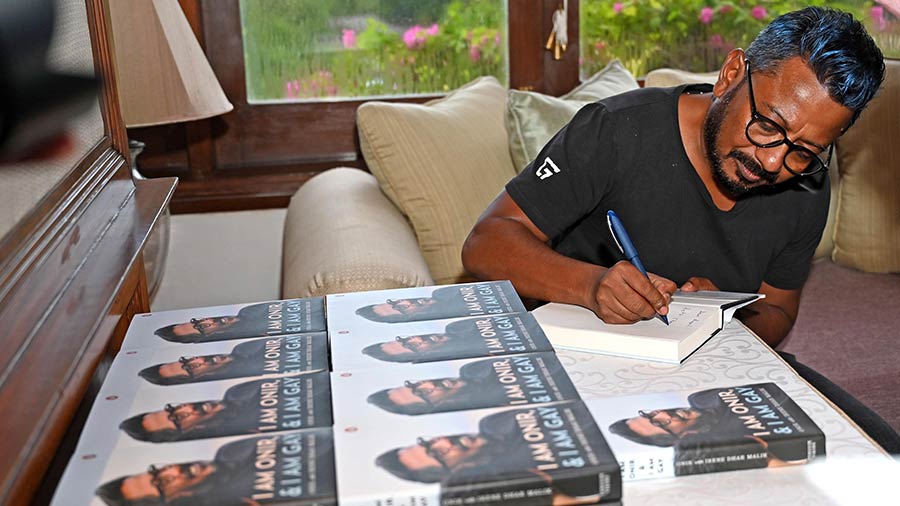 Onir signed copies of his book at the end of the session
Onir addressed the issue of decriminalisation of homosexuality in India (2018) and how it has impacted the queer community. "The struggle today [for the queer community] is a lot similar to the one being waged by women wherein the more women get empowered the more resistance there is. There is a resistance from the powers that be which dictates that no, they (queer individuals) cannot be equal. In Pine Cone (his latest film), I have rebelled against all this and tried to depict a gay person going through different stages of his life, which eventually makes him cynical and disillusioned about love and relationships."
The discussion drew to a close with the presentation of dokra handicrafts to Roy and Onir by actor Shayan Munshi.
***********************************************************************************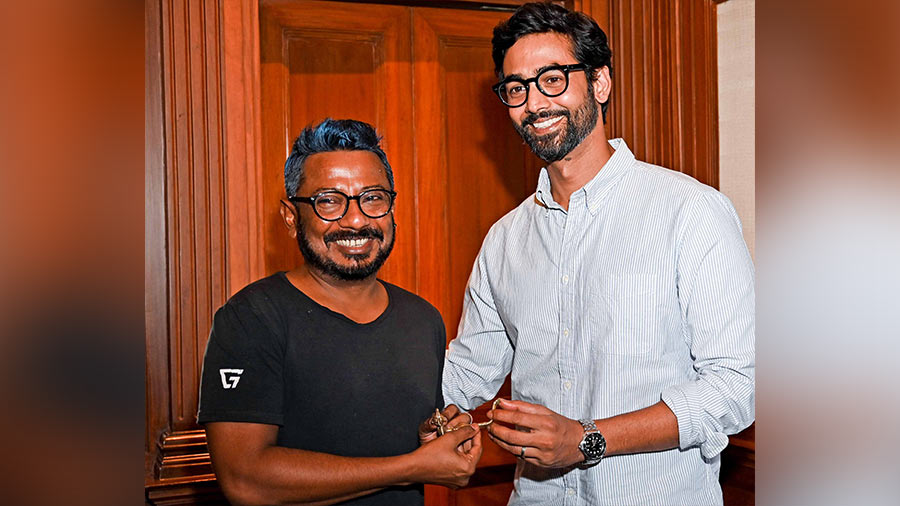 Actor Shayan Munshi handed over dokra mementoes to Onir
"It was great to see Onir after so many years. It's also great to see that conversations of this nature are happening and so many people are comfortable with them. Sexuality is just a preference, and we are all humans with our own preferences. That's what Onir's stories talk about and I think we should celebrate that."
— Shayan Munshi, actor and entrepreneur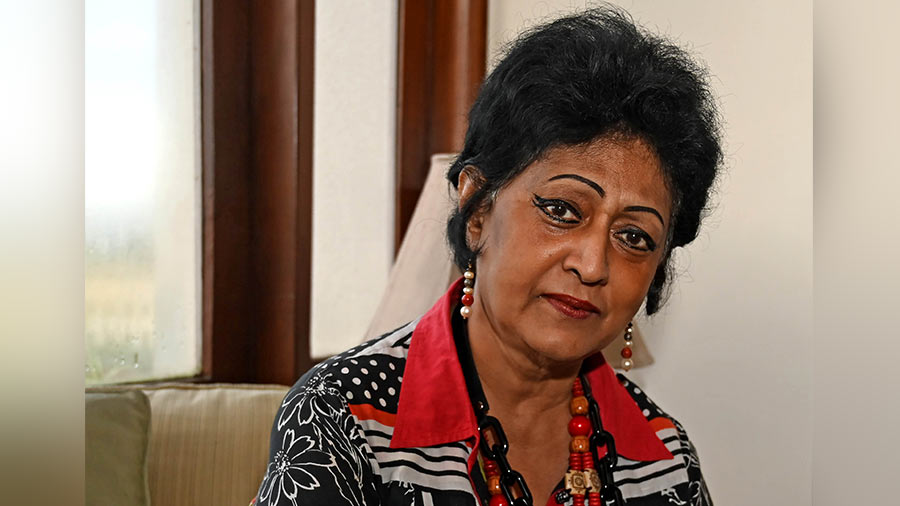 Oindrilla Dutt
"I found this to be a wonderful session because of its frankness. Not everybody speaks out so clearly. I really liked the fact that Onir spoke so openly and Sandip handled it so well with so much sensibility – I think that can really inspire. Not just if you're in the same boat but also for other people to change their attitudes."
— Oindrilla Dutt, broadcaster and columnist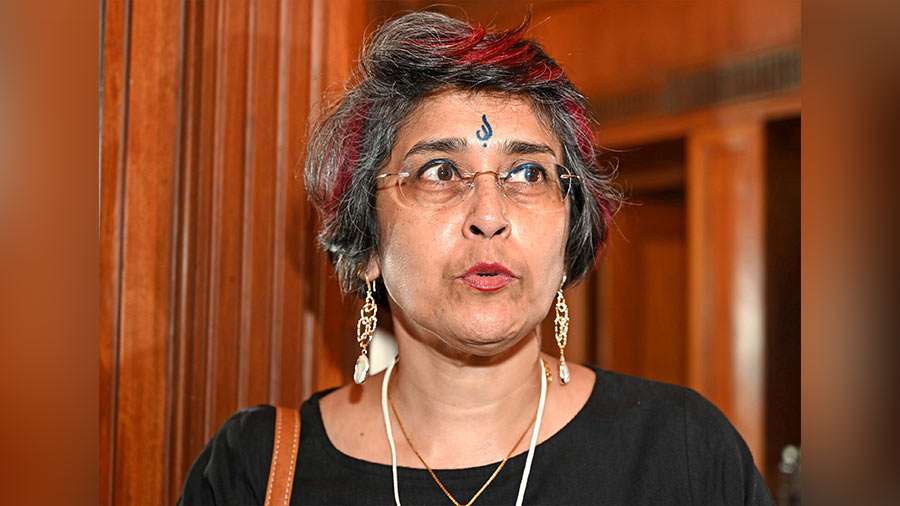 Jhuma Basak
"I'm just delighted to see Anirban – we still call him Anirban — celebrating his life in this way, his work, his great passions, both in terms of cinema and interacting with people, and writing for the first time. I'm really happy and proud to be a part of his life."
— Jhuma Basak, psychoanalyst