The century-old Victoria Memorial Hall hosted a special illustrated talk by professor Arindam Chakrabarti on August 5 to celebrate the 150th birth anniversary of Abanindranath Tagore.
Chakrabarti, professor of philosophy at the University of Hawai'i at Manoa, spoke on 'The Nation and its Art: Why we cannot 'nationalise' Abanindranath's philosophy of art?' in front of a full house at the Victoria Memorial conference hall. Historian Tapati Guha-Thakurta chaired the talk.
Victoria Memorial curator and secretary Jayanta Sengupta delivered the welcome address. "We [Victoria Memorial Hall] are now, perhaps, the largest and the most representative collection of Abanindranath Tagore's works, essentially because we have the very famous Rabindra Bharati Society collection. We have been celebrating this occasion [Abanindranath's 150th birth anniversary] since 2020 with mostly online events and talks. But now it's a real privilege and honour to have Professor Arindam Chakrabarti," said Sengupta.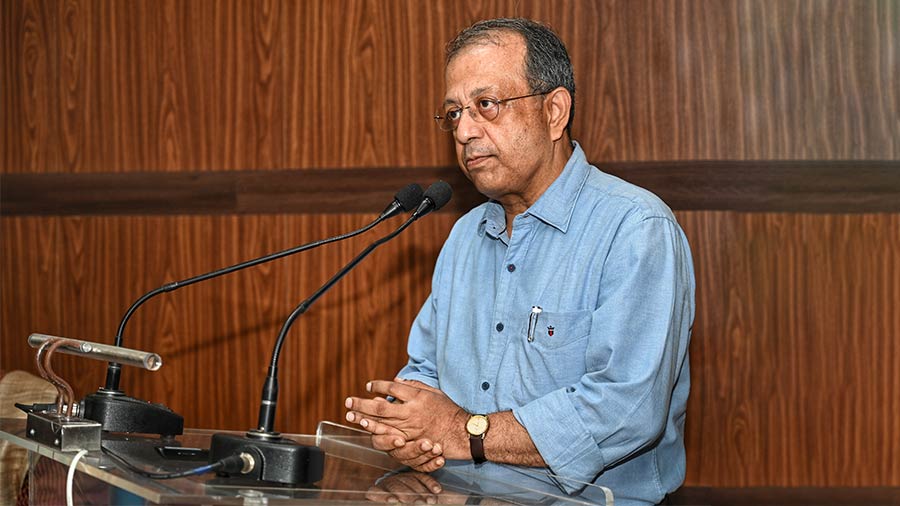 Jayanta Sengupta welcomes the audience.
Amit Datta/My Kolkata
The Four Pillars
After speaking on the nation and then the art, Chakrabarti shifted to 'Why the marriage between Nation and the Art would not be a happy one' before concluding with Abanindranath's philosophy of art.
Nation: Chakrabarti explained how "Abanindranath got the reputation of being a Nationalist painter because of the painting of Bharat Mata in 1905. Abanindranath uses jaati as a translation. Rabindranath Tagore disliked the translation of Nation as jaati. But there is another jaati translating to the universal property, that which is eternal in concept. Jaati means our own way of distinguishing European ways. Also, how large should the class be for the common characteristics to be counted as a jaati?"
Art: The terminology used to define art has been much debated upon. The professor continued: "Rabindranath used the alternative word 'kala' to denote the art faculty and not 'shilpa'. Shilpa has also become the translation of industry. If you have to bring shilpa into art then it has the tendency to become artisans or craft. Whereas kala seems more like the hallmark of art. Therefore, my argument, which is a summary of Abanindranath's argument, is that art must be useless. My second point is that nation is a multi-purpose utilitarian and massively useful entity.''
Marriage of nation and art: Chakrabarti explained why Abanindranath thought that the unison between nation and art was impossible. Buttressing his point, he continued: "Art can be national but in reality, art cannot be called so. It is a wayfarer, always on the go. It [art] does not live locked up. Art travels all the time. It is never fixed and that is why it is not national. This is an argument from the organic, dynamic, fluidity of art, which is incompatible with the essential frozenness of a generic national stereotype. For example, all Indian art must be spiritual, that is the stereotyping. Art is about sharing, freedom, necessity without compulsion and having purposiveness without a purpose."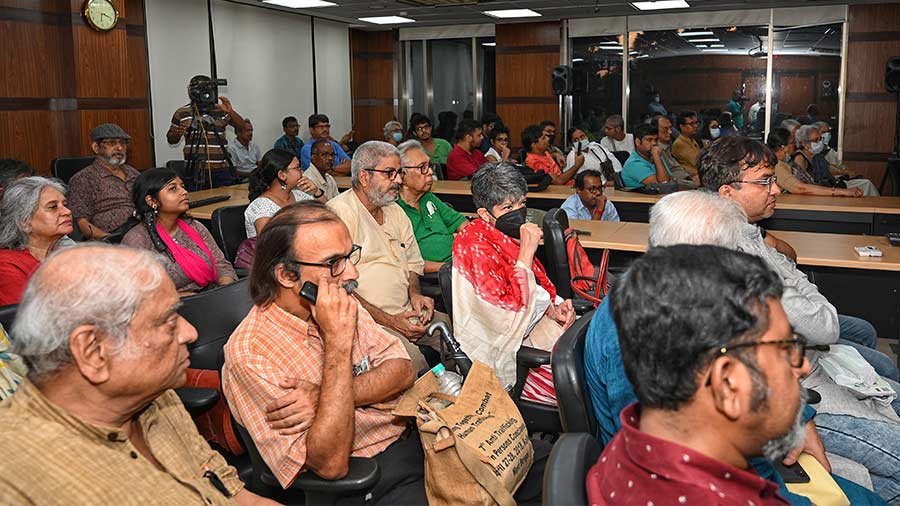 The attendees listen in rapt attention.
Amit Datta/My Kolkata
Abanindranath's ideology: Chakrabarti showed several of Abanindranath's artwork and decoded his primary argument that art must be useless and is fluid in nature by highlighting elements that might not have any apparent connection to the artwork but still found a presence in it. For instance, his artwork from the Arabian Nights series, where one painting had a cat and a sewing machine and a figure loosely modelled on his grandfather Dwarkanath Tagore with the British. He called it Abanindranath's idea of "bringing Arabian nights to the contemporary".
Abanindranath's main idea of art being useless seems to get lost in his later works where a purpose is found. Chakrabarti cleared the confusion: "What is common among all horses? There is nothing in common among horses. The only thing common is that they are not non-horses. Abanindranath is like that. The only thing common about all his works is that. It's not because you and I disagree, it's because Abanindranath disagrees with himself."