Set up by the National Council of Science Museums, Science City is one of the most popular tourist attractions of Kolkata. The science centre, which has various sections dedicated to making the learning and understanding of science fun for people of all ages, recently completed 25 years of continuous service towards the popularisation of science. To celebrate this glorious journey, Stagecraft Foundation, a philanthropic organisation that aims to give recognition to the behind-the-scenes workers of the entertainment industry, is collaborating with the National Council of Science Museums, government of India, to organise a slew of events over a period of three years, in association with The Telegraph. A three-year pact to this effect was signed between the two organisations at Seminar Hall, Science City on May 3 in the presence of the director of Science City, Anurag Kumar; singer Usha Uthup; and the core team of Stagecraft Foundation —Gautam Jain, Shiladitya Chaudhury and Didyendu Lahiri.
The events to be held at Science City's live stage arena will be designed to provide high-voltage live, immersive experiences that will celebrate the diverse forms of the performing arts including music, dance, theatre and others. The Annual Stagecraft Awards, Annual Stagecraft Conclave and the Annual Stagecraft Musical Series are the three big-ticket events that will be organised each year. Besides, there will also be an annual two-day media conclave. As part of the Annual Stagecraft Musical Series that will pay tribute to a music genius, the foundation plans to celebrate 50 years of Usha Uthup's music career on November 8 this year.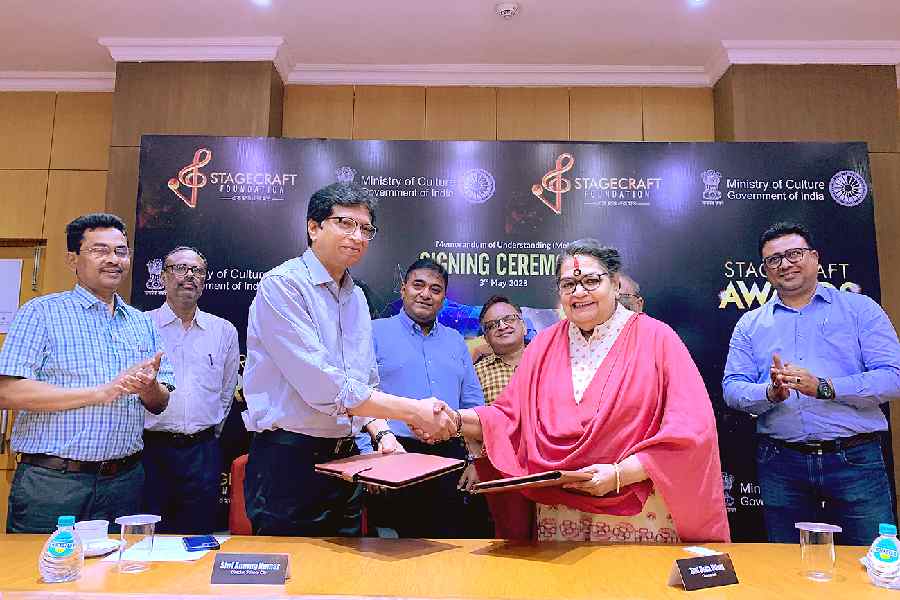 (L-R) Shiladitya Chaudhury, Anurag Kumar, Usha Uthup, Gautam Jain and Dibyendu Lahiri at the MoU signing ceremony
"Stagecraft Foundation acts as a knowledge platform for the craftsmen working behind the stage. Stage production is incomplete without a team of craftsmen; they never face the limelight but always provide their best while staying behind the curtains. At Stagecraft Foundation we try to bring these unsung heroes of show business into the arclights and transform this mission into a 'khushiyon ka rangmanch' for them. We are elated to have a valued association with the National Council of Science Museums, government of India, for arranging a series of events in the coming years at Science City. Science City has positioned itself as a pride of Calcutta and transformed the concept of science centres into an immersive experience. I am hopeful this association will help us nurture those talents who never take the front seat but are an integral part of any show and play a crucial role in the smooth execution of any event," said founder trustee and chairperson of Stagecraft Foundation, Usha Uthup.