Bengalis love their mishti as much as they love Durga Puja. In Bengal, every celebration calls for mishtimukh and no meal is complete without sesh paate mishti (a sweet for the last course).
The Santiniketan Society for Youth Empowerment, an NGO that takes skill-building initiatives, invited people to share rare and little-known family recipes, the best of which were given a space at the unique Sabeki o Harano Mishti Carnival. The event took place on September 25 at Ichhapuran Community Hall, Kasba, where My Kolkata dropped by and chose five 'extraordinary' sweets.
Pestar Payesh
Prepared and presented by Jayeeta Ghosh, Pestar Payesh is a rich, creamy Bengali dessert, full of crunchy pistachios with the right amount of sweetness. "It is a special recipe from the kitchens of Nadia Rajbari and dates back to about 100 years. I procured the recipe and made this delicious sweet for the carnival. Pistachio paste is added to kheer before it is cooked,'' said Ghosh, adding, "Crushed pistachios and dried rose petals are again added as garnish, which not only give it colour but also enhance its look and taste." Ghosh works as a chef at her own cloud kitchen, Go Grashe, and is based out of Santoshpur.
Paan Modak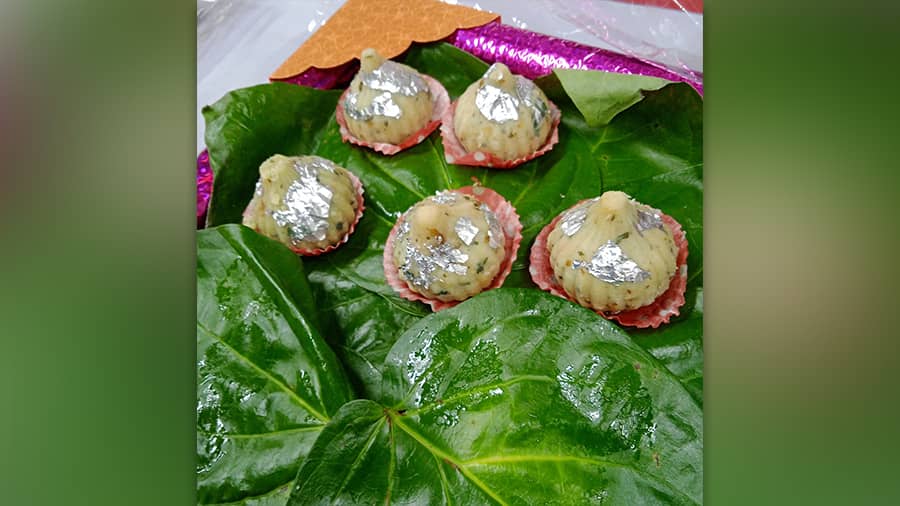 Enjoyed modaks during Ganesh Chaturthi? Now, Kolkata has its own tasty variation. Banya Mandal's Paan Modaks were a hit at the event, with two trays completely sold out even before the event was halfway through. A homemaker and a resident of Bosepukur, Mandal said, "Today, I have got Paan Modak, made of kheer and crushed Paan pata. The stuffing is made with Paan masala and dry fruits.''
Fusion Mishti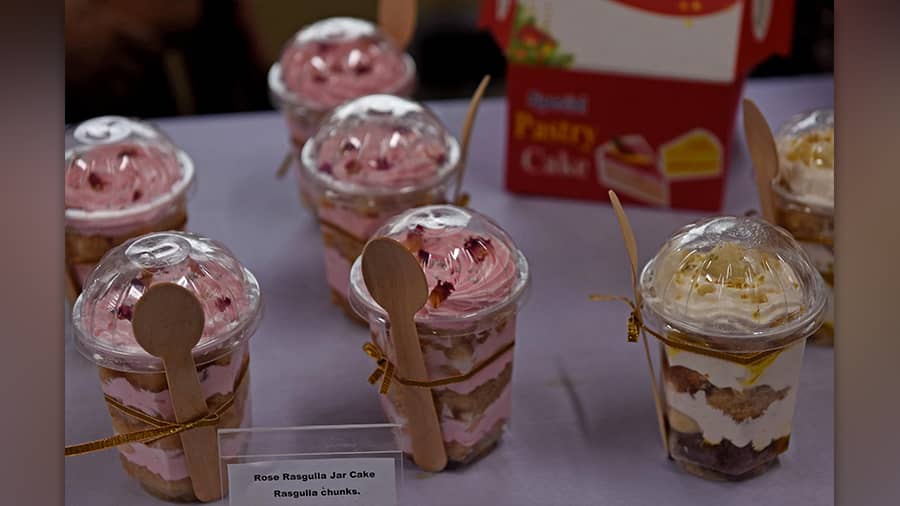 Rose Rassogolla Jar Cakes
Shally Dey Sarkar's jar cakes were a unique melange of rosogolla, rabdi and rosomalai. "I have Rosomalai Cupcake, Rabri Cupcake, Rosogolla Jar Cake, Fruit Custard Jar Cake and more. The event is all about sabeki mishti (traditional sweets). We make cakes of different flavours, so I thought of punching cake and mishti.'' Dey Sarkar runs her own brand, Delizioso, and is a home baker from Kasba. 
Quarter Toast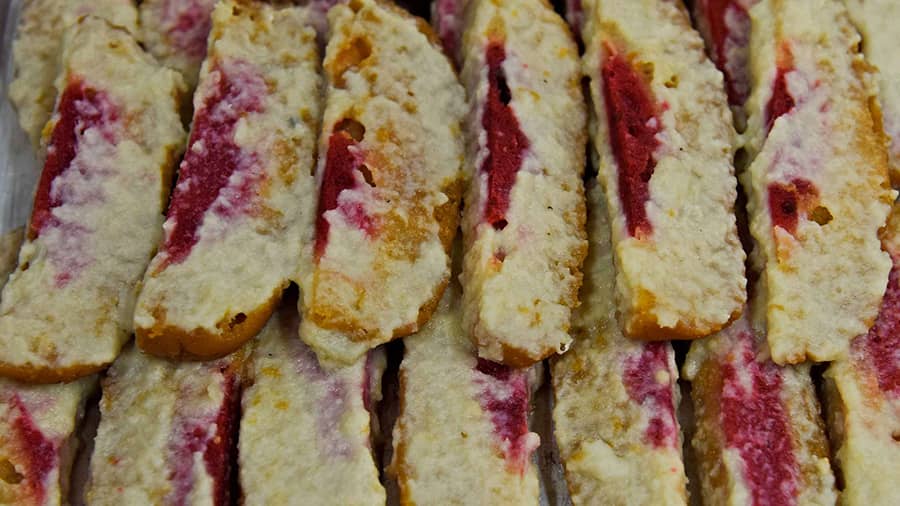 The long-lost Quarter Toasts
Don't confuse them with potato wedges, for they are way more delicious than the former. "Though Quarter Toast, made of chhana or cottage cheese, was once very popular in Kolkata, it is not much in demand now,'' informed Biswajit Ghosh, who makes sweets for the online portal, Bangla Misthi Online. 
Honey Dew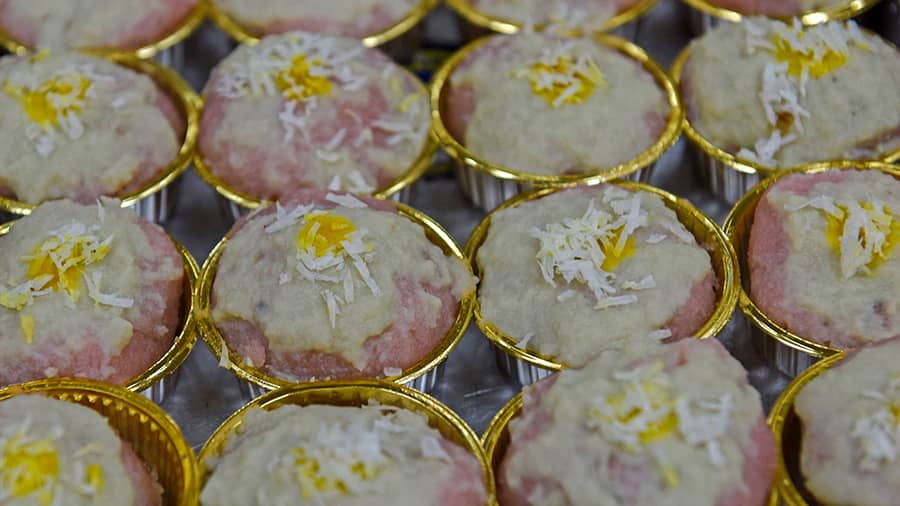 Honeydew is made with cottage cheese 'chhana', 'kheer' and 'gulkand'
This Bangladeshi misthi has travelled across borders and won the hearts of Bengalis in Kolkata. Honeydew is made with cottage cheese, kheer and gulkand which lends a beautiful pink colour, sweet taste and a nice flavour to it.
Robin Ghosh: 'Banglar Mishti has a wide portfolio'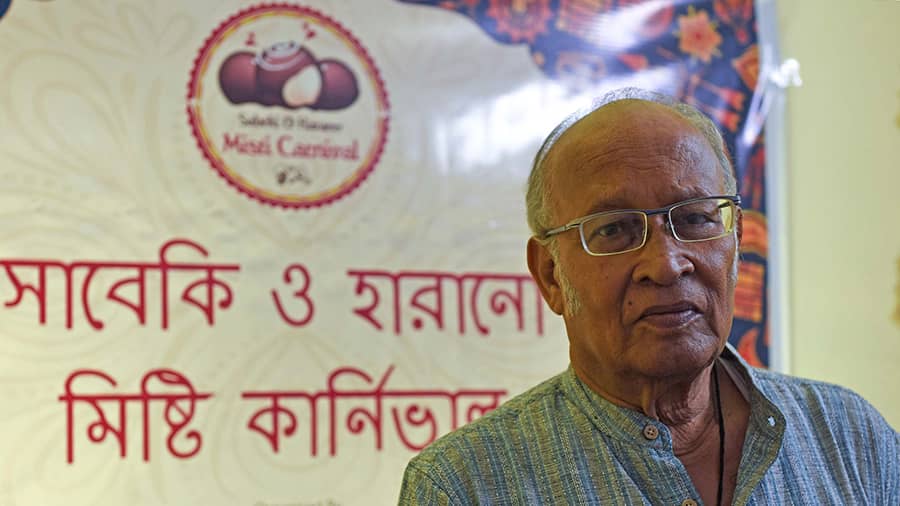 Robin Ghosh, president, Santiniketan Society for Youth Empowerment
During the event, My Kolkata met Robin Ghosh, president, Santiniketan Society for Youth Empowerment. Talking about the journey of the Sabeki o Harano Mishti Carnival, he said, "I am an economist and management consultant by profession. I have been researching on sweets for long, with regards to women entrepreneurship. During the course of my research, I felt that there are many sweets, which are lost over time. Banglar mishti has a wide portfolio, which today's generation is not aware of. So, I thought of taking an initiative to revive lost recipes of Bengal and create a platform for women, especially homemakers, where they can sell their sweets through digital marketing and earn. Today, we have got around 55 mishtis. We had organised a Bangla Harano Mishti contest on social media too. A lot of people participated with their recipes. We have selected 20 best entries."
A Bangla Mishti and Bakery Academy has also been formed by the society, where women are trained in making mishti and bakery products. They host workshops almost every month.