Viraj Khanna's 'In My Fever Dream' will instantly remind you of the Anamika Khanna aesthetics yet is starkly Viraj. Exquisite artistic expressions through an interplay of embroideries, it is a blissful celebration of fun and quirk. Almost multidimensional, which can be peeled off into several layers. The talented young artist tells The Telegraph about his solo showing at Delhi's Bikaner House, which previews today.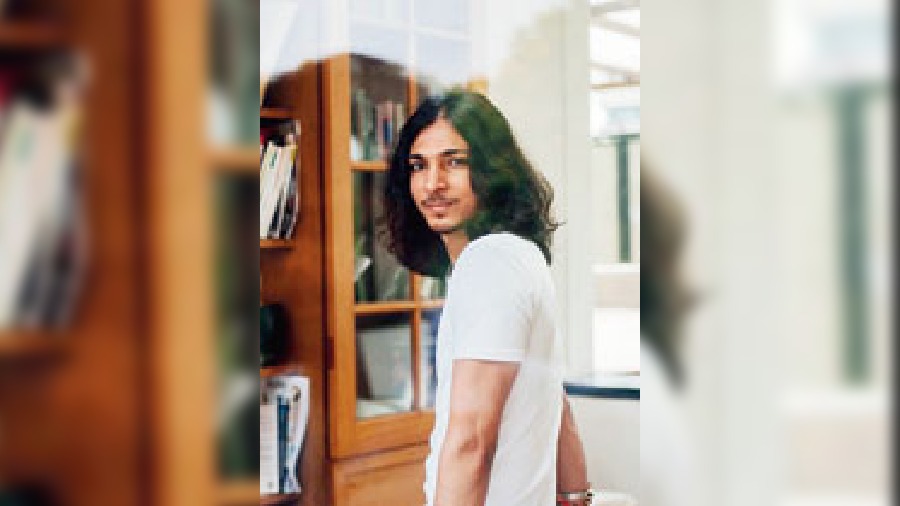 Viraj Khanna
What are you showcasing this time?
This time I am showcasing 25 different scale textile works. I have experimented with various techniques and fabric manipulations in order to create my figurative works. I have grown up watching various techniques being used in clothing... it has been an interesting journey using the same techniques so differently this time. There was an incident where one of the karigars was unwilling to do this kind of work thinking what I was making is supernatural!
What are you calling it?
The show is titled 'In My Fever Dream' because my artwork is about the human condition. When I was making them I would think about people that I am surrounded by and their behaviour and personalities. People are always trying to fit into society and create perceptions about themselves. The idea of seeming powerful, intelligent or wealthy has positive impacts on society. It unlocks a lot of doors for you socially and professionally and therefore we are always trying to create these perceptions about ourselves. This process sometimes makes people behave in quite interesting and peculiar ways. There was a client who came to us once and said 'I will pay you double for the outfit, just tell people I paid that much'.
What kind of thoughts have gone into this exhibit?
This time finally I decided to work only with textiles since textiles for me is something that comes naturally. I don't have any formal education in textiles but visually I have seen this since I was a kid. I think subconsciously it just gets imbibed. I have seen a myriad of techniques over the years but I don't know what they're called. It is so visual for me. My decisions while creating the artwork are based on my past experiences with textile work. This time I wanted to use all the interesting techniques I have seen over the years on clothing and use them to create these figurative works with different energies.
Whose works have you enjoyed in the last year?
Jogen Chowdhury, Jitish Kallat, Mrinalini Mukherjee, Paresh Maity, Jayasri Burman and internationally El Anatsui, George Condo....
Have you ever thought of a collaborative art project with your mother (Anamika Khanna)?
My mother keeps asking me to collaborate with her, but I'm always saying no. Fashion is more commercial … art for me is not… and I need to keep my art separate from it. This is going to be difficult though….
What kind of art does she enjoy most?
She really enjoys contemporary art, especially by the likes of El Anatsui....
You told us you wanted to study art. What's happening with that?
I couldn't go! Not sure when I will be able to go next. I am doing a solo booth with Tao Art Gallery at the IAF this year too. I couldn't leave everything and go as of now.
Finally, if you could capture the essence of an artist in your work, who would it be and why?
I think it all started with the artist Hannah Hoch. During the lockdown, all I could make was collages from magazines. There was nothing else accessible. Hannah Hoch was the only inspiration when I started working and now everything that I make grows from there. The structures for the embroidery work are also created with collage work. It is the blueprint for me for everything.
What: 'In My Fever Dream', a solo exhibition by Viraj Khanna, presented by Art Exposure
Preview: December 1; 6pm-9.30pm
On view: December 2-11; 11am-7pm
Where: Living Traditions Centre (LTC) Bikaner House, New Delhi