Youth dies at friend's birthday party in Jamshedpur
Ankit Kumar's body was sent to MGM Medical College mortuary for post-mortem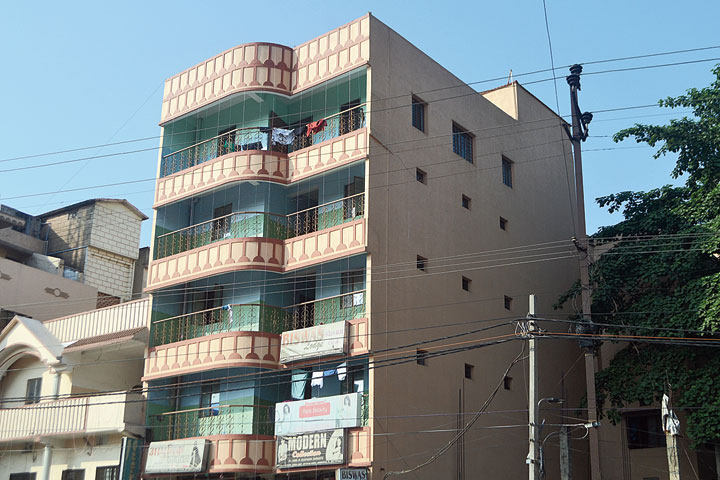 The lodge in Adityapur where the party was organised
(Animesh Sengupta)
---
Jamshedpur
|
Published 28.10.19, 06:41 PM
|
---
A 21-year-old man, who had landed a job only four months ago, died in the wee hours of Sunday after collapsing at a friend's birthday party in a lodge at Adityapur from where police later recovered cocaine and brown sugar.
Ankit Kumar, a resident of Kedar Bagan in Mango and the only son of a widowed mother, had on Saturday afternoon come from Bangalore where he was undergoing job-related training.
After meeting his mother and relatives, Ankit left home for Adityapur with his friend Perminder Singh to celebrate the birthday of Ashish Mahto.
While Ankit's family members blame his death on the alleged poisonous food that he might have been served at the party, police suspect the young man to have died of drug overdose.
Three of Ankit's friends — Ashish Tiwary, Ashish Mahto and Perminder Singh — have been taken into custody. A fourth friend, Mohammed Azad, who allegedly supplied the drugs, is absconding.
Ankit's body was sent to MGM Medical College mortuary for post-mortem
Anil Prasad, the deceased's cousin, said Ankit had got a job in Jamshedpur after completing his two-year diploma course in Nettur Technical Training Foundation (NTTF) in Golmuri.
"He had gone to Bangalore for training and had come home on Saturday afternoon. After spending some time with his mother Kiran Devi, he left for Adityapur in the evening. Since then, he could not be contacted on his mobile. It kept on ringing. After spending an anxious Saturday night, we went to Mango police station at 11am on Sunday to lodge a missing person report. There, we received a phone call informing us about Ankit's death," Anil said.
Anil, a businessman, said he suspected that his brother had already died at the lodge and when his friends took him to the hospital, it was already pretty late by then.
"We suspect that some of his friends might have given him food laced with poison. Why won't they pick up our repeated calls if they had nothing to hide?" Anil said.
Subham Kumar Singh, a close friend of the deceased, said Ankit had called him up on Saturday morning while he was still aboard Alleppey-Tata Express.
"Ankit had invited me to the party. He told me that his friends had booked a lodge at Adityapur where all kinds of drugs, including brown sugar, have been arranged for the party. I told him that I would not be able to come," Subham told this correspondent.
Officer in-charge of Adityapur police station, Shusma Kumari, said Ankit might have died of a drug overdose.
"We are interrogating three of his friends. They all said he was sick even before coming to the lodge. When he collapsed after midnight, they had tried to bring him to his senses by pouring water on him. When all efforts failed, they rushed him to Tata Main Hospital at around 10am on Sunday," the OC said.
She said police would register a case only after getting an FIR from the family members of the deceased.