Wild elephant injures 25 at Daru block puja pandal
The jumbo took devotees by surprise as it ran amok after mowing down five people earlier in the day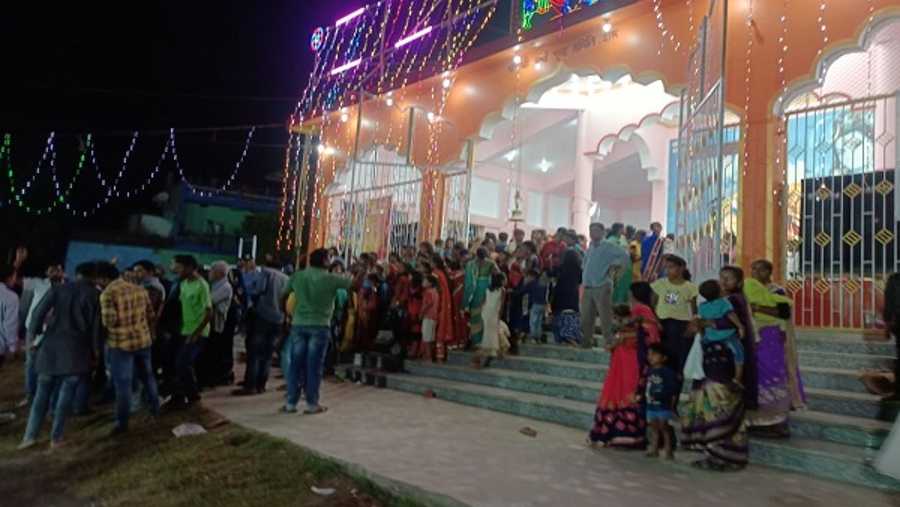 Devotees taking shelter in Durga Mandap in Hazaribagh on Tuesday night.
Vishvendu Jaipuriar
---
Hazaribagh
|
Published 13.10.21, 06:50 PM
|
---
A wild elephant, separated from its herd after killing five persons, reached Daru block Puja Pandal. The jumbo's sudden appearance triggered panic among the devotees, forcing them to take refuge at the Durga mandap.
Around 25 people were injured during the rampage caused by the sudden appearance of the elephant. Elephant, which was moving in a herd of 17, had first killed two women and an elderly man in Katkamdag block on Monday morning. By night, it reached the Demotand and Pauhta area under Muffasil police station killing two men and injuring a woman. 
At Daru, the pandal was packed with hundreds of devotees when it walked there creating a stampede.Many took refuge at the Durga Mandap, where they were forced to spend the entire night fearing attack by the elephant. Puja pandal organisers played smart by blowing a music system in loud sound making the elephant move to an adjoining field. 
Eyewitnesses said that the elephant had tried to attack devotees but on hearing the loud music, it moved out. They said a huge attendance was at a mela (village fair) when the jumbo entered the fair. 
Forest department officials said, "Elephant which get separated from their herd always become dangerous." They said that they were studying the behaviour of the jumbo. "If the killing spree continues, we will consider the option of gunning it down," he said. 
Divisional forest officer R.N Mishra said, "There is a provision in The Forest Act which allows the killing of violent elephants." Forest department is working on the plan to minimise human and elephant clashes in Jharkhand, he mentioned.