Wheelchair bound? No sweat, flag a cab
Red WAVE is a joint venture between EZY MOV, Enable travel and and Jamshedpur-based Swapna Health Care Services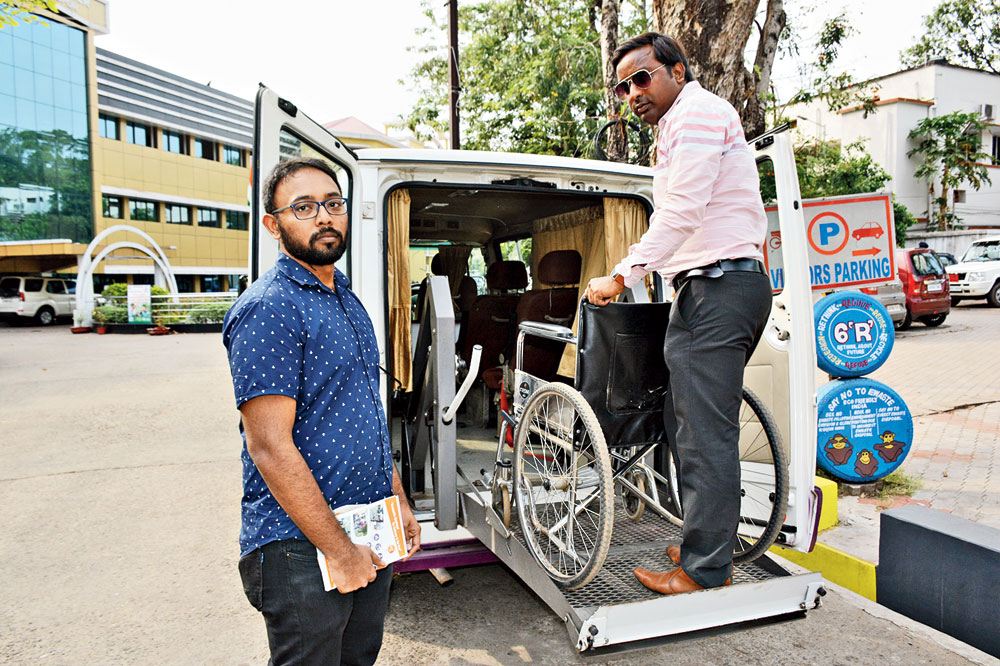 A wheelchair being rolled inside one of the Red WAVE taxis in Jamshedpur on Tuesday.
Picture by Bhola Prasad
---
Jamshedpur
|
Published 09.04.19, 07:01 PM
|
---
Specially abled and senior citizens on wheelchairs will be able to commute more freely and independently, thanks to a wheelchair taxi service here.
To be launched this Friday, Red WAVE (wheelchair accessibility vehicle and environment eco-friendly) service can prove a boon for those rendered immobile most often.
A joint venture between EZY MOV, India's first wheelchair taxi service launched in 2015; Enable travel, India's first holiday specialist for the differently abled launched in 2017; and Jamshedpur-based Swapna Health Care Services, the parent company of Red WAVE, the wheelchair taxis are modified Tata Winger vehicles intended to give specially abled people more mobility.
In Jamshedpur, Red WAVE will start with two Tata Winger vehicles each costing Rs 17 lakh. Each can carry two specially abled passengers along with three other passengers and a driver. A hydraulic system can lift the wheelchairs and place them inside the vehicle. Each wheelchair will get a restraint belt to avoid any movement or jerks inside the Tata Winger while on the road. A specially abled commuter can get in the car all by himself with little help from the trained driver. The vehicle would have a spare wheelchair for emergencies.
Sunil Kumar Dutta, the owner of Swapna Health Care Services and the initiator of this project, said he felt the need for such a service in Jamshedpur as "someone very dear to me is a cardiac patient who can't commute without help and yet wants to be independently mobile".
"Mobility for the specially abled, the elderly and patients is a big challenge, but there are not enough options," Dutta said. "We don't want them to be a burden. They have every right to be happy, travel, enjoy outings with their families. This wheelchair taxi service is not a replacement for the ambulance, which is an emergency health service, but more about enjoying life to the fullest without boundaries. From shopping mall to market to even picnics, the specially abled and senior citizens can travel anywhere," he said.
Dutta added that EZY MOV was running modified taxis in Mumbai and Goa with 25 vehicles. "But we are working on the tariff for Jamshedpur as rates of Mumbai and Goa won't work here," he said. "We are also giving free rides before the official launch. You can call it trial runs for feedback from potential users."
Specially abled Kumar Gaurav, an executive in Tata Steel's CSR wing, said he found the Red WAVE test run comfortable. "I love the dignity attached to the service. Usually a specially abled person's relative, friend or colleague picks him and gets him comfortably placed in a vehicle, but with this taxi he can be independent."