Another four days of heavy rain forecast across Jharkhand
Met office warns of thunderstorms and lightning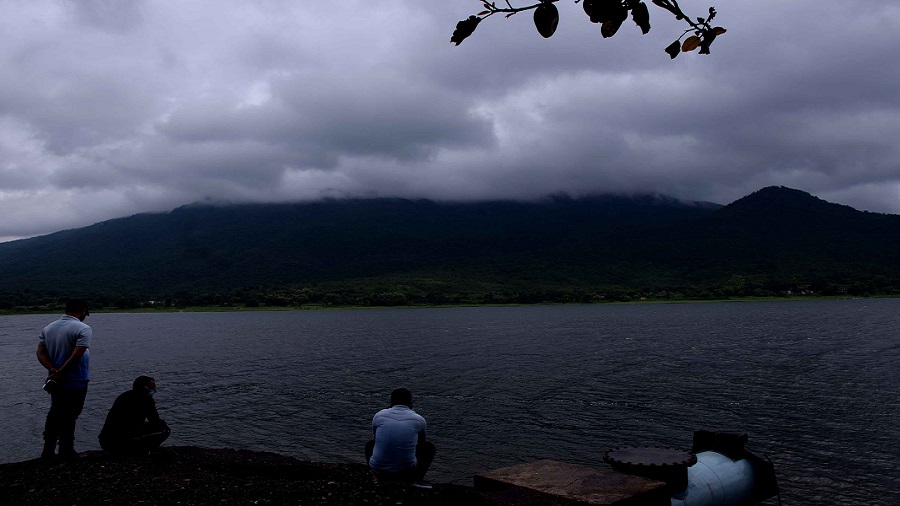 Cloud cover over Dimna Lake in Jamshedpur with Dalma hills in the background on Monday
Bhola Prasad
---
Jamshedpur
|
Published 24.08.20, 07:22 PM
|
---
Heavy showers are expected across Jharkhand for the next four days due to the formation of a low-pressure area over the north Bay of Bengal coupled with an associated cyclonic circulation.
On Monday, both the IMD's Ranchi and Patna Meteorolgogical Centres forecast heavy rain for next four days and warned of thunderstorms and lightning over isolated pockets of the state in the next 48 hours.
Several districts in southern, western and north-eastern are vulnerable to lightning strikes.
Director of Ranchi Meteorological Centre S.D. Kotal said the southwest monsoon has been active over Jharkhand for the past 24 hours resulting in a good spell of rain in places like Jamshedpur, Palamau, Latehar and Ramgarh. 
The local IMD observatory in Jamshedpur recorded over 70mm rain during the past 24 hours while several places in the Palamau region recorded over 50 mm.
Officials at the Doppler radar section at Patna Met Centre said this was the third low-pressure area to originate from Bay of Bengal this month. It is at a height of 7.6km above sea level and expected to trigger heavy rainfall.
"The monsoon trough was passing through Ranchi and this resulted in a good spell of rain in the past 24-hours. The low-pressure which has formed over Bay of Bengal will gain in strength during the next two days resulting in heavy showers over Jharkhand," said a weather analyst at Patna.
Monday's Met data showed actual rainfall of 694.7mm against a cumulative seasonal average of 762.2mm, a deficit of 9 per cent.
Weathermen at the Regional Meteorological Centre at Alipore in Calcutta said the low-pressure might precipitate into a depression, but whether it does will be clear only after 48 hours. 
"The rain during the next four days will help in reducing the deficit," said the duty officer.  
Met data suggests that so far, Palamau tops the list of surplus rain with 30 per cent. Dumka, East Singhbhum, Latehar, Koderma, Ramgarh and Lohardaga also finds place in the surplus rain list.
Gumla with 50 per cent tops the list of deprived districts. The remaining 17 districts, including Ranchi, also figures in the deficit list.