Weather Report: 'Just like snow' in Daltonganj
Hailstorms lashes in several parts of Palamau region, residents get a virtual feel of snowfall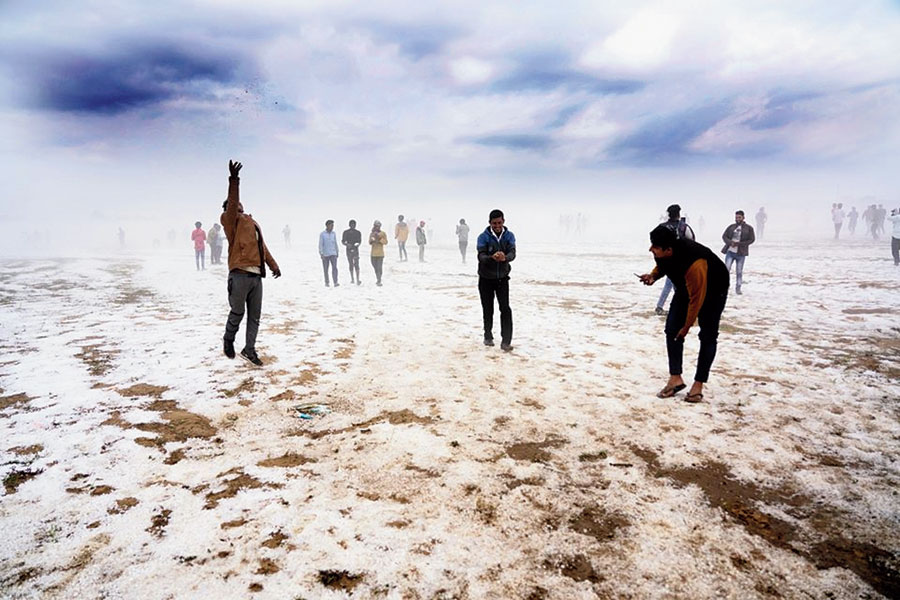 People enjoy the after-effects of hailstorm at Daltonganj
Picture by Manob Chowdhary
---
Jamshedpur
|
Published 25.02.20, 06:49 PM
|
---
Woollies and blankets were out again as rain and hailstorms brought down the mercury by a few notches, specially in northwest Jharkhand, on Tuesday.
Hailstorms lashed several parts of Palamau region, including district headquarters Daltonganj white hailstones gave residents a virtual feel of "snowfall".
The hailstorm continued for 15 minutes, followed by rain. A thin white layer of hailstones covered the roads and fields. The hailstones measured between 2cm and 2.4cm, according to the India Meteorological Department (IMD) observatory in Daltonganj. The observatory also recorded 10mm of rain on Tuesday morning. According to statistics released by the IMD's Ranchi centre, Daltonganj recorded overnight rain of 36.2mm, the highest in the state.
The weather office in Daltonganj recorded a minimum temperature of 12.7°C at 5.30am on Tuesday, down from Monday's 16.3°C.
Reports of lightning and thunder accompanied by rain also poured in from Chatra and Garhwa late in the afternoon. There were reports of three lightning deaths, one in Chatra and two in Garhwa, which could not be independently confirmed.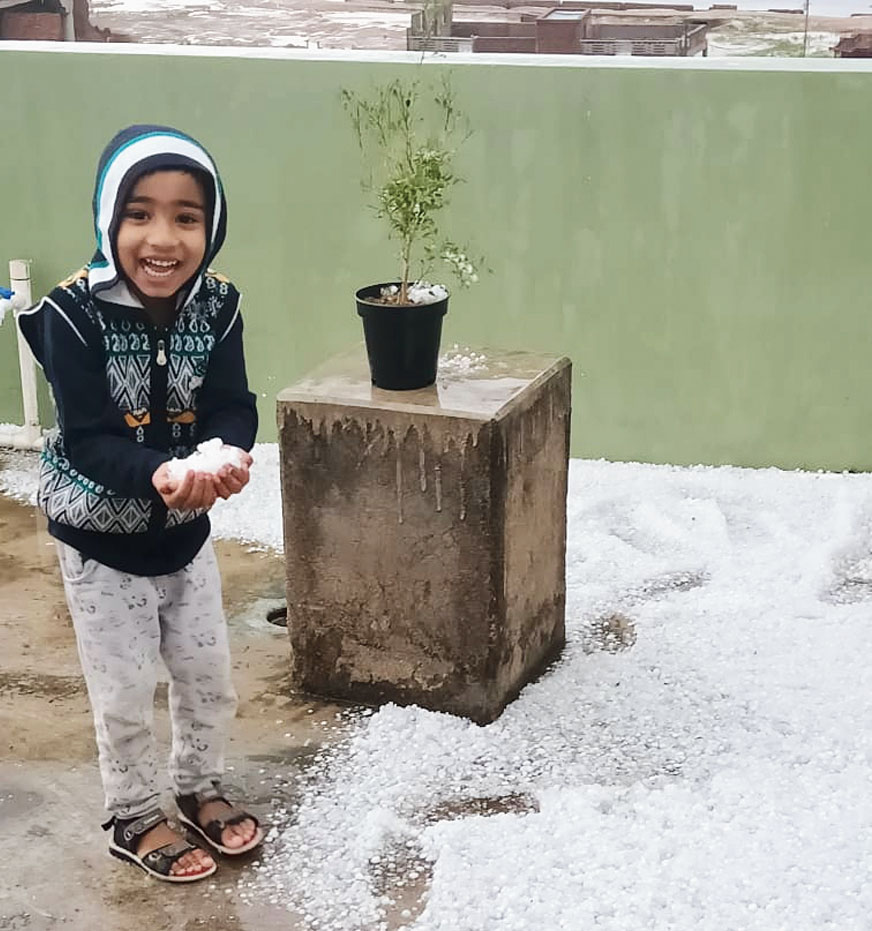 Ranchi, Gumla, Lohardaga, Bokaro, Giridih, Dhanbad, Jamtara, Hazaribagh, Deoghar, Dumka, Godda and Sahibganj too witnessed lightning and thunder accompanied by light showers. The local weather office in Ranchi recorded 3mm of rain on Tuesday afternoon. Jamshedpur too witnessed intermittent rains since Monday night.
Kurdeg in Simdega, Manatu and Bishrampur in Palamau and Barhi in Hazaribagh recorded around 10mm of rain.
S.D. Kotal, director of the Ranchi Meteorological Centre, said weather conditions in most parts of state would gradually improve from Wednesday.
"The impact of the western disturbance and the induced cyclonic circulation which resulted in adverse weather conditions for the last three days would wane after the next 24 hours," Kotal said on Tuesday afternoon. "Tomorrow (Wednesday) some pockets of north-eastern Jharkhand including Dumka, Godda and Sahibganj are expected to experience cloudy sky with light showers."
Weathermen at Alipore in Calcutta said dry conditions would prevail in Jharkhand from Thursday.
"Both the maximum and minimum temperatures would rise gradually over the next four or five days as winter has entered its farewell phase," said a duty officer, adding that another western disturbance was brewing in Pakistan which might impact weather conditions of north-western Jharkhand in the first week of March.