Water and electricity crisis triggers blockade of Dhanbad-Bokaro Road
The protesters raised slogans against the state govt and DVC and demanded immediate action to improve the situation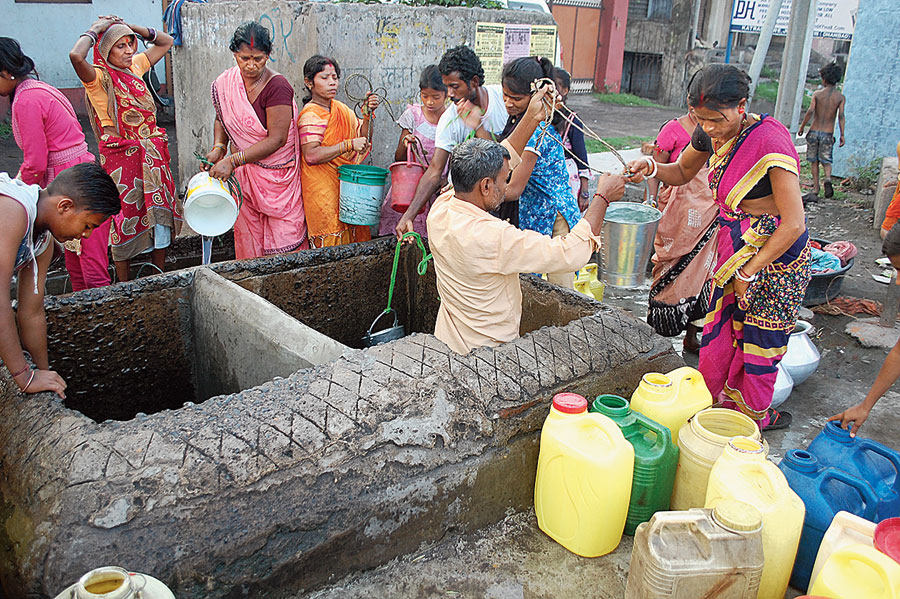 ---
|
Dhanbad
|
Published 13.03.20, 07:10 PM
---
Residents of Kendua and Karkend blocked the Dhanbad-Bokaro Road for more than five hours from 8.30am on Friday to protest against the electricity and water crisis triggered by the rationing of power supply by the Damodar Valley Corporation (DVC).
The protesters who had gathered near the Kendua Pul raised slogans against the state government and DVC and demanded immediate action to improve the situation.
The blockade was lifted after a team of local administrative officials led by circle officer of Putki, Surendra Kumar, told agitators that they would ensure water and power supply after holding a meeting with Mineral Area Development Authority (Mada) and Jharkhand Bijli Vitran Nigam Limited (JBVNL) officials.
Govinda Raut, a resident of Kendua, who took part in the road blockade, said: "We have been facing water crisis for 10 days due to leaks in the supply pipeline of Mada at Gansadih area of Kendua. The load-shedding carried out by DVC has aggravated the situation."
He said despite repairing the pipe, Mada could not resume water supply because it couldn't operate the treatment plant at Jamadoba in the absence of continous power supply.
Subdivisional officer of Mada's water supply division, Pankaj Kumar Jha, said: "We have repaired the pipeline at Gansadih, but are facing problems in supplying water to Jharia, Kendua, Karkend and Putki because of the power crisis. We need at least eight hours of continous power supply for filling up the water tanks at Jamadoba water treatment plant complex."
Water and power crisis continued for the fourth day in Jharia, Tundi, Topchanchi, Nirsa and Sindri following the DVC move.
The situation in Dhanbad town remained better because the local power substations at Hirapur and Saraidhela are connected to the newly established Kandra grid substation that draws extra power from the national grid.
JBVNL general manager (Dhanbad supply area) Pratosh Kumar said: "We are in the process of integrating more power substations of Dhanbad with the Kandra power grid substation. We have already integrated Amaghata and Sonaria power substations in Govindpur area with Kandra grid yesterday (Thursday) after which the power supply scenario improved in the area".