Waste dump to turn green lung
TSRDS to lay paver blocks and plant saplings across the Wireless Ground after cleaning the waste dumped there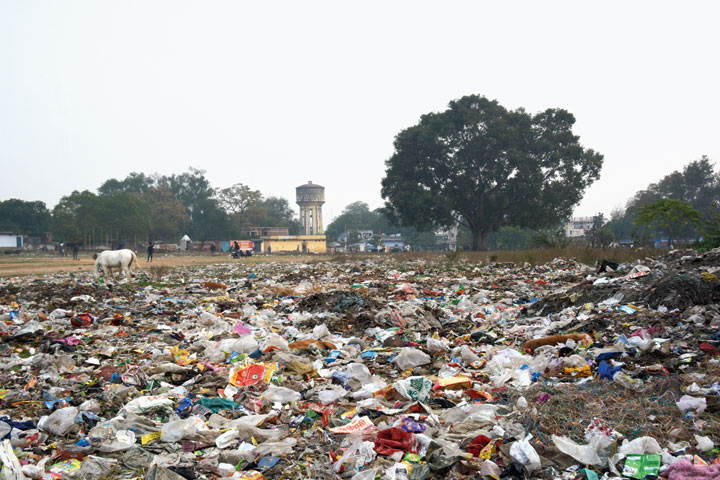 ---
---
A nearly 3-acre dump yard will metamorphose into a public green space with facility for walking and jogging by the yearend in Bagbera, giving over 2 lakh residents their first park.
Tata Steel's rural development wing, Tata Steel Rural Development Society (TSRDS), has agreed to help in landscaping and construction of a walking trail using paver blocks across the Wireless Ground in Bagbera.
The development is the result of an appeal made by panchayat representatives of the region. "We had approached the Chakradharpur divisional railway manager (DRM) of South Eastern Railway, Vijay Kumar Sahu, yesterday (Wednesday) for getting a no-objection certificate (NOC) on starting of the beautification work at the Wireless Ground as the ground is owned by railways and have received positive response from the senior railway officials," said Kishore Yadav, Jamshedpur zila parishad member who represents Bagbera.
The zila parishad member, who was accompanied by panchayat representatives including up-mukhiya of Bagbera Sunil Gupta at the meeting, said that the senior railway official assured to give the NOC soon after getting a formal application from Tata Steel.
"The railway official suggested that since the beautification work would be carried out by Tata Steel, it would be proper if a formal application is sent by Tata Steel on carrying out beautification work at the ground," Yadav explained. "The DRM said that if they receive the application this week they would be issuing NOC by Monday."
Yadav said that the TSRDS would be undertaking the laying of paver blocks (that look like interlocked pieces of a jigsaw), landscaping and planting of saplings across the ground after cleaning the waste dumped there.
"The ground has become a spot for dumping of waste by the nearby residents and a foul smell emanates all through the day," said Sunil Gupta. "After starting of laying of paver blocks, planting of saplings and flowering plants and landscaping work by Tata Steel, we also have plans to use the resources in construction of a boundary wall."
The six feet wide paver block-laid pathway would be ideal for morning walkers and joggers.
"So far people of Bagbera had to go to Jugsalai, Sakchi and Bistupur for their morning walks and jogging. Now they will get the facility near their home," Gupta said.
Densely populated settlements like railway colony, Bagbera housing colony, CP Tola, Shiv Nagar and Baroda Ghat will benefit from the green space.
The panchayat representatives later on Wednesday met TSRDS officials and were asked to send an application and get the clearance which would then be submitted before railway authorities for a formal NOC.