Junior doctors boycott work at Shahid Nirmal Mahto Memorial Medical College and Hospital
Th e move is triggered by alleged manhandling of a female doctor by the relatives of the realtor killed in Wasseypur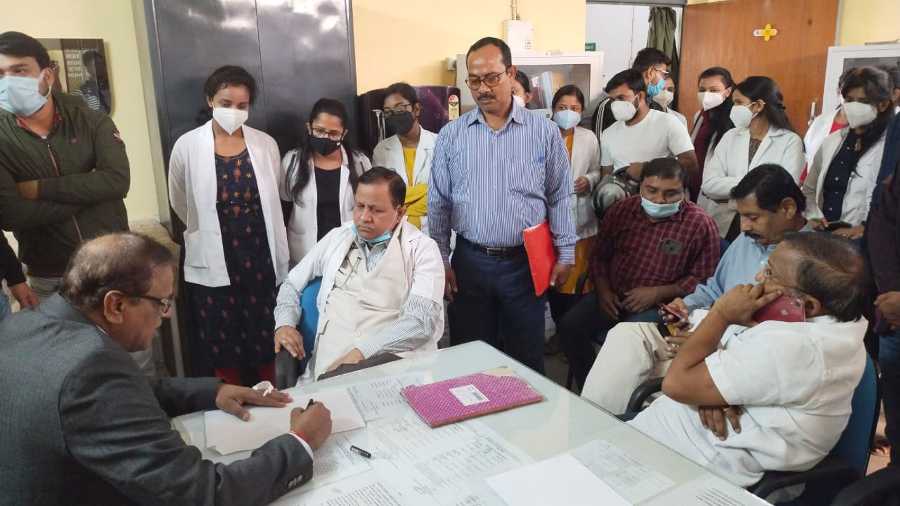 Junior doctors of SNMMCH at superintendent Arun Kumar Barnwal's office in SNMMCH, Dhanbad today
Gautam Dey
---
Dhanbad
|
Published 25.11.21, 08:36 PM
|
---
Around 137 junior doctors, including interns and resident doctors of Shahid Nirmal Mahto Memorial Medical College and Hospital chose to boycott work as a mark of protest against the manhandling of one of their female junior doctors by the supporters of Wasseypur's slain realtor, Mahtab Alam.
The irate doctors also met Dhanbad Deputy Commissioner, Sandeep Singh at his residence, the previous night, immediately after the incident took place. They have demanded full proof security at the hospital for the doctors, claiming that frequent incidents of violence and assault by family members and relatives of the patients and that anti-social elements have vitiated the working atmosphere at the hospital.
They particularly complained about the mob comprising the slain realtor Mahtab Alam's relatives and supporters who pulled a female junior doctor by holding her hand forcing her into the ICU to treat him.
DC has assured them of beefing up security at the hospital and also ordered a probe into the alleged manhandling as mentioned by the junior doctors. However, the junior doctors boycotted their work today hampering the hospital's emergency as well as OPD services.
Talking to the media, a family member of a patient admitted on condition of anonymity, "No doctor has attended patients since yesterday's incident and the situation is such that even the saline bottles have not been changed since the morning."
Notably, several incidents that recently took place at SNMMCH have exposed gaps in the security system of the medical college and hospital that serves as the sole health care destination for over 50 lakh people of Dhanbad and several adjoining districts including, Giridih, Jamtara, Dumka, Godda, Pakur, Sahebganj and others. 
Talking to the media, Dr Arun Kumar Baranwal, the superintendent of SNMMCH, admitting the lack of security in the hospital, said, "We have demanded beefing up of security at the hospital premise but at the same time, we do not support the strike."