Voters defy Covid concerns, over 60 per cent turn out for bypolls
Compared to 2019, both Dumka and Bermo record lower voting percentages amid social distancing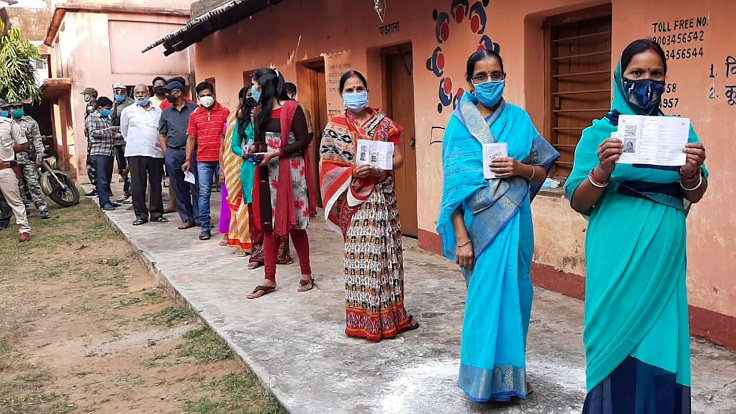 ---
---
Voting in the two Assembly constituencies of Dumka and Bermo, the first election in Jharkhand under the shadow of the Covid-19 pandemic, saw an overall turnout of over 60 per cent on Tuesday.
While Dumka registered a turnout of 65.27 per cent, marginally lower than the 66.89 recorded in 2019, Bermo recorded 60.20 per cent voting compared to 66.13 per cent last time.
Joint chief electoral officer Heera Lal Mandal expressed his satisfaction with the safe and smooth conduct of the elections in the two seats. "Despite several challenges in view of the pandemic, officials walked the extra mile to ensure hassle-free elections with additional safety norms in place in the wake of Covid-19. We added extra booths, ensured proper social distancing at each polling station among other safety precautions," he told the media.
As many as 28 candidates were in fray in the two seats. Dumka, which is seeing a bipolar contest between JMM's Basant Soren and BJP's Louise Marandi, had 12 candidates trying their luck. There are 3,12,507 voters in Dumka.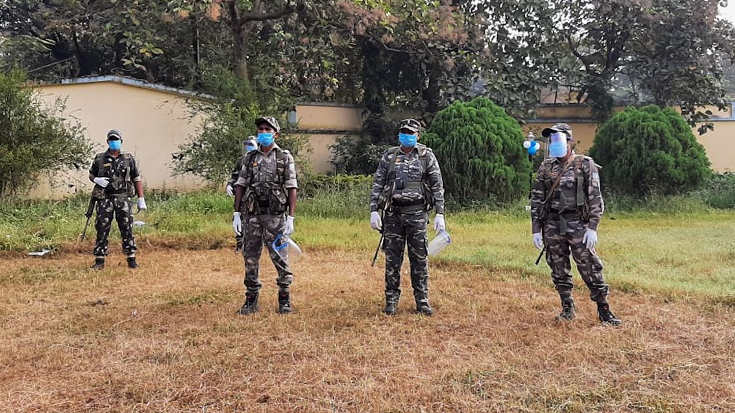 In Bermo, 16 candidates are contesting, but the key battle is between Congress's Kumar Jaimangal and BJP's Yogeshwar Mahto Batul. Bermo has 2,50,782 voters.
Voting began at 7am in both the places but ended at 4pm in Bermo while Dumka concluded an hour later. In spite of the pandemic, voters — mainly in rural areas _ queued up at booths in large numbers to exercise their franchise.
Outside each booth, circles were marked out on the ground at a distance of six feet for voters to wait in. Special teams at the entrance scanned every voter's temperature and offered sanitisers before they went in to cast their vote.
At several places, both polling and security personnel used safety gear like face shields and gloves.
Officials said that decision to reduce timing in Bermo was taken in view of the sensitivity of the region based on the security inputs provided by the local administration.
Mandal said the Election Commission set up 368 booths in Dumka and 468 in Bermo. "Compared to last time, we had increased booths in both places to reduce crowds at polling stations," he said.
Dumka deputy commissioner Rajeshwari B said voters in rural pockets outnumbered their counterparts in urban areas of Dumka constituency. "Urban Dumka witnessed 48 per cent turnout. On the contrary, Dumka rural registered 65.82 per cent and Masalia block 71.95 per cent. Compared to last time, Dumka constituency witnessed marginally lesser turnout. But we are happy that people ventured out defying Covid fears," she told reporters in Dumka.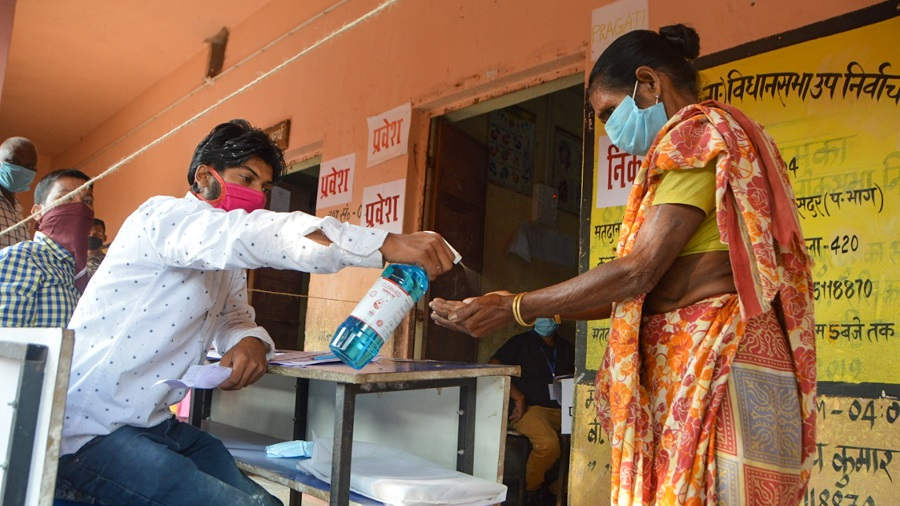 Officials in Bermo constituency were also upbeat with the turnout of 60.20 per cent. Bermo, part of Bokaro district, has three containment zones and 11 active Covid cases in the constituency. Bokaro deputy commissioner Rajesh Singh said, "In all polling booths, the voter turnout remained good and we ensured all safety norms for Covid-19."
Voters seemed satisfied with the arrangements. Stephen Soren, a 42-year-old farmer of Dumka block, who queued up at sadar polling station since 7am, said voting was different this time.
"We were given sanitisers before entering the booth after taking our temperatures. They also provided me a mask even though I covered my face with a towel. Many who didn't have a mask weren't allowed to stand in queue," he said.
In Bermo, 74-year-old Kalyani Devi, was among the first to reach the booth in Kargili Bazaar. She said, "Voting is my right and I have come wearing a mask and maintaining social distancing." Like her, several elderly people, some physically challenged, also voted in large numbers.
First-time voter Anuska Singh, who was at booth 54, said, "Though I feared Covid-19 but I didn't want to miss my vote. I have come wearing a mask and brought my own sanitizer."
The bypolls, first since the Hemant Soren government came to power 10 months ago, is crucial for the ruling JMM-Congress-RJD alliance. It seeks to retain both seats as it will be a test of the government's popularity. The BJP on the other hand is looking to recover its lost ground by increasing it tally in the Assembly.
Of the two, Dumka is a prestige seat for the JMM. Chief minister Hemant Soren, who after vacating Dumka, has fielded his younger brother. In Bermo, Congress has fielded Kumar Jaimangal, son of former Congress MLA Rajendra Prasad Singh, who died in May.
Both the ruling parties and the Opposition claimed that verdicts will be in their favour. While the ruling alliance claimed the turnout as sign of voters' support to them, BJP claimed otherwise.
JMM's general secretary Supriyo Bhattacharjee said. "The way people voted today is testimony to their faith in our government and eagerness to help us retain our seats." State Congress president Rameshwar Oraon added that the rural pockets will guide them to victory. "More than urban pockets, the voting trend in rural areas was very impressive in both the seats since morning. We have no doubt of our win," he said.
BJP's general secretary Aditya Sahu, however, decoded the voting day turnout in their favour. "People have voted against lawlessness of the last 10 month," he claimed.