Venue for interstate bus stand shifts near NH-33
Existing Khadgarha terminus to be used for capital, inter-district vehicles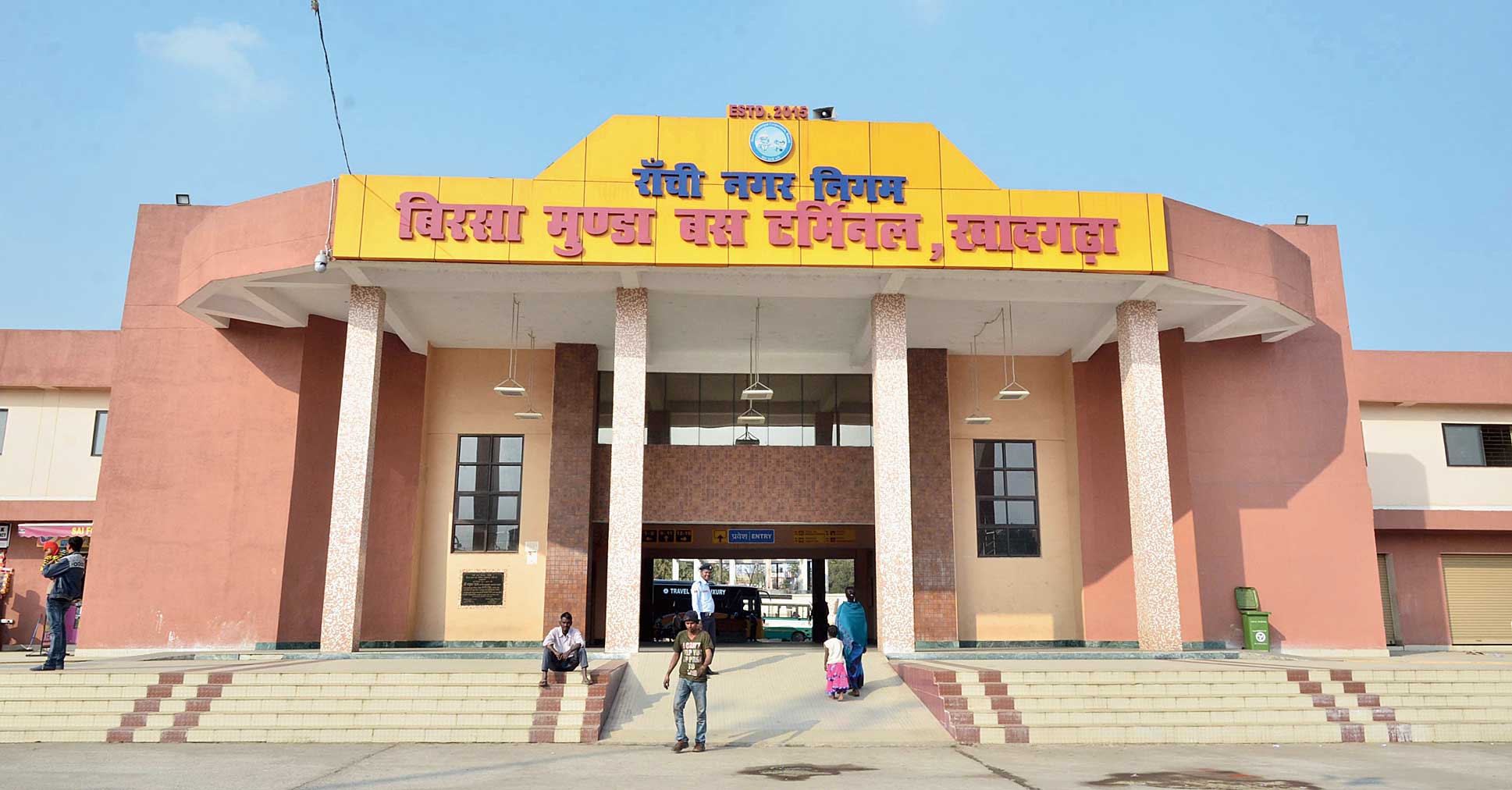 Birsa Munda bus terminus in Khadgarha, Ranchi
Telegraph picture
---
Ranchi/Jamshedpur
|
Published 11.04.19, 07:05 PM
|
---
The new interstate bus terminus in Ranchi will now come up at Dubaliya in Kanke, around 20km from district headquarters, and close to NH-33, while the existing Birsa Munda Bus Terminus at Khadgarha will serve as the city and inter-district bus terminus only.
State urban development department secretary Ajoy Kumar Singh said they zeroed in on Dubaliya after consulting with Jharkhand Urban Infrastructure Development Company Limited (Juidco) and Ranchi Regional Development Authority (RRDA).
"We found suitable land at Dubaliya for developing the interstate bus terminus, while Transport Nagar (a one-stop centre for heavy commercial vehicles) will come up at Sukurhuttu, also in Kanke. After the bus terminus comes up at Dubaliya, the existing infrastructure at Khadgarha will be used as city and inter-district bus terminus," Singh said, adding they planned to set up interstate bus terminuses across Jharkhand in public-private-partnership (PPP) mode.
A source in Juidco explained that Dubaliya's proximity to NH-33 and NH-75 was the clincher.
"We identified 39 acres of government land at Dubaliya which is barely a few kilometres from NH-33 (near Ormanjhi) and ease the way for interstate (long-distance) buses to reach NH-33 without congesting Ranchi roads. There is no major problem in land acquisition too," the Juidco source said.
The urban development department also identified 49 acres at Sukurhuttu for Transport Nagar.
The Juidco source added that the total project cost for the interstate bus terminus and Transport Nagar was over Rs 100n crore.
"Since these will be developed in PPP mode, tenders for a detailed project report will be floated (in June) after the election process is over. Once the DPR is approved, we hope to select by September-October a private contractor to built the bus terminus and Transport Nagar. The project is likely to be completed within one-and-a-half years after work begins," he said, adding the bus terminus would have all modern amenities such as wash rooms and cafeterias for passengers, parking bays, garages and rest rooms for the convenience of bus drivers and staff, as well as CCTV surveillance.
Once the Dubaliya bus terminus is functional, the existing Birsa Munda one, from where both inter-district and interstate buses operate at the moment, would become a state-of-the-art inter-district and city terminus. The terminus is spread across 14.5 acre, but uses only 5.5 acre. The vacant space will also be used to build infrastructure, the Juidco source said.