Amit Shah calls Hemant Soren's government most corrupt
Corruption has started using tractors and railway wagons, claims the Union home minister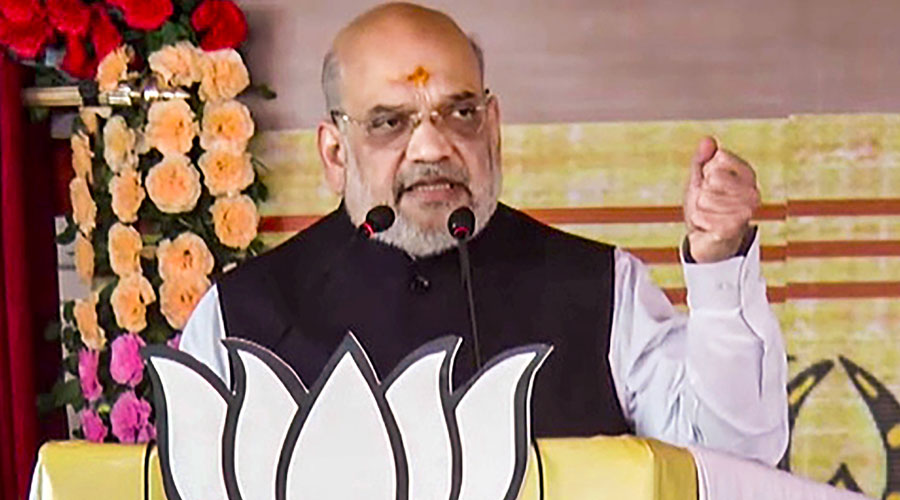 ---
Jamshedpur
|
Published 05.02.23, 03:00 AM
|
---
Union home minister Amit Shah, during his second visit to Jharkhand in a span of two months, described Hemant Soren's government as the most corrupt in the country.
Addressing a Vijay Sankalp rally on Saturday evening at Deoghar, Shah said: "Hemant Babu kan khol kar sun lo desh ka sab se brasht sarkar Jharkhand main hai (Hemant Soren listen with your ears wide open, country's most corrupt government is now in Jharkhand)."
"I have no hesitation in saying that the corruption has reached its new heights under Soren's rule... Here the corruption has started using tractors and railway wagons (the accusation comes with Enforcement Directorate claiming that it had identified proceeds of crime relating to illegal stone mining in the state to the tune of over Rs 1,000 crore and questioning Soren in a money laundering case in November last year)," said Shah.
Shah claimed that the Atal Bihari Vajpayee-led central government had formed a separate Jharkhand state in 2000 with the hope that Dalits and tribals would develop and went on to praise former BJP chief ministers Arjun Munda (currently Union tribal affairs minister) and Raghubar Das (one of the BJP national vice-presidents) government.
"But under Soren, it is not only corruption which has reached a new level but they are trying to change the social demography for the sake of vote bank politics by encouraging ghuspetiye (a term used by BJP leaders against the Muslims accusing them of infiltrating from Bangladesh) in Santhal Pargana region. These ghuspetiyes are usurping tribal lands, forcibly marrying tribal girls and committing crimes against tribal and Dalit girls and the government is silent," alleged Shah adding that the population of Adivasis has decreased from 35 per cent to 24 per cent because of massive infiltration from across the international border.
He also warned that people are watching and the Soren government will be "uprooted" in the 2024 Lok Sabha polls. He declared that the BJP would win all 14 Lok Sabha seats and return back to power with a full majority in Assembly elections.
The BJP had lost two Lok Sabha seats — Rajmahal (in Santhal Pargana to JMM) and Singhbhum (in Kolhan to Congress) in 2019, while in the 2019 Assembly polls, the party had managed to win only four (Godda, Sahibganj, Deoghar and Sarath) out of total 18 seats in Santhal Pargana.
Shah already visited Chaibasa in Singhbhum parliamentary constituency on January 7 and his visit to Deoghar was targeted at the Rajmahal Lok Sabha seat.
"I will request all to allow lotus to bloom in Rajmahal in 2024 so that development can come to this seat too," said Shah, making his intention clear.
Earlier in the day, Shah laid the foundation stone of Indian Farmers Fertilisers Cooperative's Rs 450-crore liquid (nano) fertiliser plant and township spread over 20 acres at Jasidih in Deoghar.
XAT cut-off announced
The XLRI Jamshedpur on Saturday announced the cut-off marks in Xavier Aptitude Test (XAT) 2023 for PG courses in business management (BM) and human resources management (HRM).
In the HRM programme, the overall cut-offs for male and female engineering candidates are 93 and 91 percentile respectively, while for males and females from non-engineering backgrounds, it's 90 and 88 percentile respectively.
For the BM programme, the cut-offs for male and female engineering candidates  are  95  and 92  percentile respectively, while males and females from non-engineering backgrounds need 95 and 92 percentile respectively.