Two men on bike snatch a woman's gold chain in Sakchi
The incident took place close to Jail-gate on Dhalbhum Road, about 50 metres away from her house, while she was out for a morning walk with her husband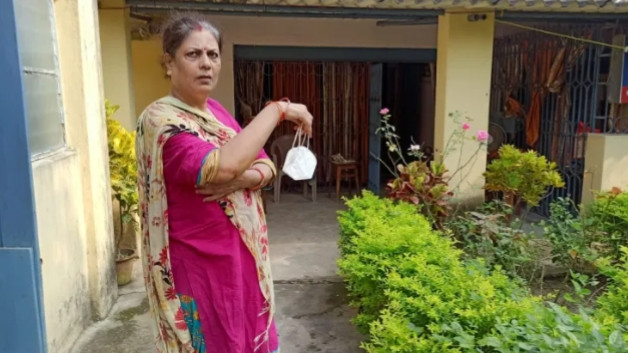 ---
---
Two bike-borne men snatched a gold chain worth over Rs 1.5 lakh from a woman near her home in the Sakchi thana area on Sunday morning.
The woman, Gayetri Devi (55), also sustained injuries in her legs and her neck as she fell down when the snatchers attacked her.
The incident took place close to Jail-gate on Dhalbhum Road, about 50 metres away from Gayetri's house, at 7.30 am while she was out for a morning walk with her husband Dr AN Jha.
According to her, both she and her husband were out for a morning walk at 6.30 like everyday.
"We were returning home after the walk. My husband went to a medical store near the Jail-gate to buy some medicine, while I moved to pick flowers from nearby houses. That is when two young men on a bike came very close to me. Before I could even react, I felt a jerk on my neck and the next moment I was falling down. I soon realised that they snatched my chain," Gayetri told The telegraph Online.
She said she saw the two speed away and disappear after taking a turn toward Sakchi market.
"No one around, my screams fell on deaf ears. As I got up, I felt pain in my legs. Later, on reaching home, I found bruises on both my legs. There was a scratch on my neck too," she added.
Soon after Dr Jha, who is posted at the MGM Medical College Hospital, reached Sakchi thana along with Gayetri and lodged an FIR.
A police team led by Sakchi OC Kunal Kumar inspected the spot and also collected footage from CCTV cameras installed along the road and in front of the Jail-gate.
"There has been an incident of chain snatching on Dhalbhum Road. We have identified the criminals and hope to nab them soon," Kumar told The Telegraph Online.
The OC said police are aware of chain-snatchers in the areas and has arranged for patrolling in certain pockets.
"We did not anticipate that such criminals would attack morning walkers on a busy street like Dhalbhum Road," the OC said.