Two coronavirus patients die, 18 Dhanbad scribes infected
Three days after death 89-yr-old woman test report came positive, hospital closed, doctors and staff quarantine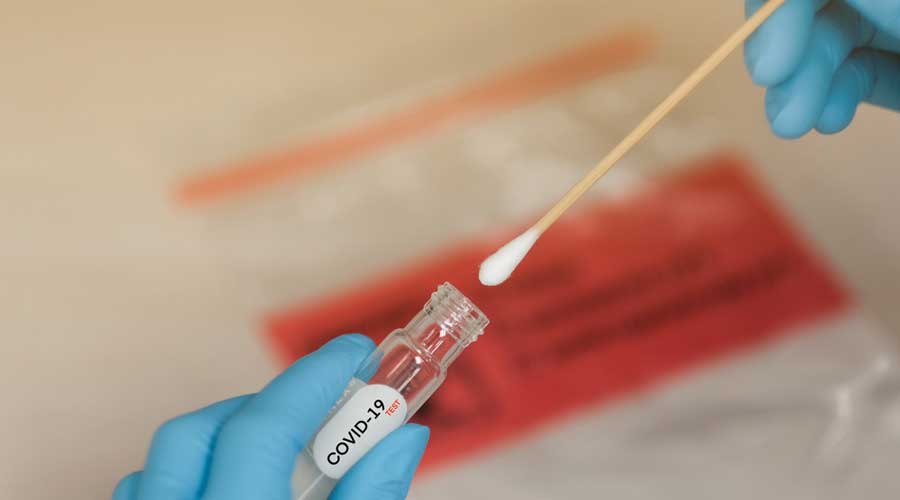 ---
|
Ranchi
|
Published 08.07.20, 01:08 AM
---
Alt head: JMM MLA tests positive as Covid cases spike
Jharkhand Mukti Morcha's (JMM) Tundi Legislator Mathura Mahto on Tuesday tested positive for Covid-19 as the count of Covid cases in the state witnessed a triple digit jump, health officials said.
The Covid death toll in Jharkhand reached 22 on Tuesday as two infected patients, both from Dhanbad, breathed their last.
A 58-year-old infected man, one of the two deceased, was undergoing treatment at Rajendra Institute of Medical Sciences (RIMS), health officials said.
He was a patient of diabetes and hypertension, doctors said. Details of the other victim were not disclosed by the time this report was filed.
Out of the 25 fresh cases reported in Dhanbad on Tuesday, at least 18 were local journalists, an official from the district administration said.
"Tundi legislator has tested positive for Covid-19 on Tuesday. Out of 25 fresh cases in Dhanbad, 18 are journalists," said Dhanbad deputy commissioner Amit Kumar.
The Covid trajectory in Jharkhand witnessed an upward trend on Tuesday as at least 141 fresh cases of infection surfaced from different districts, a bulletin from National Health Mission (NHM) said.
This is the first instance of a triple digit increase in the count of Covid cases within 24 hours in the month of July.
On Tuesday, the highest number of cases were reported from East Singhbhum – a district that tops in terms of Covid cases in Jharkhand.
Two Covid deaths were also reported in East Singhbhum this week, triggering panic among local residents, sources said.
The count of Covid cases in Jharkhand reached 3,018 on Tuesday, NHM stated in its bulletin.
As many as 36 patients recovered from the infection on Tuesday, the bulletin added.
As per government data, the Covid toll in Jharkhand has jumped from 15 to 22 in the past four days with casualties reported from Jamshedpur, Ranchi, Khunti, Dhanbad and Sahibganj.
All the Covid victims in the state either suffered from some or the other comorbid condition or age related ailments, officials said.
The youngest victim of the virus in Jharkhand was a 24-year-old woman from Giridih. The woman, officials said, suffered from postpartum sepsis.
The government has so far collected samples of 1.66 lakh suspects and tested 1.61 lakh of them.
The recovery rate dropped to 69.71 per cent in Jharkhand on Tuesday while Covid mortality rate jumped to 0.72 per cent, government data highlighted.
An 89-year-old woman was detected Covid-19 positive three days after her death, putting the health department staff of Dhanbad and Bokaro on its toes to trace contact history and initiate screening.
The woman died in a private hospital in the Chas area of Bokaro.
The health department team then closed the hospital to carry out the disinfection process.
Few of the patients admitted in the hospital were shifted and the rest have been discharged according to their disease.
Meanwhile, the 35 staff and four doctors have been sent to district quarantine, said Dr A.K. Pathak, civil surgeon, Bokaro. The woman was a native of Delhi and had come with two persons on a train to attend a marriage function at Katras in Dhanbad on June 24.
A day before the function, she suffered a fever and breathing problem.
However family members after the function admitted her to the hospital in Chas on June, 29. However doctors assessed symptoms and her swab sample for Covid-19 test was collected and sent on July, 2. But before the report came she died on July, 4 during treatment. Unaware of her infection, family members did her funeral on the bank of Damodar River at Telmochu Bridge. And on Tuesday her report came from the private lab confirming her corona positive.
"Contact tracing and sample collection of her families and staff of the hospital is in process. They have been quarantined," said Pathak. In Dhanbad also the relatives of the deceased are being screened at Katras. More than 50 people from her family have been marked. They will be screened, said sources.