Truck overturns on GT Road, goods looted by villagers
STATE DIGEST: BJP leader arrested in Garhwa; robbery at Chatra garments shop; Sainik School cadets clear NDA exam; Dhanbad Covid hospital inaugurated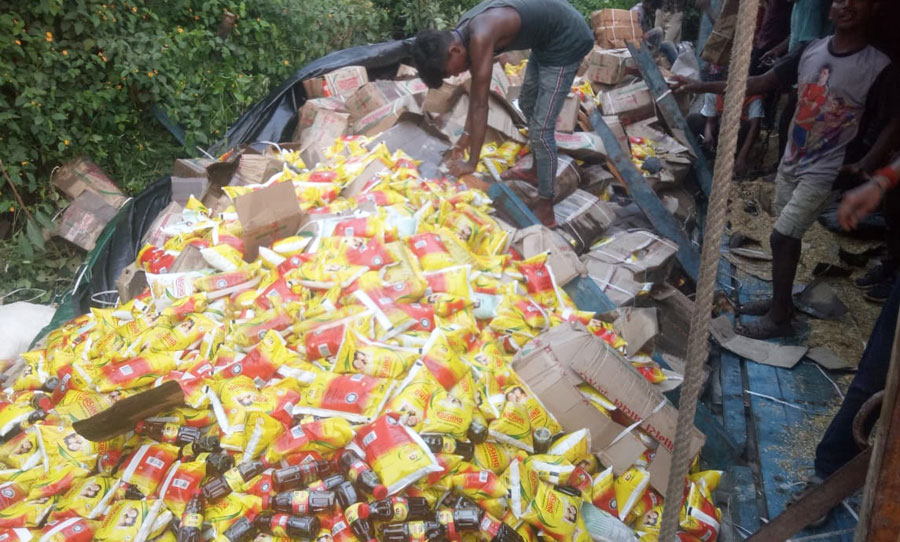 ---
---
A truck carrying mustard oil packets overturned on GT road in Siyarkoni Ghati spilling the goods on the road.
Local villagers gathered at the accident spot and started picking up the packets strewn on the ground.
Labourers were sent to the spot who loaded the remaining packets on another vehicle.
The driver and helper of the truck sustained minor injuries but were out of danger.
Police officials said villagers residing near GT road keep looting trucks carrying goods.
BJP leader arrested in Garhwa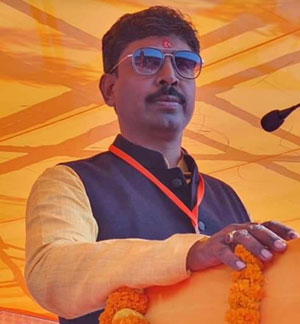 Garhwa police arrested BJP leader Santosh Keshari on Thursday following a non-bailable warrant that had been issued against him. Keshari was sent to judicial custody.
According to police, the warrant was issued in a case wherein a cheque from 2018 issued by him was dishonoured by a bank.
Police said the warrant had been issued against him in a court case filed under Section 138 of the Negotiable Instruments Act, 1881 of the IPC which pertains to dishonor of cheque for insufficiency of funds in account.
"Accused Keshari took Rs. 5.90 lakh as a loan to a trader Nandu Soni on the promise he will pay soon. But the money was not returned by him for a long time. On September 30,2018 accused handed over a cheque to Nandu's son Pancham Soni, with an amount of Rs 5.90 lakhs. Pancham filed an FIR against the accused when the cheques bounced," said Garhwa thana in-charge Rajiv Kumar Singh.
The warrant was issued after Keshari failed to turn up in court despite several summons.
Robbery at Chatra garments shop
Two masked men stole goods worth Rs 40,000 from Sonu Monu readymade garments shop in Itkhori of Chatra on Wednesday night.
The owner of the shop said the criminals broke in through the main entrance.
Itkhori police station officer-in-charge Sachin Kumar Das said investigation started on the basis of available clues from CCTV footage and the thieves will be arrested soon. He said efforts are on to identify the two thieves.
Sainik School cadets clear NDA exam
Around 59 cadets of Sainik School Telaiya have cleared UPSC(NDA) written examination-2020.
Group captain Rahul Saklani, principal of this school said these successful cadets have written new history in the illustrious saga of Sainik School, the premier institution. He said this school is a stepping stone to the National Defence Academy. He praised teachers for their able guidance which made cadets crack this examination.
Saklani expressed confidence that this result will motivate the upcoming batches to perform better. He informed that all India Sainik schools entrance examination will take place on January 10, 2021.He said application will be available from October 20 on website aissee.nta.ac.in.
Dhanbad Covid hospital inaugurated
The newly renovated dedicated Covid hospital of Dhanbad at Jagjivan Nagar was inaugurated on Thursday by Dhanbad Deputy Commissioner, Uma Shankar Singh and BCCL CMD, Gopal Singh.
The hospital has a 30 bed ICU facility and 40 bed non ICU facility.
The facilities were developed within a record 15 days.
The oxygen pipeline, installed for uninterrupted supply, was inaugurated by general manager of Sindri unit of Hindustan Urvarak and Rasayan Limited, Himmat Singh Chauhan.