Tribal uproar over VHP sarna sthal soil plan
Move seen as an attempt to interfere with the sentiments of the indigenous community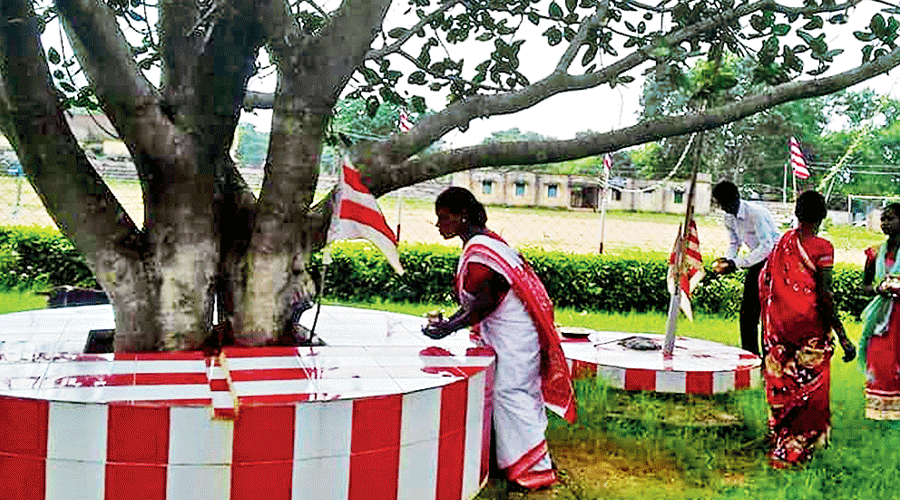 ---
|
Ranchi
|
Published 25.07.20, 03:40 AM
---
Some tribal organisations have objected to the plan of the Jharkhand unit of Vishwa Hindu Parishad (VHP) to carry soil from sarna sthals, the place of worship of tribals, to Ayodhya for its use in the construction of the Ram temple.
Barring the tribal people who embraced Christianity, others perform their religious practices at sarna sthals, which are scattered across the state.
"We strongly object to the VHP's plan for carrying soil from our sarna sthals to Ayodhya because the tribal communities are distinct ethnic groups with their own cultural identity. We have nothing to do with the temple they will construct," said Prem Shahi Munda, president of Adivasi Jan Parishad.
"We have our own religious beliefs and practices and this is an attempt to interfere with the sentiments of the tribals," said Phool Chand Tirkey, president of Ranchi's Kendriya Sarna Samiti.
"We have been demanding a separate sarna code and the government should grant it," Munda said. He claimed that the political parties woo tribal people for their political gains but do not recognise their religious and cultural identity.
"Instead, they are trying to show the tribal people as a part of the larger Hindu community," he alleged.
"This is nothing new. They always have an agenda to include the tribal people within the Hindu fold," said Tirkey, echoing Munda's claims.
The tribal leaders said they came to learn about the VHP's plan through a statement of Keshav Raju, its organising secretary for Bihar and Jharkhand.
"In fact, we have collected soil from a few sarna sthals and are expecting to get from some more by this (Friday) evening," Raju told over phone on Friday afternoon, confirming his organisation's plan.
"Are they real representatives of the tribal communities?" Raju shot back when told about the objections of the tribal organisations to the VHP's plan.
"It's for the purpose of construction of a temple of Sri Ramachandra who is respected by all, even the tribals," he claimed, to strengthen his argument.
He then referred to Ramayana to show that the tribal people had great respect for Ramachandra and even helped him in his mission to rescue Sita.
"Many tribals consider Hanumanji as their own and even worship him," he pointed out, adding that Hanumanji was the most trusted lieutenant of Ramachandra.
"There are many examples to show the Hindus also worship nature in the same way the tribals do," he said, claiming there was no major difference in the religious beliefs and practices of the tribal people with those of the Hindus.