Work for migrant who walked 7 months to reach home
Sahebganj officials identify contractor who duped tribal worker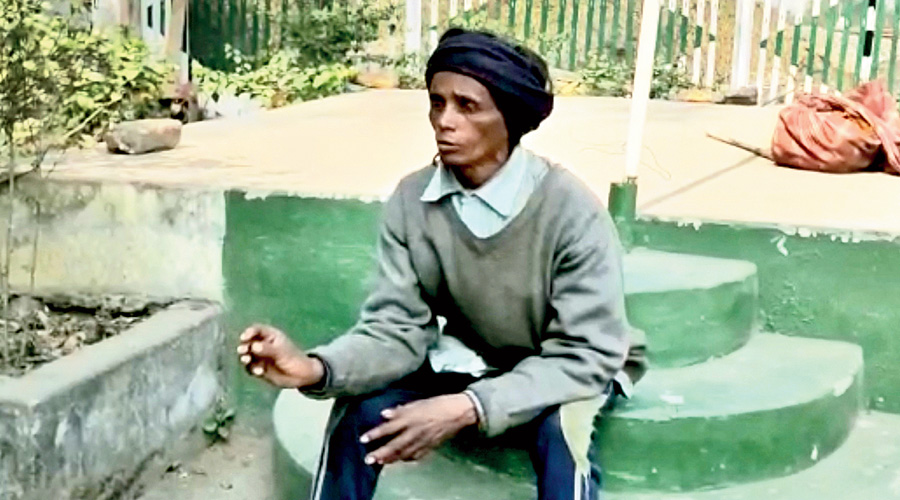 Berjom Bamda Pahadiya at Mahuda in Dhanbad.
Shabbir Hussain
---
Jamshedpur
|
Published 17.03.21, 01:55 AM
|
---
The Sahebganj district administration in Jharkhand has identified the labour contractor who had allegedly duped a tribal worker who had to walk for seven months to return from Delhi after all his money was snatched and he was assaulted.
Berjom Bamda Pahadiya, 54, from a primitive tribal group (PTG) who speaks only Santhali, had started walking along railway tracks during the coronavirus-induced lockdown in August and reached home at Amarbitha village in Sahebganj district on March 13, covering more than 1,200km.
Sahebganj deputy commissioner Ram Niwas Yadav said The Telegraph report on March 14 on Pahadiya had left him shocked.
"It was shocking to read the news…. I directed the block development officer (of Pathna) on Monday to locate the PTG member and also trace the middleman labour contractor who committed the inhuman act. We also received a directive from the chief minister's office to ensure all social security benefits are given to the victim," Yadav said.
On Tuesday afternoon, Pathna BDO Suman Sourav identified the labour contractor as Rajesh Thakur, a resident of the same panchayat area where Pahadiya lives. Thakur is absconding since Pahadiya returned to the village.
"I have lodged a report at Ranga thana against Rajesh Thakur, who had taken villagers to Delhi and assaulted and harassed the victim. We will find out who else were involved. We have asked all panchayat representatives to be alert and ensure that harassment of migrant labourers by middlemen are reported to the administration," Sourav said.
Thakur had allegedly promised good money to Pahadiya. Once in Delhi, Thakur allegedly withheld all his payments and snatched whatever meagre amount the migrant had been carrying. 
Pahadiya had no option but to walk all the way home, wearing a pair of torn slippers. He had to beg for food and water at villages on the way. Pahadiya says he had not eaten for a fortnight when an NGO worker spotted him at a railway crossing in Dhanbad district on March 11, about 240km from his home. The NGO worker arranged for food, clothes and also a vehicle to take Pahadiya to his village on March 13.
BDO Sourav visited Pahadiya's village on Monday evening and met him.
"They are a primitive tribal group belonging to the Pahadiya community which is on the verge of extinction. They live in hills and forest areas in isolation. However, with the help of the village head I was able to trace the victim and his wife (Nandi Pahadin) on Monday evening," Sourav said.
The BDO found out that Nandi had a ration card with the name of her husband and children on it. They receive pension and ration every month.
The administration has given work to the couple with the Ajeevika self-help group so that they can receive financial benefits from the government.
"We also sent a recommendation to the Sahebganj district administration under the rural housing project (Birsa Awas Yojana) for the tribal couple. They will have a house by March-end or April. We have also ensured that they have a job card and their names are added under the MGNREGS," Sourav said.
The district administration also gave 50kg ration to Pahadiya while an NGO has provided them Rs 5,000 as immediate relief.