Train to Punjab resumes journey from steel city after 15 months
MP Bidyut Baran Mahato flags off Tatanagar -Amritsar Jallianwala Bagh Special Express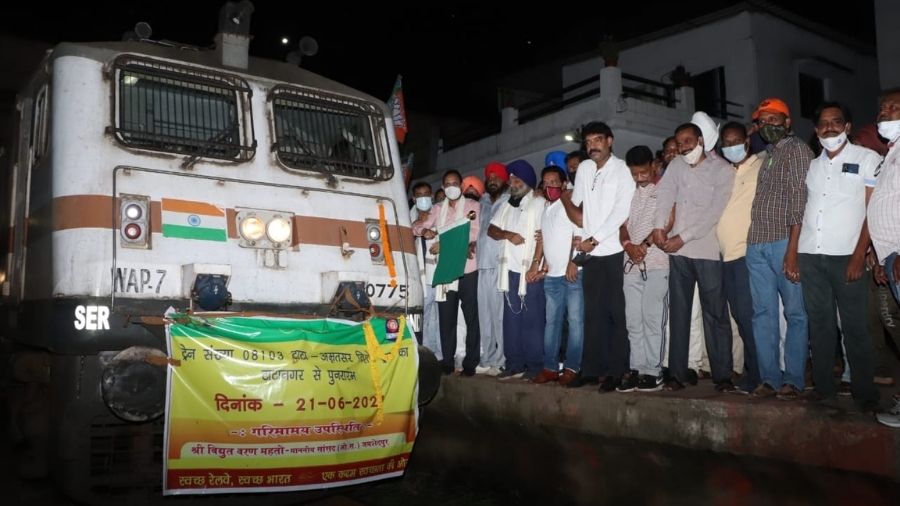 People flag off the Tatanagar -Amritsar Jallianwalla Bagh Special Express train at Tatanagar railway station in Jamshedpur on Monday night.
Picture by Bhola Prasad
---
Jamshdepur
|
Published 22.06.21, 04:41 PM
|
---
The Tatanagar -Amritsar Jallianwala Bagh Special Express train  resumed journey after 15 months, when it left the Tatanagar railway station on Monday night.
The bi-weekly special train was flagged off at 9.10 pm by Jamshedpur MP Bidyut Baran Mahato in presence of senior railway officials of Tatanagar.
The train had stopped operation in March last year because of the Covid-19 pandemic and resumed its journey with 340 passengers, while around  70 per cent of berths remained empty.
Members of Sikh community were happy over the restoration of the bi-weekly train. 
"The restoration of the train will immensely benefit those travelling to Amritsar and other parts of Punjab. We are thankful to the railways for the restoration of the train," said Satnam Singh Gambhir, a senior functionary of All India Sikh Students Federation.
Addressing the flagging off ceremony Jamshedpur MP Bidyut Baran Mahato thanked the authorities of South Eastern Railway.
"We are making efforts to ensure restoration of trains , which had stopped operation due to the pandemic, for various other destinations. Talks are on with the Railway Board and South Eastern Railway authorities for resuming the train service between Tatanagar and Buxar (in Bihar)  soon," he said.
The 08103 / 08104  Tatanagar-Amritsar  Jallianwala Bagh Special  train will leave Tatanagar every Monday and Wednesday at 9.10 pm.
The train will reach Amritsar at 6.30 am on the third day. The train leaving Tatanagar on Monday will reach Amritsar on Wednesday while the train leaving Tatanagar on Wednesday will reach Amritsar on Friday.
In the opposite direction, 08104 Amritsar-Tatanagar Jallianwala Bagh Special will leave  Amritsar every Wednesday and Friday w.e.f June 23 at 12.45 pm.
The train will arrive at Tatanagar at 9.10 pm, the next day after a journey of about 32 hours.
The train with four AC-3 Tier, 11 sleeper class and four general second class (Reserved) coaches, will have stoppages at Purulia, Bokaro Steel City, Gomoh, Koderma, Gaya, Rafiganj, Anugraha Narayan Road, Dehri on Sone, Sasaram, Bhabua Road, Pt. Deen Dayal Upadhyaya, Varanasi, Shahganj, Faizabad, Lucknow, Bareilly, Moradabad, Laksar, Roorkee, Saharanpur, Yamunanagar Jagadhri, Ambala Cant, Ludhiana, Jalandhar City and Beas stations between the two destinations - Tatanagar and Amritsar.
Chief public relations officer of South Eastern Railway, Sanjay Ghosh said the bi-weekly train will have fully reserved accommodation.