Traders furious at govt for not allowing garment shops to open
Protests held in Dhanbad, Dumka; textile association asks FJCCI to intervene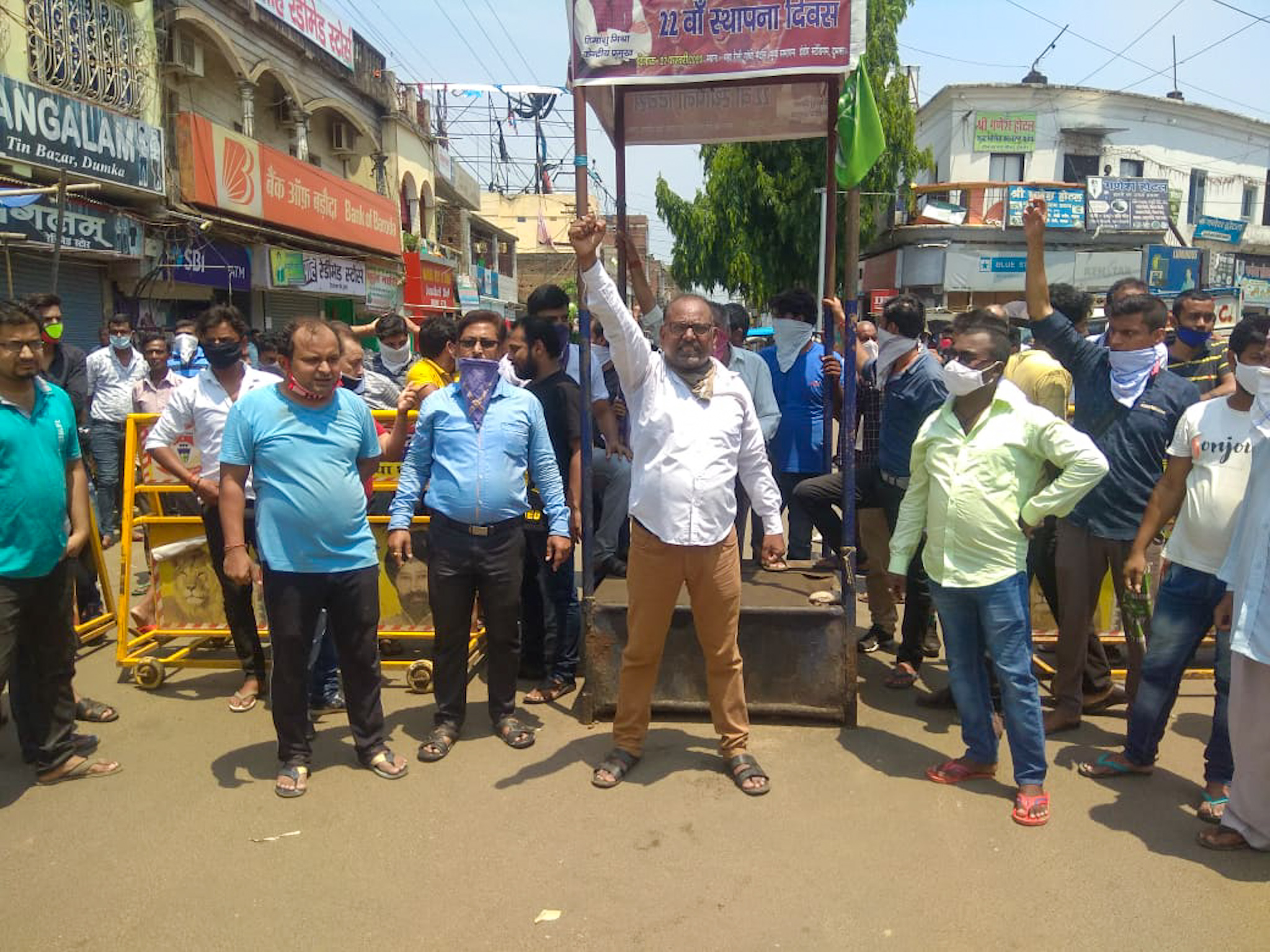 Shopkeepers block Main Road in Dumka city on Tuesday to demand that garment traders be allowed to resume business.
Manob Chowdhary
---
Ranchi
|
Published 02.06.20, 06:06 PM
|
---
Garment traders are furious with the state government for not allowing shops selling clothes and footwear to open on Day One of Unlock1, prompting spontaneous protests across Jharkhand on Tuesday.
Representatives of Jharkhand Thok Vastra Vikreta Sangh, an association of owners of textile and clothing ventures, held a meeting with office bearers of Federation of Jharkhand Chamber of Commerce and Industries (FJCCI) in Ranchi and sought to open a dialogue with the state government to allow textile and clothing shops to open.
Mukesh Agarwal, owner of a garment shop at Upper Bazar in Ranchi, said he was dismayed at the way the state government had allowed certain businesses to open while leaving out some.
"On the one hand, the government is bringing migrant labourers back, and on the other hand, it is ignoring the plight of several labourers working in the local textile industry," he said.
According to the state government's guidelines issued on Monday, consumer electronics shops and service centres were allowed to open from Tuesday. But the guidelines did not specify if garment shops would be allowed to conduct over-the-counter sales.
This led to protests from Tuesday morning. Owners of textile shops took to the streets in Dumka and Dhanbad, protesting against the government's "discriminatory" policies.
Jharkhand Thok Vastra Vikreta Sangh president Anil Jalan said the textile industry had incurred huge losses in the past two months, and most shop owners did not enough funds to pay staff salaries. "We want the FJCCI to apprise the government about our concerns,' he said. In Dhanbad, a group of aggrieved traders staged a demonstration at Vivekanand Chowk, demanding the district administration look into their demands.
President of Hirapur Chamber of Commerce Sanjeev Chaurasia said even a medium sized garments shop would have suffered losses to the tun of Rs 2 lakh during two months of the lockdown.
"If such a situation continues for the next month, we have no option but to come onto streets and start begging," said Gaurav Agarwal, a garment shop owner of Park Market in Hirapur.
Garment shop owners of Jharia are planning a show of strength on Wednesday.
"The condition of garment shop owners is pathetic. Similar is the condition of cosmetic and footwear sellers. I have also tweeted a message to chief minister Hemant Soren seeking his intervention," said president of Jharia Chamber of Commerce Amit Sahu.
Dhanbad SDO Raj Maheshwaram said everyone was bound to follow the guidelines. "Unfortunately, we cannot help anyone. Everyone will have to strictly follow the guidelines that prohibit the opening of saloons and garment, cosmetics and footwear shops," he said.