Tigress Anushka's cubs to be vaccinated, then christened in Ranchi
Three offspring to be named with 'Jharkhandi touch' after being examined for gender, says Birsa Zoo director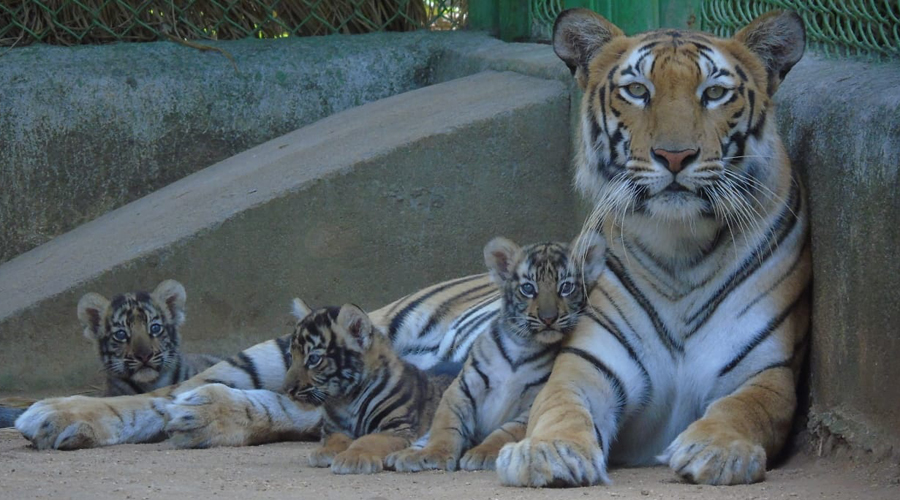 ---
---
The three cubs of tigress Anushka at the Bhagwan Birsa Biological Park, popularly known as Birsa Zoo at Ormanjhi in Ranchi, will get their first vaccine shots on July 2 or 3, sources said.
The first vaccination is important for the cubs' health and to determine their gender, they added.
Sources said the one who administers the vaccine examines the cubs and declares whether they are male or female.
Once the gender is established, zoo officials think of naming the cubs.
Anushka's cubs were born on April 18 night. Cubs get their first vaccine shots nine weeks after birth.
The director of Birsa Zoo, D. Venkateswarlu, said, "We will name them once their gender is established. Let me tell the people of Jharkhand that these cubs will have names in tune with the social milieu of the state."
"There will be a Jharkhandi touch to the cubs' names and we will appreciate any suggestions," he added.
When told that some members of the public, when asked for suggestions regarding the cubs' names, spoke of names like lockdown, handwash, mask or curfew, Venkateswarlu said, " Everyone should try to forget these names once this country is Covid-19 free. We will try to have beautiful names for these cubs."
Birsa Zoo has 10 big cats, called Mallik (Anushka's mate), Jawa (a male white tiger), Anushka, Gauri, Laxmi, Saraswati and Shiva, with the addition of these three cubs.
Sources said the vaccination of the cubs is like the first step towards the formation of the National Register for Tigers (NRT).
The veterinary doctor of Birsa Zoo, Ajay Kumar, said, "The vaccination will be done strictly according to protocol. The vaccinator and the cubs will be taken well care of."
Kumar said, "Vaccination is mandatory to prevent viral infections. Anushka has been given her annual booster dose this May. The three cubs will be vaccinated on July 2 or 3. If it cannot be done on the first day, then we will try on the second."
"The second round of vaccination will be done a month later. Thereafter, they will be administered annual booster doses," he added.
"The three cubs are quite healthy, each weighing 7kg to 8kg. Their mother weighs 130kg to 140kg. The cubs' eyes remain shut for 14 days after birth," Kumar said.
The zoo director said, "I inspected the enclosure made for Anushka and her cubs on Monday and I was delighted to see the cubs, which are too playful and naughty. The cubs are very friendly with their keeper, who feed them and their mother a meal comprising buffalo beef and chicken."
He said the cubs wouldn't feel much pain during the vaccination as they will be injected with the help of a syringe used for insulin shots and its prick is minor.
Each of the cubs will be injected with separate needles.