This Ganesh Chaturthi, idol makers rue they have little to do
In Covid times, orders are too few, that too of smaller sizes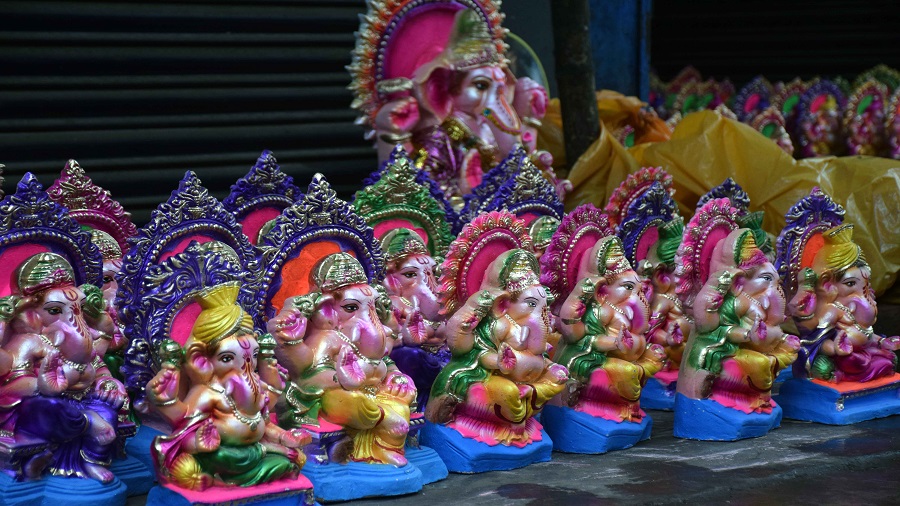 ---
---
Low-key Ganesh Chaturthi celebrations, because of the Covid-19 pandemic, have struck a body blow to idol makers whose business has shrunk manifold.
Ajit Paul, one of the oldest idol makers of steel city, has got orders for making only about a dozen Ganesha idols this year, that too of sizes ranging between 3 feet and 4 feet. Last year, Paul, who made a 15feet idol for a Telco puja, had orders for over 40 big-size idols.
Raju Prasad, another idol maker, faces the same dilemma. He got orders only for a handful of Ganesha idols this year. Big idols fetch him, and other idol-makers like him, somewhere between Rs 15,000 and Rs 20,000 whereas each order of a smaller idol gives them a paltry Rs 1,000 and Rs 1,500.
"We are facing a shortage of work as orders have reduced by more than 60 per cent in comparison to last year," rued Paul. "Also, on an average every year, there used to be an addition of more than 100 pujas and, hence, orders were plenty. But this year, because of the Covid situation, there is no new puja," he said, adding that several organisers had decided to skip Ganesh Chaturthi celebrations altogether.
Paul makes idols at his home at Chandinagar in Sakchi. The family is into idol making for the last 70 years. He learnt the craft from his father Jeevan Paul, who was a very popular artisan.
Raju Prasad said, "There's not much work this year. I have got a handful of orders only for small idols."
S.K. Banerjee, who owns an art workshop at Sonari, said workers were reluctant to come to the steel city because of the pandemic. "Every year, I invite 10-12 artists from Purulia and Midnapore to make idols for Ganesh Puja as well as Durga Puja. But this year they were hesitant," he said.
A. K. Dey, an idol maker of Sakchi, said they were going through tough times. "Ganesh Chaturthi and Durga Puja are the two occasions when idols are in huge demand. Unfortunately, this year things are in a mess due to the pandemic," said Dey, who has been making clay idols for the last 25 years.