Tech that! Fruit-seller's son in top 100
BIT-Sindri alumnus skips corporate job for Government Engineering exam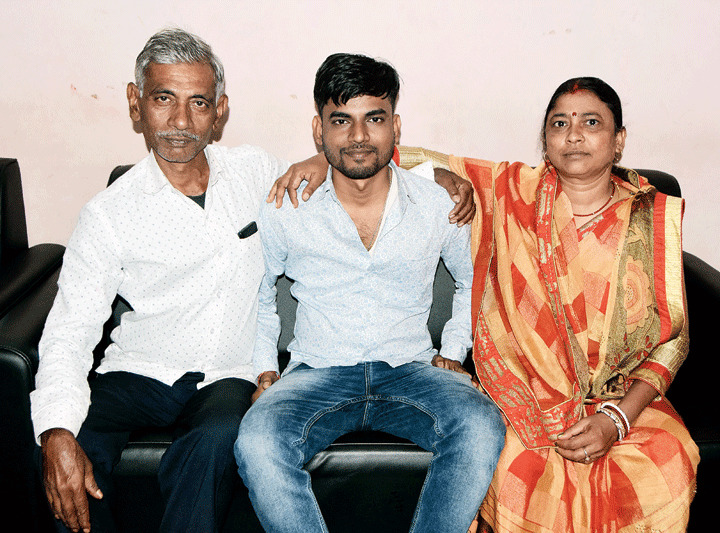 Ajay Kumar Sahu with his parents at their residence in Kumharpatti in Manaitand, Dhanbad, on Tuesday
Gautam Dey
---
Dhanbad
|
Published 29.10.19, 06:47 PM
|
---
Dhanteras dazzled for a roadside fruit-seller here, as his son received news on that day that he had cracked the prestigious Engineering Services Examination, 2019.
Not only did Ajay Kumar Sahu, 23, a BTech mechanical engineer from the 2018 batch of BIT-Sindri, clear the tough exam, he came within the top 100 with an All India Rank of 83.
Modest as ever, Ajay said he had not expected such a high rank and gave full credit to his father, fruit-seller Yogeshwar Prasad, and his "supportive" family.
"Despite severe financial constraints, my father worked very hard to give me a good education. We are five siblings. There was a time when we were all small and my father was the only earning member. We've seen tough days," he said.Hard times kindled in him a desire to serve society, he said. "I could have immediately got a lucrative job in a private concern during campus placement or after getting my engineering degree," he said.
"But I decided to prepare for a government job as my mission is to do something good for society and a government engineer can by creating infrastructure."This same idealism led Ajay to work with Pahal, a Dhanbad-based social organisation that provides free education to poor children, during his days at BIT-Sindri.
Ever practical, he said when he got the news that he had cracked the test, he kept it to himself for two days. "I did not want celebrations over my success affect our fruit selling business. Diwali is a peak time for our business, which my father and one of my elder brothers handle. So, I told my family and others the news only after Diwali sales were completed," he said, smiling.
Their family fortunes are also looking up, he said. "My eldest sister is married, one elder brother helps dad in the business, another works in the railways (Group D staff) and the youngest brother is studying engineering. I hope I am soon in a position where I can help talented students from lower middle class or poor families to live up to their potential," he said. "Often, students from poor families don't know the basics, like how to use the Internet, the right books to consult and coaching centres to approach," said the youth. "Most often, there is no money for extras."
He thanked his brother in the railways, Bhim Kumar, for helping him out with money to enrol in coaching institutes such as Tech Guru in Dhanbad and Made Easy in Delhi.
"I couldn't have imagined staying in Delhi for a year and preparing for the exam without my brother's help," he said.