TSAF climbers eye national platform
200 boys & girls to compete in New Delhi today, tomorrow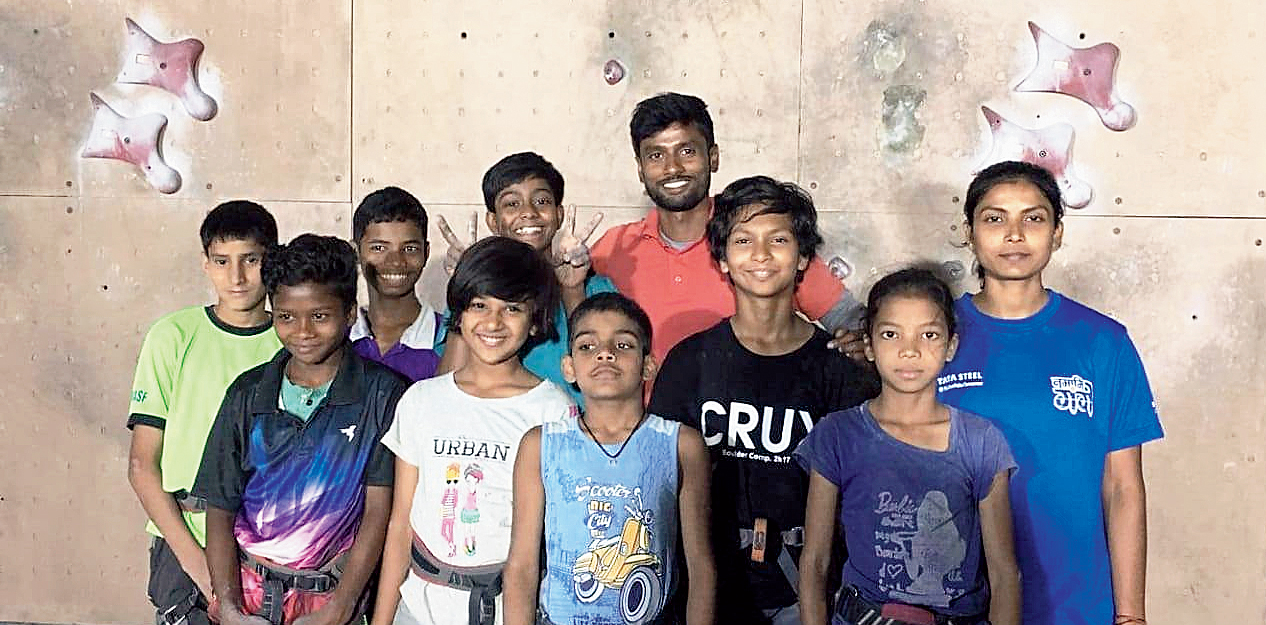 TSAF climbers in New Delhi on Friday.
The Telegraph picture
---
Jamshedpur
|
Published 19.04.19, 07:16 PM
|
---
A 10-member team from Tata Steel Adventure Foundation (TSAF) will compete in the All India Sport Climbing Competition (speed and bouldering) in New Delhi on April 20 and 21.
The two-day event is being organised by the North Zone committee of Indian Mountaineering Foundation. Around 200 climbers from across the country will take part.
The TSAF outfit (boys and girls), which reached Delhi on Friday, include siblings Aman and Anisha Verma (junior section), Vidula Prakash, Kiran Thakur, Aastha Kumari, Jogna Kumari, Suraj Singh, Abhishek Rawat, Harpreet Yadav (sub-junior) and Khushboo Kumari (senior).
Bibhash Roy, coach of the training centre run by TSAF at JRD Tata Sports Complex, said his wards were in good form and expected to perform well at the national meet. "I am very confident about Aman and Anisha. Our climbers performed well in Calcutta this month," he said over phone from Delhi.
Climbers from the premier Jamshedpur-based adventure outfit, claimed 13 medals — six gold, two silver and five bronze — at an open sport climbing competition in Calcutta earlier this month.
Both Aman and Anisha bagged two yellow metals each in lead and speed climbing in the junior boy's and girl's sections while Khushboo won the top slot (speed) in the women's category. Kiran also finished with the gold (lead) in the sub-junior girls' section.
TSAF has rivetted its attention on sport climbing that has been included as one of the disciplines (on experimental basis) for next year's Olympics Games in Tokyo, Japan.
Roy added training sessions at the cradle was showing results. "Our climbers have won medals in national, zonal and state competitions. The sport climbers are young and have ample time to improve their climbing skills," Roy, who hails from Calcutta, said.
TSAF boasts of the only sport climbing infrastructure in Jharkhand. It has three separate walls for lead, speed and bouldering. The outfit is also working out the logistics for setting up a residential academy at JRD Tata Sports Complex. This will further help the climbers, especially Anisha, who is being trained for Tokyo Olympics.