Survey shows reality of online education in rural areas
During studies through mobile, 33.4% children faced Internet connectivity issues while 13.9% faced problems in timely recharge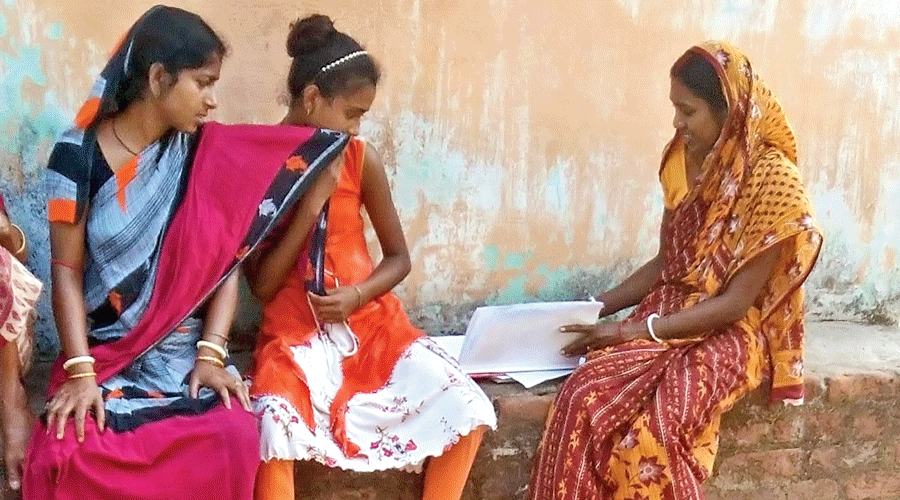 A volunteer of the samity carries out the survey at a village in Jharkhand earlier this month.
Manob Chowdhury
---
Jamshedpur
|
Published 20.04.22, 12:35 AM
|
---
A survey on digital education carried out by a non-governmental organisation, Gyan Vigyan Samity, in rural parts of Jharkhand has revealed that the majority of parents are completely unaware of education provided through TV channels.
The survey, Effects of digital education and its reach in primary and middle level in Jharkhand, was conducted in 197 panchayats in 20 districts between March 31 and April 7 and released before the media in Ranchi on Tuesday.
"At least 84 per cent houses did not have DTH or cable connection in working condition, 97.1 per cent of the parents agreed that their children did not study watching TV, while 72.5 per cent parents accepted that it was not possible to monitor if their wards were studying on TV or not. Interestingly, 25 per cent of families even accepted that their children while studying through TV used to see entertainment channels in between," said Kashi Nath Chatterjee, national secretary of the Samity.
Even smartphones and the Internet, which were the other available options for digital education, also had a dismal scenario.
 "Ninety seven per cent of the children surveyed did not possess smartphones and only 55.5 per cent of the parents owned smartphones. 87.3 per cent of parents informed during the survey that children did not study during the Covid induced lockdown for nearly two years.
"Out of the 8,774 children surveyed only 602 children used to avail education through smartphone and out of these only 44.3 per cent children were able to select study materials through smartphone," said Chatterjee reading from the survey.
During studies through mobile, 33.4 per cent children faced Internet connectivity issues while 13.9 per cent faced problems in timely recharge and only 8.5 percent children did not face any difficulty in studies through smartphone.
 "Ninety seven per cent of parents admitted that the government should initiate additional classes to overcome the study gap due to the long period of school closure during lockdown. The survey shows that the Central government mission of digital push in the education sector, as announced in the Budget 2022, would not be successful in the current scenario," added Chatterjee.
The survey had 23 per cent from Scheduled Tribe, and 51.6 per cent from backward.
 "From government data between 2019-2020 only 12 per cent of the government schools have Internet facilities.
"Even the state wise digital connectivity scenario is also poor with only Kerala leading with 87.84 per cent, Delhi with 85.69 per cent, Odisha with 6.46 per cent, Bihar with 8.5 per cent, Bengal with 10 per cent and Uttar Pradesh with 13.62 per cent having Internet connectivity," added Chatterjee.
The organisation had also carried a survey between July 24 and August 10 last year which showed nearly 93.6 per cent children not having their own mobile and have to depend on family members' cell phones to pursue their studies.
Only 5.3 per cent of the students surveyed are able to attend regular online classes as they do not get mobiles regularly.
Only 12.8 per cent of students are able to grasp subjects properly in online classes while 93.1 per cent of the parents surveyed admitted that there has been deterioration in the education standards of their wards and a huge majority (92 per cent) supported the conduct of regular offline mode of classes.