Supporters of Raghubar Das and Saryu Roy clash in steel city
Row over celebration of Pandit Dindayal Upadhyay's birth anniversary at Burmamines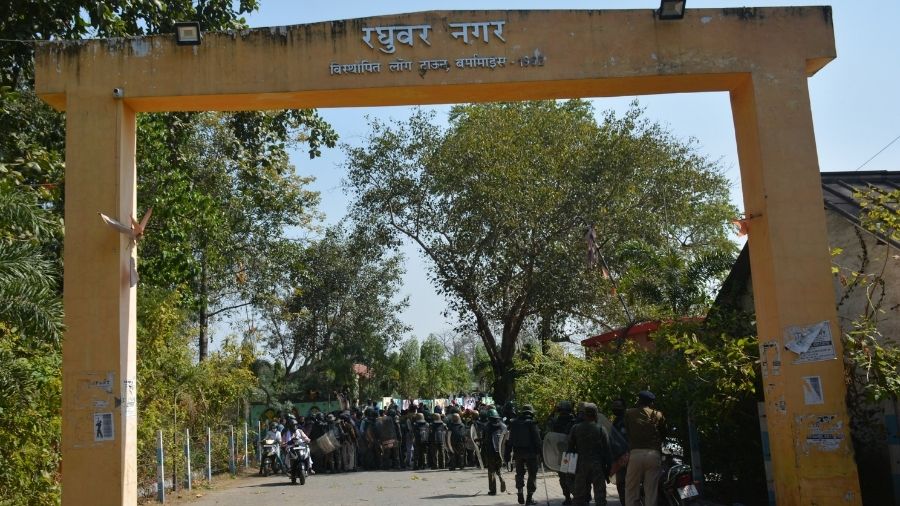 Raghubar Nagar in Burmamines where a clash broke out between supporters of BJP leader and former chief minister Raghubar Das and Jamshedpur East MLA Saryu Roy in Jamshedpur on Thursday.
Picture by Bhola Prasad
---
Published 11.02.21, 05:46 PM
---
Supporters of arch political rivals, former chief minister Raghubar Das and his one-time bete noire in the BJP who ended up ousting him from the Assembly Saryu Roy, clashed at Burmamines on Thursday morning over the celebration of Pandit Dindayal Upadhyaya's birth anniversary.
According to sources, as Roy's supporters assembled at Raghubar Nagar at 10.30am to begin the function, BJP supporters of Das arrived and started creating a ruckus. A clash ensued in which stones were freely hurled by both groups. But police were quick to intervene and ensure the violence did not escalate.
Thursday's clash occurred in the backdrop of frayed tempers after plaques installed by Roy's supporters to announce a beautification project at Raghubar Nagar were defiled and damaged, allegedly by Das's BJP supporters, on Tuesday.
Police said that after Thursday morning's clash supporters of both leaders gathered at Burmamines police satiation to lodge FIRs. OC of Burmamines police station Raju Kumar said the situation was now under control on account of their timely intervention. "But we are keeping a close eye on key men belonging to both groups. Supporters of both the BJP and Roy's outfit Bhartiya Jan Morcha turned up at the thana to lodge complaints against each other. If they do give us something in writing, we will definitely register cases accordingly," the OC told The Telegraph Online.
Das and Roy were rivals even when they were in the BJP. But ever since Roy became MLA from Jamshedpur East, defeating five-time MLA Das in his own pocket borough after contesting as an Independent in the 2019 Assembly elections, the two leaders have been at daggers drawn.
So as Roy tries to strengthen his place in the constituency by initiating development projects, Das supporters are trying their best to make life difficult for him and his supporters.
Sources claimed that Roy's supporters retaliated to Tuesday's incident by defacing a number of plaques set up by Das supporters. A month ago, Das supporters allegedly damaged yet another plaque set up by Roy's supporters at Bhalubasa in Sitaramdera, also under the Jamshedpur East constituency.