Suicide bid outside collectorate in Dhanbad
A sacked driver of a transport company tried to immolate himself to draw attention to his plight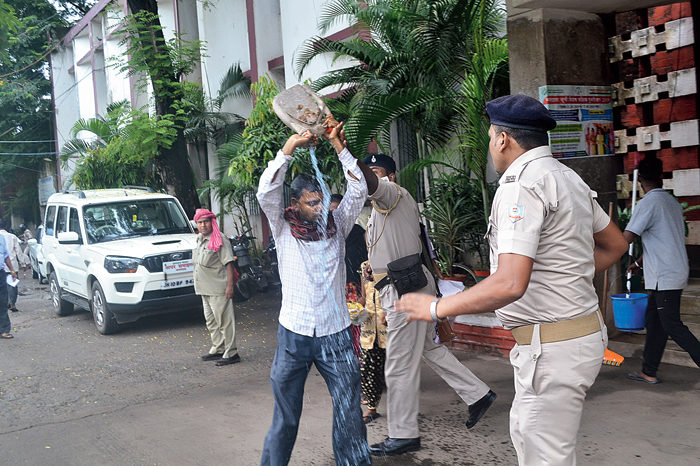 ---
|
Dhanbad
|
Published 25.09.19, 07:23 PM
---
A sacked driver of a transport company outsourced by Bharat Coking Coal on Wednesday came to the district collectorate with his wife and three daughters where he tried to immolate himself to draw attention to his plight and that of "around 150 more sacked drivers" for allegedly refusing to cave in to the extortion demands of the local BJP MLA.
Alert cops saved Akhtar Hawari, 48, who had doused himself with kerosene, from lighting the match, and took him under custody around 12.30pm.
Hawari, who was engaged with private coal excavation cum transport company Shelley Mining that the BCCL hired in Baghmara, later told the media he had tried to kill himself twice earlier and would try again if he did not get a job.
Hawari told newsmen that he along with 150 more labourers lost their jobs with Shelley Mining when each of them refused to pay Rs 6,000 per month to Baghmara MLA Dhullu Mahto from their salary of Rs 15,000. The MLA forced the company into sacking the workers for their "defiance", Hawari said.
The driver added that on Wednesday the police had promised to arrange a ration card for him and some means of livelihood for him. "I am just desperate. I have a family to look after, including an ailing mother," he said.
Dhanbad rural SP Aman Kumar, who rushed to the district collectorate and personally spoke to Hawari, said: "He told us that he lost his job due to political pressure and spoke to us about being the victim of extortion, but didn't name the Baghmara MLA or any particular person during our questioning. He said he had no money at all."
The rural SP added that Hawari's employer has already wound up his operations in Baghmara.
"We will present Hawari's case before deputy commissioner Amit Kumar to facilitate a ration card for him and also give him access to government social welfare schemes since he is facing extreme poverty," Kumar.
When this reporter called up MLA Mahto on his cellphone for the latter's reaction to Hawari's charges, a man identifying himself as the MLA's aide answered the call to say "Bhaiya" was busy at an event and hung up.