Steel city's apex Puja committee gives go-ahead for dhakis
Organisers to seek local administration's nod; all Covid guidelines to be followed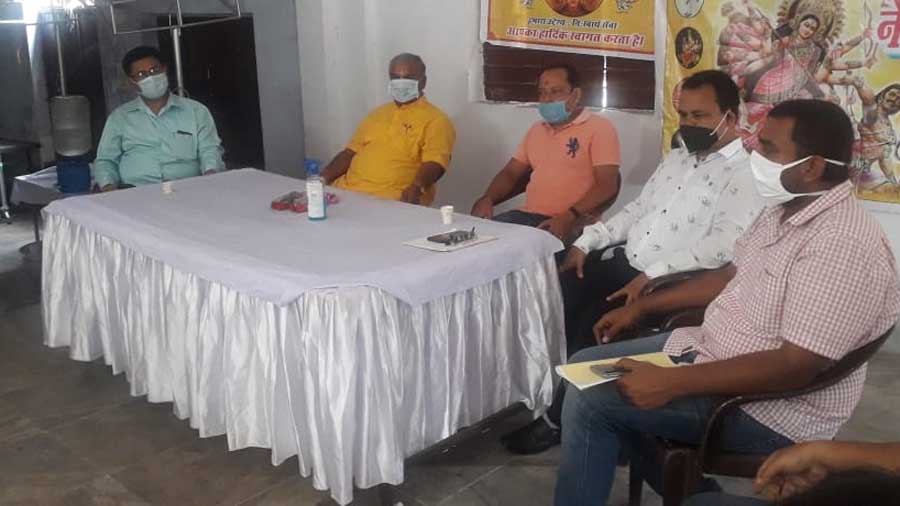 ---
---
The organisers of Durga Puja in the steel city will be allowed to bring in dhakis provided they produce a certificate that they don't have Covid-19 and a government testimony that they don't pose a health hazard. 
This was decided during a two-hour-long meeting of the city's Central Durga Puja Committee on Tuesday. 
Held at Golmuri, the committee meeting was presided over by general secretary Ram Babu Singh and attended by about a dozen of the 320 committees that organise Durga Puja.
Singh said that the Puja will be organised while observing restrictions and any guidelines issued by the administration will be followed. 
"As many as five committee representatives proposed that dhakis be allowed during the Puja. But keeping in mind the pandemic, we have decided that at most two dhakis will be allowed at each Puja. The dhakis should produce certificates stating that they are Covid-19 negative. Moreover, the dhakis will also have to furnish testimonies from the health department that they will not spread the coronavirus," Singh told The Telegraph Online.
Singh added that the committees will see to it that the dhakis play strictly during rituals and they remain confined to the pandals.
Singh pointed out that the decision of the Central Durga Puja Committee is subject to directives from the local administration. He said the members of the Central Durga Puja Committee will meet East Singhbhum deputy commissioner Suraj Kumar seeking his nod.
Kumar said permission for dhakis is subject to the guidelines to be issued by the state government.
"Neither the Central Durga Puja Committee nor I can give permission for engaging dhakis during the festivities. The administration is giving priority to controlling the pandemic and any permission is subject to guidelines from the state government," Kumar told this website, adding that he expects such guidelines shortly.
Dhakis are traditional drummers who play "dhaks" during Hindu festivals, primarily in Bengal.  Drum beats are an integral part of the five-day-long annual festivities associated with Durga Puja. In the steel city, too, most organisers engage dhakis and tend to bring them mostly from Bengal.