Sindri traders worried about water logging, writes Dhanbad Municipal Commissioner
Led by president of Sindri Chamber of Commerce, Deepak Kumar Dipu, they are demanding for the damaged drain to be repaired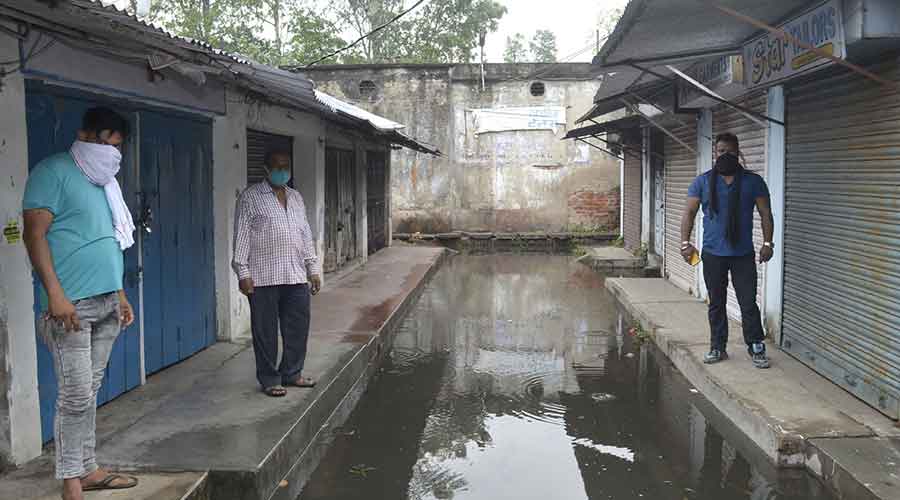 ---
Dhanbad
|
Published 09.05.21, 08:02 PM
|
---
Plagued with the perennial problem of water logging, shopkeepers of Sindri's Saharpura Market led by the president of Sindri Chamber of Commerce, Deepak Kumar Dipu wrote to Satyendra Kumar, Dhanbad Municipal Commissioner demanding comprehensive repair of the drain.
Talking to The Telegraph Online Dipu said, "The old drain had been constructed when the market was being established over 50 years ago. The drain has several cracks in its sidewall over the years due to which the water spills out on the road, thereby making it difficult for the shopkeepers and customers to move around in the market."
He maintained that the condition aggravates during the monsoon. "Apprehending the condition to get worse when the monsoon sets in, made us write to the Municipal Comissioner" said Dipu.
According to the worst affected section in the market is the Darji Patti (tailors' section). "This is area is badly affected. The articles kept outside the workshop get due to the seeping drain water," said Dipu. He added that the cumulative length of the market is around 1000 meters but there is a pressing need of having a proper plan to better the condition as the main drain where the water outflows is also damaged.
"Commuting is not the only problem that we face. Water logging is a bigger issue as it poses the risk for the outbreak of epidemics like, malaria, typhoid, diarrhoea, dysentery, dengue etc in the area and foul smell emanating from the logged water also make it difficult for people to stay there," said Dipu.
He maintained that they had earlier this year had discussed the matter with the Municipal Commissioner, when they had met him to discuss the hike in rent. "We had discussed our problem with the Municipal Commissioner when we had met him regarding the revision of exorbitant hike in the rent of 100 shops of Dhanbad Municipal Corporation. He had assured that the issue would be addressed and that a detailed project report would be prepared along with resolving the issue at the earliest," said Dipu.
When Meena Minz, Executive officer of Sindri circle of Dhanbad Municipal Corporation was contacted, he said, "We don't have any information about any assurance given by the Municipal Commissioner. So far no decision has been taken regarding the construction of the drain."
Apart from the 100 shops belonging to Dhanbad Municipal Corporation in Saharpura market there are 483 other shops of Fertilizer Corporation of India situated in various areas of Sindri like Saharpura, Manohartand,  Rodabandh, Rangamati and Domgarh apart from school, colleges and other official institutes.