Shift right now, fire-hit told
Coal ministry is mulling the proposal to rehabilitate all the 1 lakh families living in the 595 fire-affected sites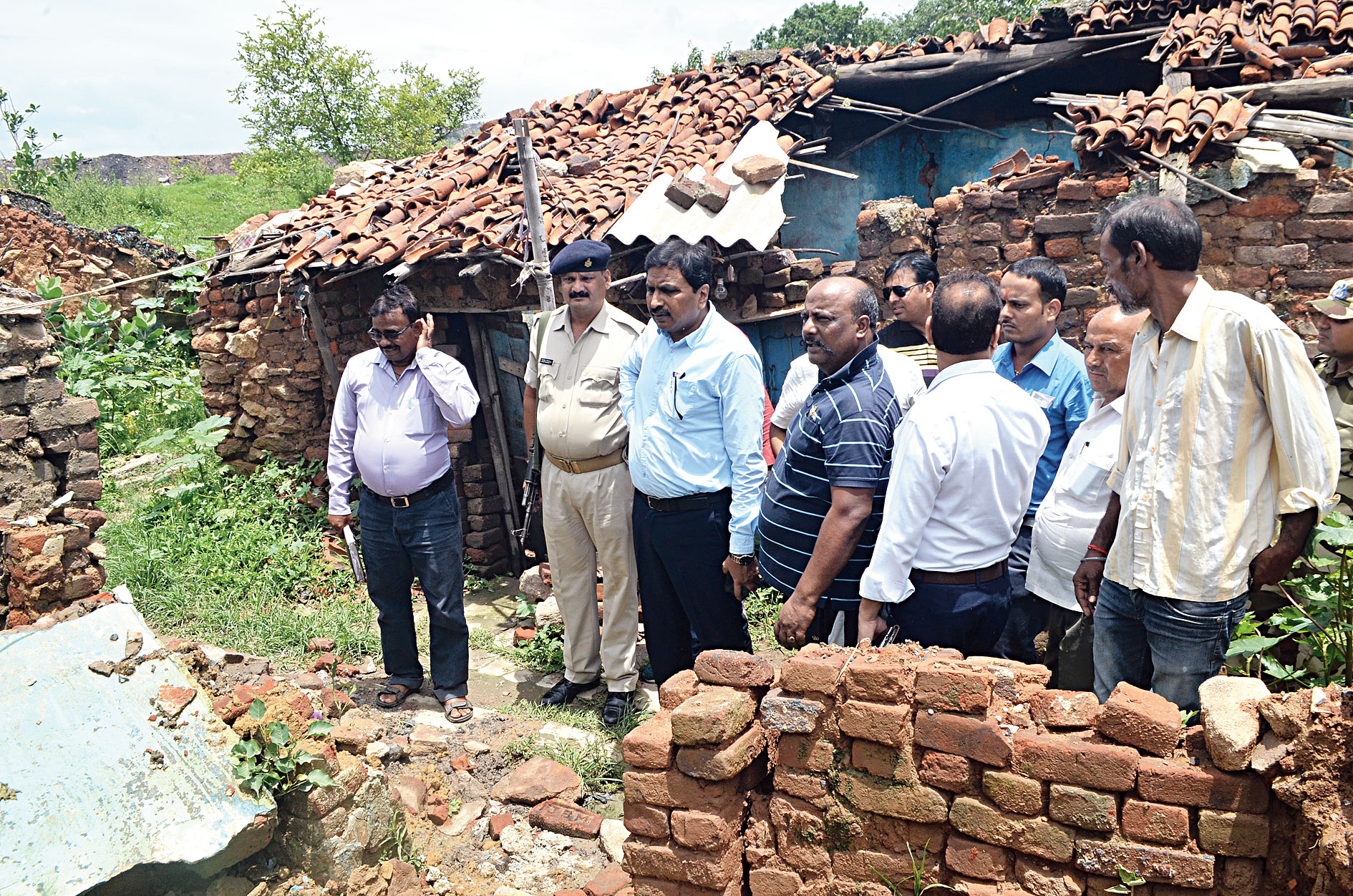 SDO Raj Maheshwaram (third from left) inspects the Mallahpatti locality in Dhanbad on Tuesday.
(Shabbir Hussain)
---
Dhanbad
|
Published 30.07.19, 09:03 PM
|
---
A joint team of the district administration, Bharat Coking Coal (BCCL) and Jharia Rehabilitation and Development Authority (JRDA) on Tuesday inspected Mallahpatti, said to be the most dangerous site of the Jharia's underground fire in Ghanudih, to initiate the process to shift 120 families to JRDA rehab quarters in Belgarhia and BCCL quarters in Jharia.
The urgency comes after a recent subsidence on July 27, when daily wage earner Santosh Nishad and his family were scared out of their wits after a huge crater was formed suddenly in their mud house, and the impact sent the walls of around half a dozen adjoining houses to collapse. Providentially, no one was injured.
Families of Mallahpatti who have been residents here before 2004 will get quarters under the Jharia Master Plan (for rehab) while others without valid documents to prove they had been residents since before 2004 will get stopgap accommodation from BCCL at company quarters in Jharia.
On Tuesday, the inspection team led by SDO Raj Maheshwaram, BCCL general manager (Bastacola area) Soumen Chatterjee, rehabilitation and resettlement in-charge of JRDA Azfer Hasnain and Jharia circle officer Rajesh Kumar, arrived at the site around 12.25pm and spent around 45 minutes in the affected area. They spoke to residents, saw the crater at Nishad's house and the smoke billowing out of cracks on the ground formed by subsidence, and advised people to relocate as fast as possible.
Maheswaram told the media after the inspection that living in Mallahpatti was dangerous. "People should shift immediately to either JRDA or BCCL quarters as applicable," he said. BCCL has already started collecting relevant land documents from the people in Mallahpatti so that they can be shifted to safer places.
The coal ministry is currently mulling the proposal to rehabilitate all the 1 lakh families living in the 595 fire-affected sites irrespective of the tenure of their residence. But as formalities such as preparing the additional modules to shift all 1 lakh families and making amendments in Jharia master plan through the Union cabinet are pending, the JRDA at present is awarding quarters in Belgarhia to only those people who have been living in the fire-affected areas since before 2004.