Shibu Soren, son Hemant retain top posts in JMM
12th party convention passes resolutions on jobs for women, STs, OBCs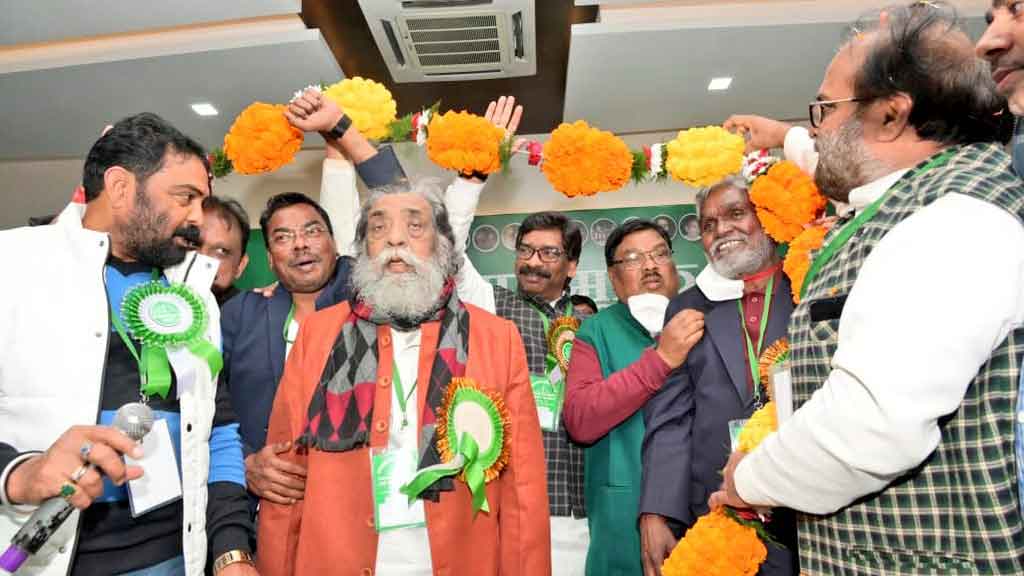 Shibu Soren being garlanded after his re-election as JMM president while others, including chief minister Hemant Soren, look on in Ranchi on Saturday
The Telegraph Picture
---
Ranchi
|
Published 18.12.21, 10:56 PM
|
---
Shibu Soren, hailed as "Disom Guru", was re-elected Jharkhand Mukti Morcha (JMM) president for the 10th time in a row during the party's 12th triennial convention at Ranchi's Sohrai Bhavan on Saturday with his son, chief minister Hemant Soren, being declared  working president for a second consecutive term.
Both Shibu Soren, a Rajya Sabha MP,  and Hemant will be in office for the next three years.
Addressing the convention, Hemant said that the party would continue to fight for "jal, jungle and jameen" and for sustainable development of the state, including moolvasis, poor and the marginalised.
Party workers from all districts of the state,  besides those from neighbouring Bihar, Odisha and West Bengal attended the convention where the party passed several political resolutions aimed at consolidating the party in its command areas, and fight the BJP and its "anti-people" policies.
Among resolutions passed were a decision to set up a commission to conduct surveys on families who suffered displacement over the years, work towards 50 per cent  reservation for women in jobs, 28 per cent reservation for OBCs and 27 per cent reservation for STs in both government and private jobs in the state.
"JMM was formed with a purpose to work for adivasis, the downtrodden and the like. We are committed to work towards it with more vigour. For the first time since the formation of Jharkhand, a moolvasi is leading a majority government. But just forming the government isn't the sole intention. It is only a means to fulfill the aspirations of the people of this state," Hemant said.
Attacking the BJP, he said, "Even though it formed a government and ran it for five years between 2014-19 in the state, the people voted it out of power because it was solely interested in working towards destroying tribals,  their culture and grab their land.  Even at the central level since 2014, after the BJP came to power, it is  constantly working against democratic norms. In 2014, Narendra Modi came to power to weed out inflation, but today, the price-hike demon is highest ever in the country with no respite for common people."
On dissension within the JMM, he advised party members to discuss with him as his "doors are always open" for  hearing issues. "Anyone with any issues or with suggestions is always welcome (to discuss issues with me) rather than discuss them in the media or social media," he said.
During the convention, it was also decided to reduce the number of JMM vice-presidents to 11 from 15, trim the number of general secretaries to 9 from 12, and reduce  the member of  central committee members to 351 from 451.