Sexagenarian sprinter's silver shine
67-year-old clocks 2:7:19 hours at Tata Steel 25Km run in Calcutta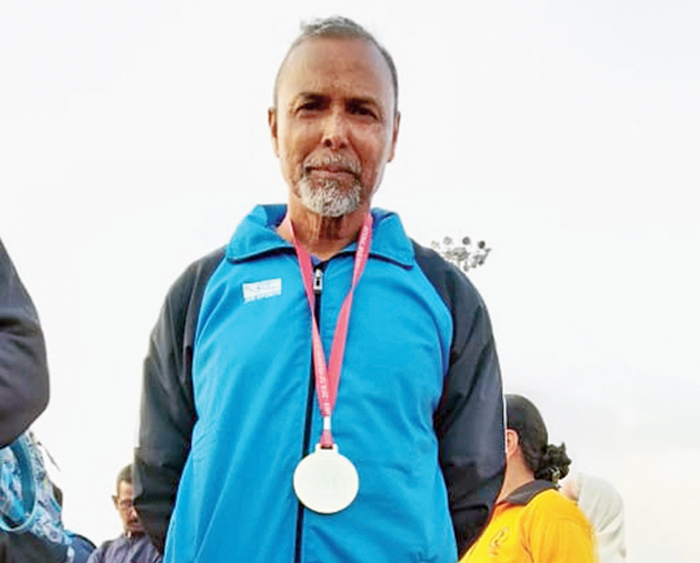 ---
---
Sprinter Achinto Pramanik has once again proved that age is no barrier when it comes to winning medals.
The 67-year-old resident of Gamharia in Seraikela-Kharsawan bagged silver at the Tata Steel 25km run in Calcutta on Sunday.
The sexagenarian, who competed in the 65-69 age category, clocked the run in 2 hours, 7 minutes and 19 seconds.
Pramanik, who loves running and never forgets his daily workout, had finished with the yellow metal in the last edition of the run in Calcutta as well. He is not disappointed with his show this year.
"Well, there were some good runners in the competition in my age group. I am happy that I am continuing to prove my fitness and also winning medals," he said.
Besides the medal, Pramanik also won Rs 15,000 cash.
"I will receive the prize money after a month," he said.
Pramanik is a natural athlete and has won numerous medals in athletics championships, including national ones, over the years.
He clinched 2,000m steeplechase gold at the 36th National Masters Athletics Championship in Panjim, Goa, in 2015, silver in 800m and bronze in 1,500m races.
At the State Masters Athletics Meet in Ranchi in 2017, the lanky athlete bagged three gold medals.
Asked about his schedule, Pramanik said he wakes up early and does some physical exercises in the open space inside the compound of his home.
He does jumps and stretching exercises to keep himself in fine fettle.
"Later in the day, I go for long-distance run on the road," he said, adding he loves to remain fit and believes in having simple food comprising chappatis, green vegetables, curd, pulses and a bit of rice.
Pramanik was also part of a 10km run organised on the occasion of Sardar Vallabhbhai Patel's birth anniversary on October 31 last year.
The run was organised by steel city-based Adventure Athletics Club.
Pramanik also led a 15-member team of youths to Maa Tarini Temple at Ghatgaon town in Kendujhar district of Odisha last year, covering a distance of over 170km.
On the secret of his fitness, Pramanik said: "Eat simple and live simple.
"This is the secret of my fitness. Never skip hard work," he said.
Pramanik lives with his wife Suchitra, son Sanjeev, daughter Sunita, daughter-in-law Priya and grandson Sonu.
He runs a general store near his residence.