Sensors to gauge plant emotions? Why not, say schoolkids
Innovative models on future of agri tech stood out among robotics at a campus exhibition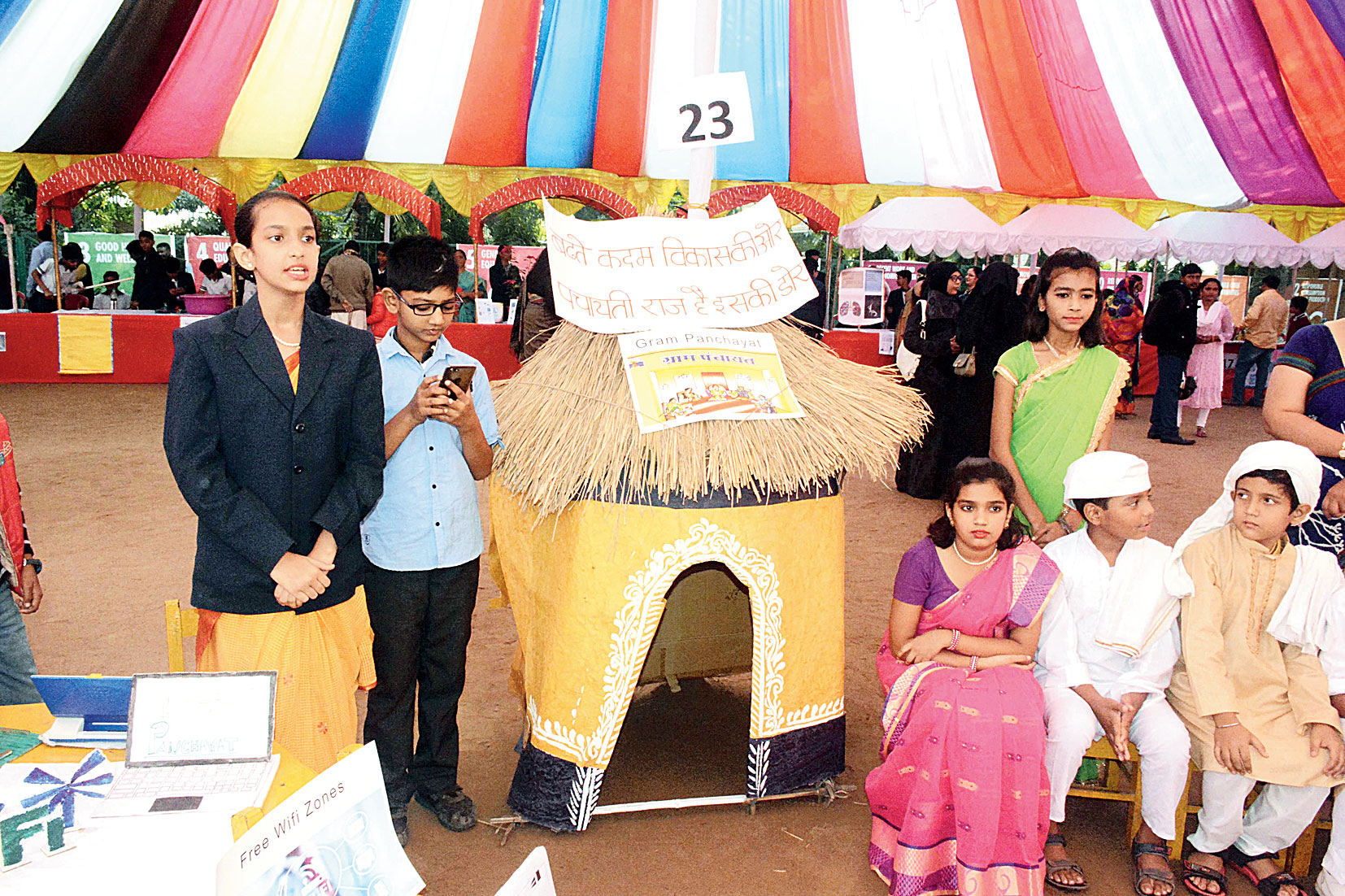 Students of Motilal Nehru Public School showcase a gram panchayat model on their campus in Sakchi, Jamshedpur, on Saturday.
Picture by Bhola Prasad
---
Jamshedpur
|
Published 01.12.18, 06:46 PM
|
---
How are your plants feeling today? Believe it or not, students of a steel city school can tell you via emoticons.
A day after the first Jharkhand global agri and food summit ended in Ranchi, bright students at Jamshedpur's Motilal Nehru Public School offered innovative farm ideas at a science exhibition-cum-contest for students from primary to high school sections.
From hydroponic agriculture
to recycled techniques of waste management to an elaborate gram panchayat, out of the box ideas stood out at Explore-Ideate-Innovate.
Director of CSIR-NML Indranil Chattoraj was the chief guest at the event where more than 50 kiosks displaying innovations in cloud computing, Internet of things, artificial intelligence, robotics as well as far simpler projects using common sense were put up.
A group of Class X students developed a system to monitor the emotions of a plant through sensors. Based on the moisture level in the soil, the system sensed five emotions of the plant — sad, average, happy, surprise and death — through emoticons.
"The plant has a sensor which is connected to the Bluetooth of our smartphone through a self-developed mobile app. Depending on the moisture the plant gets, emoticons change. This is useful to signal if it needs more water. We have also installed LED lights on the plant to display emoticons publicly," Class X student Shivam Jha said.
He added, "Farms that face varied temperatures and difficulty in monitoring soil moisture can use it."
In another model, Garbage to Gold, Class IX students showcased how organic wastes such as vegetables could increase food for cattle. The idea was to collect vegetable wastes from markets and feed cows to increase their milk production. Cow dung collected was sent for making compost where ducks and frogs consumed the maggots, leaving pure fertiliser for agriculture.
"We need to innovate on organic waste and how to recycle it. Once we are capable and find out ways there will be a lot of waste reduction," said science teacher Jayashree who was the guide for the model.
Students of the school also created a Gram Panchayat where they highlighted government schemes in the field of livelihood, digital literacy, Ayushman Bharat and Sarva Shiksha Abhiyan.
The first three best ideas in the senior, junior and special categories won Rs 1,500, Rs 1,000 and Rs 500 each. In the senior category, plant emoticons won third prize, behind experiments with Bluetooth-controlled cars, but made a big impact.
Principal of the school Ashu Tiwary said she wanted students to come up with ideas beyond textbook models to solve problems. "I was quite impressed with the response," she said.