Sealed wires to prevent shocks in Jamshedpur
Discom takes precautions before monsoon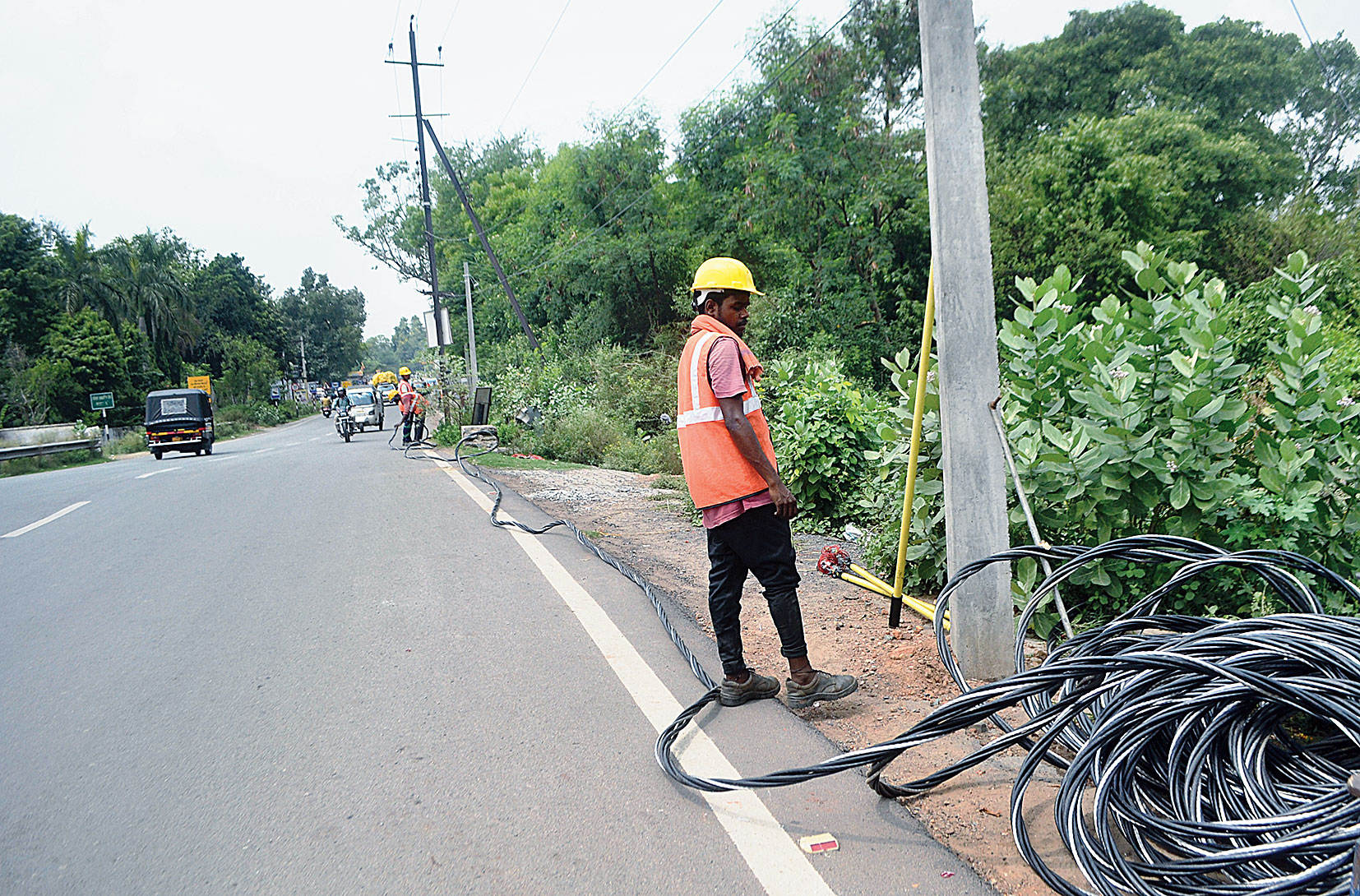 JBVNL workers at Khasmahal in Jamshedpur on Friday.
(Animesh Sengupta)
---
Jamshedpur
|
Published 08.06.19, 07:00 PM
|
---
Jharkhand Bijli Vitran Nigam Limited (JBVNL) has started replacing naked overhead cables and conductors in Jamshedpur electricity supply area to prevent electrocution deaths and injuries during monsoon.
Senior JBVNL official Anand Kashyap said overhead cables would be replaced in Karandih, Parsudih, Govindpur, Manifit, Mango, Jugsalai and Ghorabandha.
"Currently, all naked overhead wires are being replaced with bunched cables," Kashyap said, adding that the work was being carried out on a war footing keeping in view the approaching monsoon.
Aerial bunched cables are overhead power lines that use several insulated phase conductors bundled tightly together, usually with a bare neutral conductor. He said apart from Voltas, several other private firms were involved in the job to replace the overhead naked wires with bunched cables.
JBVNL junior engineer Sanjay Mahto said bunched cables were also being installed in rural areas which is serviced by the power discom.
"There has been instances of mishaps and deaths in the past, which usually takes place after the onset of monsoon. The naked wires fall on the ground due to thunderstorms and rain and causes mishaps. But, aerial bunched cables reduce the chances of electrocution deaths," he explained.
According to Met office predictions, monsoon is expected to arrive in Jharkhand only after June 20. JBVNL officials at its control office in Bistupur said instructions had been given to all the divisional offices to complete the replacement work by the end of this month.
"Apart from cables and conductors, instructions have also been given to replace old and worn out electricity poles. JBVNL's Singhbhum electricity supply area also has
prepared a plan to tackle power crisis which is caused by snags after monsoon's onset. As many as 20 transformers have been kept stand-by for emergencies," an official said.