Schoolkids beaten for forgetting diary
Accused vice-principal sacked, on the run; administration showcauses institution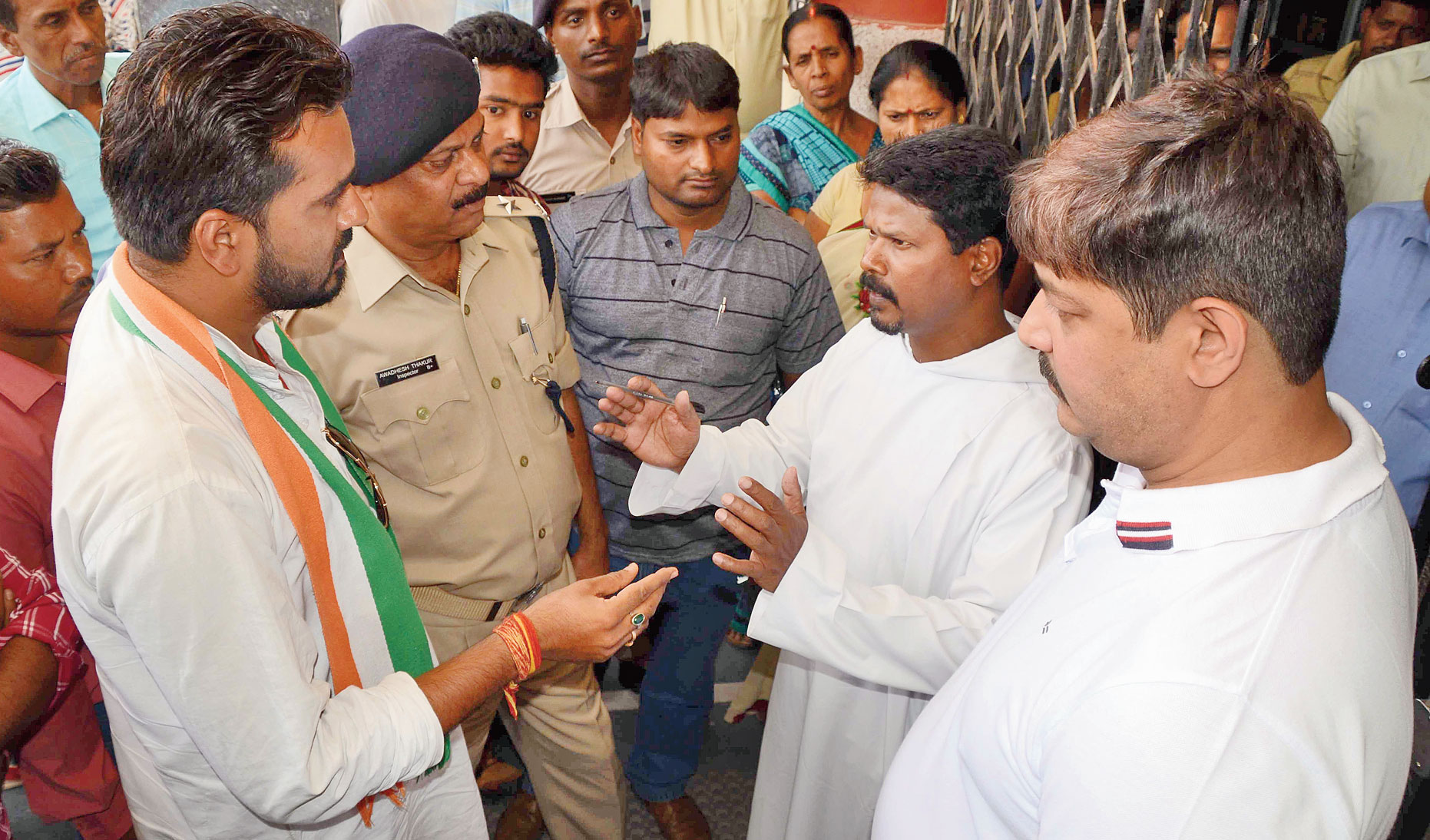 Principal of Bishop Hartmann Academy T Kindo (right) interacts with police and NSUI student leader Indrajeet Singh in Ranchi on Thursday.
Picture by Manob Chowdhary
---
Ranchi
|
Published 09.05.19, 06:44 PM
|
---
A ISCE-affiliated school, Bishop Hartmann Academy at here Mahilong, Tatisilwai, came in the line of fire on Thursday after its vice-principal allegedly beat up students on campus on Wednesday.
Over 100 people, including parents, laid siege to the school on Thursday to protest in the "inhuman way" boys were beaten with a stick and girls made to kneel down under the sun by the school's vice-principal Prem James Tigga for offences such as not bringing the school diary or, in the case of one student, of not paying the fees for the month of April.
Tigga is now incommunicado after the school administration informed the media that he had been sacked on Thursday. However, Ranchi district administration on Thursday issued a showcause notice to Bishop Hartmann Academy, asking for an explanation as to under what circumstances were some students awarded the corporal punishment, which amounted to violation of the Right of Children to Free and Compulsory Education Act, 2009.
The father of the Class VI child who was beaten up for not paying the school fees for April lodged an FIR against Tigga at Tatisilwai thana on Wednesday evening itself.
District superintendent of education Vijay Singh, who visited the school on Thursday, told this paper, "I went to the school after getting information that some children had been beaten black and blue by the school's vice principal (Tigga) because they had not brought their school diaries. In the case of one of the students, it has been alleged that he was beaten just because he had not deposited the tuition fee of the school for the month of April," Singh said.
He added that a good number of parents had come to the school to protest on Thursday.
"Prima facie, the allegation was found true," Singh said. "Under no circumstances can children be subjected to any form of corporal punishment. The law (right to education Act) is clear and unambiguous on corporal punishment. The school administration has said the vice-principal had been sacked. That's their internal disciplinary action. But, the school administration will have to explain within a week how this (corporal punishment) was allowed in the first place," he said.
On Wednesday morning, around 40 students were found without the school diary, which enraged Tigga. Boys were beaten with sticks while girls were forced to kneel down under sun.
NSUI student leader Indrajeet Singh, who came to the school with parents, said he was shocked. "Initially, I came to know about one student, a 12-year-old boy of Class VI, who was beaten up by Tigga for not paying one month's school fee. Then, it was revealed Tigga beat up other boys and forced girls to kneel down for not bringing school diaries. We forced principal T. Kindo to sack Tigga and now want the latter's arrest. An educator can't beat up children."
Neeraj Dixit, the father of the boy beaten up for not paying fees for April, told this paper that his son was hit six times with a stick. "My son is in Class VI and was hit six times. Someone else in Class XI was hit nine times. My son has bruises and swelling. He was in so much pain that I took him to a doctor. In shock, I went to the thana," Dixit said.
Another Class XI schoolboy's elder sister told this paper that her brother was beaten till he bruised because he forgot to take the school diary. "Is this discipline or insanity?" she charged.
A Tatisilwai policeman said they were on the lookout for Tigga to question him. The Telegraph called up principal Kindo several times for his comments but in vain.