School cooks cry camp jail horrors in Hotwar
'No food for children, too few toilets'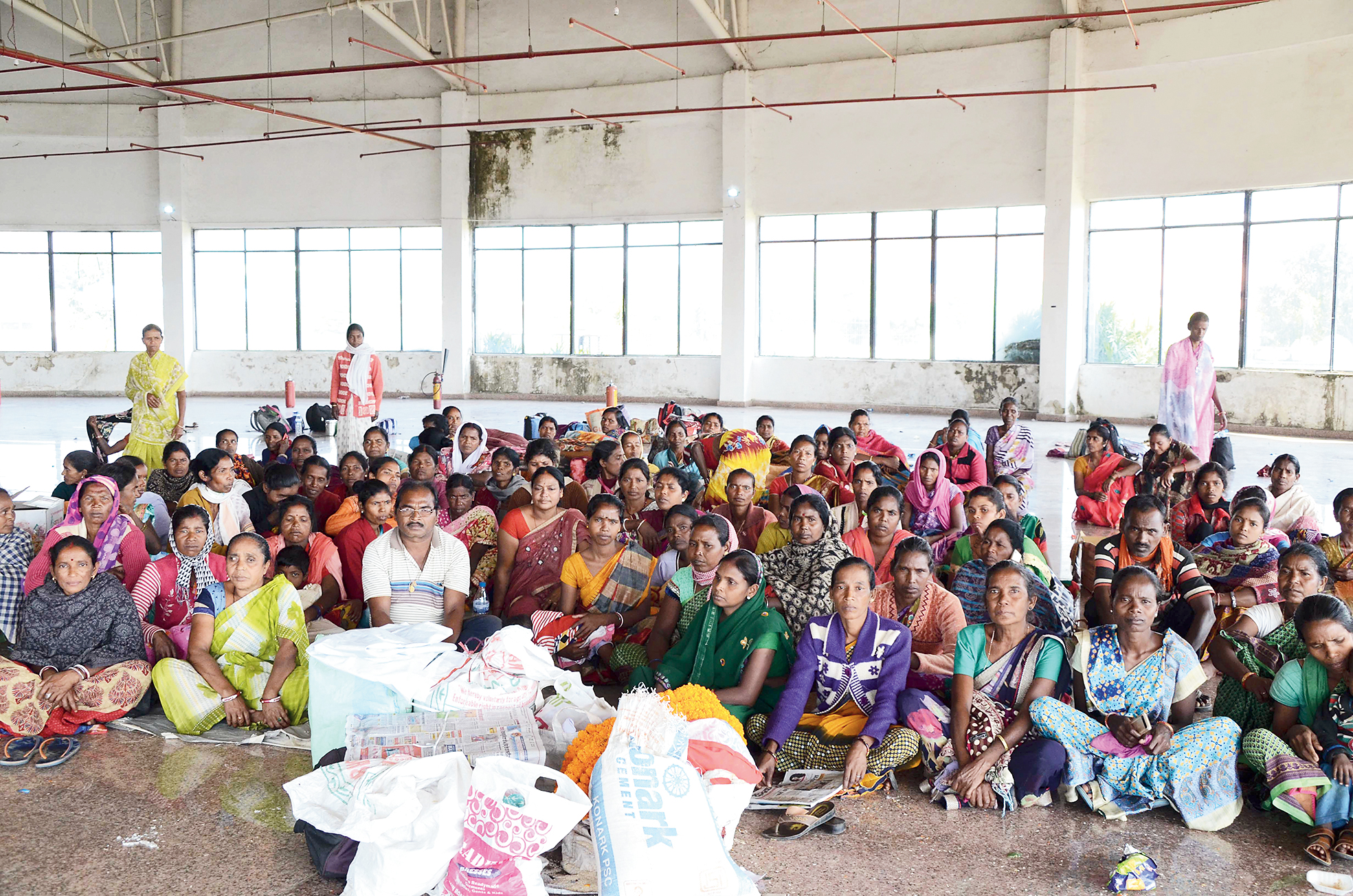 Ordeal: Midday meal cooks at the camp jail in Hotwar, Ranchi, on Friday.
Picture by Manob Chowdhary
---
Ranchi
|
Published 16.11.18, 07:32 PM
|
---
Over 300 disgruntled midday meal cooks who were taken into preventive custody on the eve of Statehood Day have alleged appalling conditions at the camp jail in Hotwar where they spent 48 hours before being released on personal bond on Friday evening.

Shanti Kumari, a cook from Latehar and among those agitating outside Raj Bhavan since September for better pay, said their children were forced to go hungry while arrangements for hygiene and sanitation were wanting at the mega sports complex, which acted as provisional prison.
"For 300 women, including two who were pregnant, the number of toilets made available was only four. And these too were dirty. So much so that many were compelled to relieve themselves in the open," Shanti said.
Anita Devi, a resident of Palamau, echoed her. "There were five children with us — two aged eight and the rest toddlers who are still dependent on baby food. On November 14, which is celebrated as Children's Day in the country, our kids had nothing to eat. In fact, no provision for food for them was made till last (Thursday, November 15) morning," the cook said.
It was only after the helpless mothers created a hue and cry that government officials present at the camp jail arrange for some milk, Anita added.
Midday meal cook Mamta Kumari of Bero said they spent the nights wide awake because they had to lie down on cold floors without a mat or blanket. The minimum temperature in capital Ranchi has been hovering between 13°C and 16°C since Wednesday.
"Let alone a bed with mattress, we were not even granted a bed sheet or a blanket. Jharkhand celebrated its 19th Statehood Day and we were denied fundamental rights for demanding fair wages. A few policemen and officials offered us kind words, but nothing more," Mamta said.
There are 1.2 lakh cooks who prepare midday meals in government schools across the state. Their daily wage is a paltry Rs 42. For the past couple of months, the protesters have been pressing for a hike in pay to Rs 350 a day and reinstatement of 8,000 cooks who were allegedly arbitrarily removed from work.
Prem Nath Vishwakarma, who is among those leading the protest of midday meal cooks and co-ordinators, said only chura-gud, biscuits and khichdi were offered to them.
"On November 14 night, those arrested ate chura-gud. The same was repeated for breakfast. In the afternoon, khichdi was cooked. But, for dinner (November 15) and breakfast (November 16), it was again chura-gud. This kind of a diet for 48 hours caused indigestion and stomach ache among many," he said.
Ranchi SSP Anish Gupta rubbished all the allegations in one sweep.
"Those taken into custody and lodged at the mega sports complex were provided everything according to the jail manual. They were released this (Friday) evening on personal bond. The allegations have no base," he said.
What facilities should be made available at camp jails? Tell ttkhand@abpmail.com