Satyagraha against BJP MLA
Bijay Kumar Jha launched a scathing attack against the BJP's Baghmara MLA Dhullu Mahto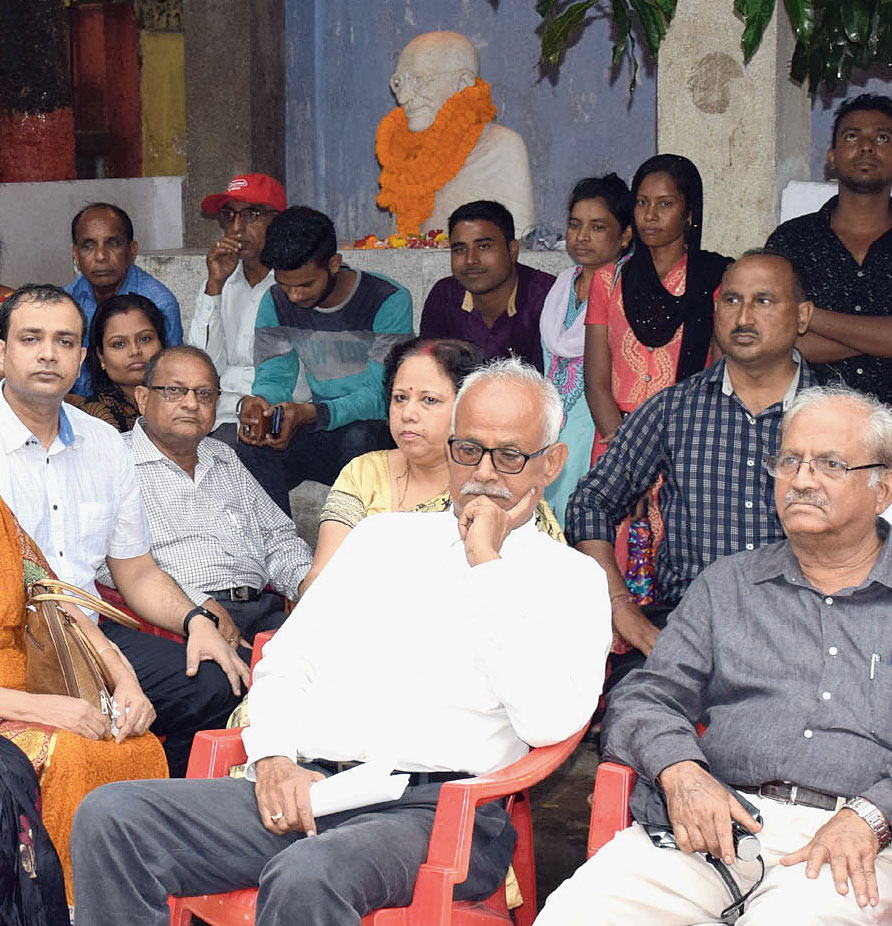 Bijay Kumar Jha (left) with wife Shivani at the satyagraha at Gandhi Seva Sadan in Dhanbad on Thursday.
Picture by Gautam Dey
---
Dhanbad
|
Published 26.09.19, 08:25 PM
|
---
Former chairman of Bokaro Industrial Area Development Authority (Biada) and well-known social worker of Dhanbad Bijay Kumar Jha on Thursday launched a scathing attack against the BJP's Baghmara MLA Dhullu Mahto in the aftermath of Wednesday's self-immolation bid by a sacked driver of a private mining transport company.
The driver, Akhtar Hawari, said he and around 150 others were sacked because they refused to give in to the MLA's monthly extortion demands.
Jha, along with his gynaecologist wife Dr Shivani Jha, on Thursday sat on a three-hour satyagraha in front of Mahatma Gandhi's statue at Gandhi Seva Sadan near district headquarters demanding police action against the Baghmara MLA.
Jha claimed MLA Mahto was a vindictive man framed his adversaries, including those in the BJP, in false cases.
Submitting a memorandum in Hindi to the Dhanbad DC Amit Kumar, Jha alleged that a section of political workers, social activists, RTI activists and whistle-blowers were being framed in false cases of sexual harassment and under the SC/ST atrocities Act by some persons.
In the memo, Jha did not name the MLA. But, speaking to the media, including this reporter, Jha accused the MLA directly, charging Mahto with misusing his power to frame people who spoke out against him.
However, in the memo Jha attached a list of nine cases lodged against various in Baghmara, including a complaint case under the SC/ST atrocities Act lodged against him in Dhanbad court on September 17, 2019, and another against his engineer son settled in Bangalore Bittu Jha on September 11, 2019, in Katras police station, under sections including IPC 354 and 376 (use of force on a woman with the intent to outraging her modesty, and rape). Jha also demanded a detailed probe from the CID on the background of those people who lodged such cases.
Jha told this reporter that he and his son were not the MLA's only adversaries against whom fabricated cases had been filed.
"We want the government to form an SIT (special investigation team) to probe into different cases lodged against people, including ourselves, advocate Somnath Chatterjee, activist Prakash Nonia, trader Buchan Singh, former Giridih MP Ravindra Pandey, BJP member Kamla Devi and her husband Rajiv Kumar, BJP's former Katras block president Vinay Singh and his nephew Rahul Singh, among others. We have all been framed in cases for speaking out against the MLA," he said.
Jha claimed the case against him was lodged by complainant Subodh Kumar, a close aide of the Baghmara MLA. "I had filed a PIL against the MLA in Jharkhand High court against his illegal acts. So I and my son were framed," he said. "An SC/ST atrocities Act case was filed against Prakash Nonia as he is close to MLA Mahto's political adversary Jaleshwar Mahto, former state water resources minister. There are many more instances. But we won't keep quiet as the voice of truth can't be suppressed by coercion," he added.
Repeated efforts to reach MLA Mahto on his mobile phone proved futile. Nobody picked up the phone.