Saryu sniffs water stink
Good water quality at the supply point not enough, It has to be good at the end point or taps: Saryu Roy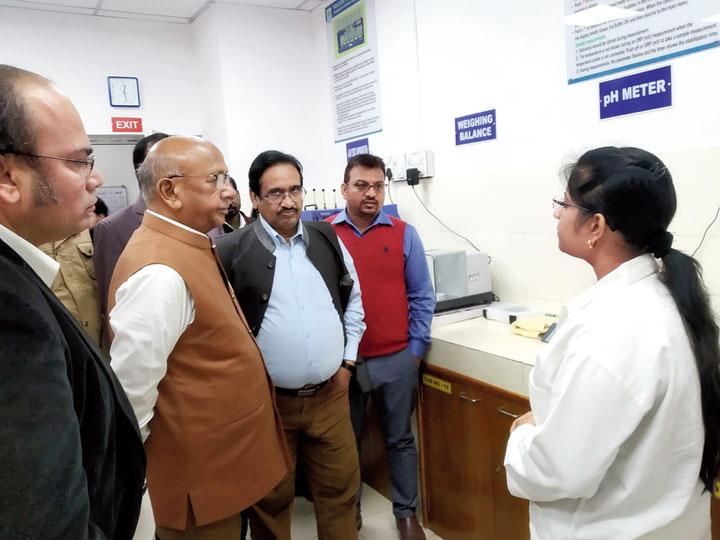 Saryu Roy inspects the WTP of Moharda drinking water project in Baridih on Friday.
Picture by Bhola Prasad
---
Jamshedpur
|
Published 24.01.20, 06:31 PM
|
---
The Tata Steel's utilities arm, Tata Steel Utilities and Infrastructure Services Limited (formerly Jusco), will check water samples from the Moharda drinking water project more frequently.
Jamshedpur East MLA Saryu Roy who inspected the water treatment facility and other infrastructure of the Moharda drinking water project at Baridih on Friday afternoon, told the media at his Bistupur home in the evening: "Residents have said that water from taps have foul odour. Though the Tata Steel entity and findings by the Yugantar Bharati water testing lab found water from the supply point complying to WHO norms, it seems there are some defects in the supply line. Keeping this in mind, I have asked for more frequent checks of water samples from houses to find the exact reason for this problem," Roy said.
Roy, formerly a BJP minister, who as an Independent dethroned then CM Raghubar Das from Jamshedpur East, said though water was supplied twice a day, residents alleged that pipes at many stretches had not been covered properly when they had been laid underground.
"Good water quality at the supply point is not enough. It has to be good at the end point or taps. There are complaints that water pipes have not been covered properly and there is every chance of their being damaged or having leaks, which affects the purity of water during transit to taps," said Roy.
The Rs 28-crore Moharda drinking water project, which was the pet project of then CM Das, provides water to nearly 2.5 lakh people living in the slums of Birsanagar, Baridih, Bagunnagar, Bagunhatu and Luabasa. The water project with the capacity to supply 5.5 million litres of water daily was started in 2006 and taken up by Jusco in 2016 after a pact was inked between the state urban development department and Jusco.
Roy also flagged the poor state of poles of water treatment plant (WTP) and the erosion at the embankment of Subernarekha river at Baridih where the intake well of the WTP is located. "The intake well and the WTP will cave in if no action is taken immediately. Subernarekha Multipurpose Project administrator Braj Mohan Kumar suggested boulder grating for 115m stretch which would cost Rs 1.23 crore to prevent erosion. In the long run, the entire 2km stretch has to be covered under boulder grating," he said.
Roy also asked Tata Steel and Jusco to start building sewage treatment plants to prevent pollution from the 23 nullahs flowing into the river.