Samvaad: Artists depict the tribal way of life at Artisans' Residency
Twenty five tribal artists from across the country are bringing canvases alive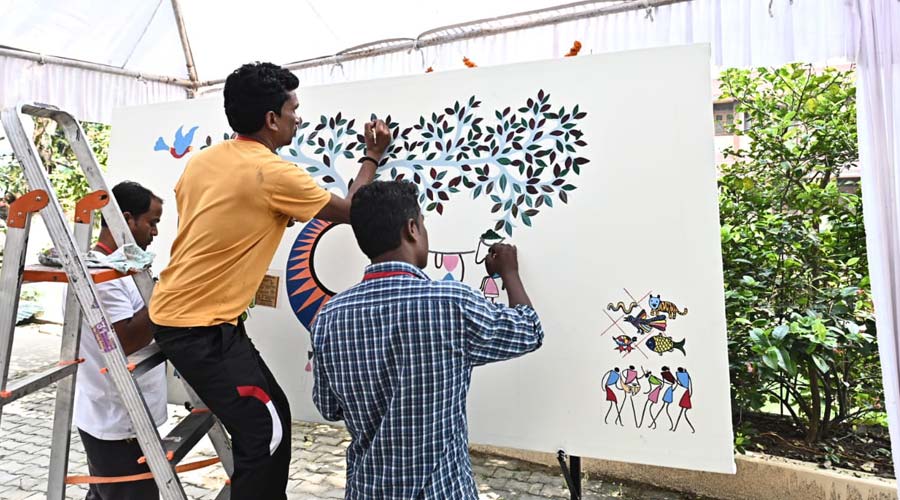 Tribal artists at work during Artisans' Residency at Vikas Bharti in Jamshedpur on Thursday.
Animesh Sengupta
---
Jamshedpur
|
Published 19.11.21, 06:30 PM
|
---
Artists from tribal communities are bringing to life seven canvases depicting the adivasi way of India at the ongoing tribal conclave Samvaad 2021.
The artists represent various tribes from states including Maharashtra, Madhya Pradesh, Odisha, Telangana, Jharkhand, Ladakh, Gujarat among others. Tribes from Oraon, Juang, Gond, Warli among other communities are taking part in the first-ever Artisans' Residency (one of the programmes of Samvaad) underway at Vikas Bharti in Sundarnagar locality of Jamshedpur. The camp will continue till November 22.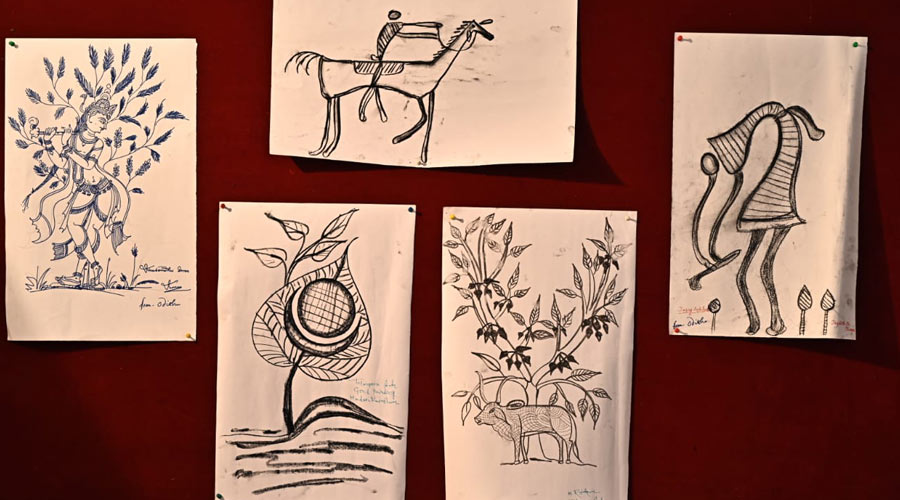 Twenty five tribal artists from across the country are bringing canvases alive. As part of the Artisans' Residency, they have to paint 7 canvases, which will be an amalgamation of 12 tribal art forms. The event marks the making of these unique pieces but an opportunity to interact with the artists and collaborate to explore opportunities for providing a platform to these artists and their art forms.
The artisans through their individual group work mainly portray the role of nature in their lives and how its preservation is vital for a sustainable future.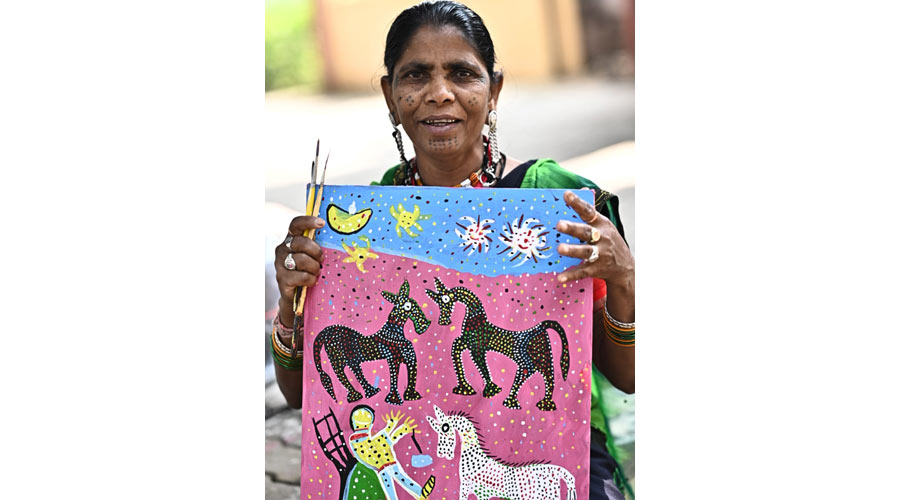 Lado Bai, an artist representing the Bhil tribe from Madhya Pradesh, explained that the community does ritualistic murals of God Pithora. "I have been doing this art since my childhood and was inspired by the stories told to me by the elders, and this made me believe that God will be pleased by this art. Each painting has some stories to tell," she said.
For Lado, it wasn't a smooth journey. She started working as a labourer at the age of 12. Her life turned when she was discovered by the famous Indian artist Jagdish Swaminathan, who encouraged her to work for the Adivasi Lok Kala Academy where she had the opportunity to do images of festivals, rituals and animals from wall to paper. Her work has been showcased in various exhibitions in India, France and the UK and has also received many awards.
"I am very excited that Samvaad gave me the opportunity to collaborate with other tribal communities where we all will create a new artwork by representing a part of our art form on a canvas that will blend with various arts. This will be a different art in itself," she said.
Famous artist couple Subhas Vyam and Durga Bai Vyam interacted with the artists and discussed various avenues for tribal art.