Rogue e-rickshaws clog capital artery
Only 300 e-rickshaws had been given the permit to operate on 28 routes. Instead, over 6,000 e-rickshaws ply on different routes daily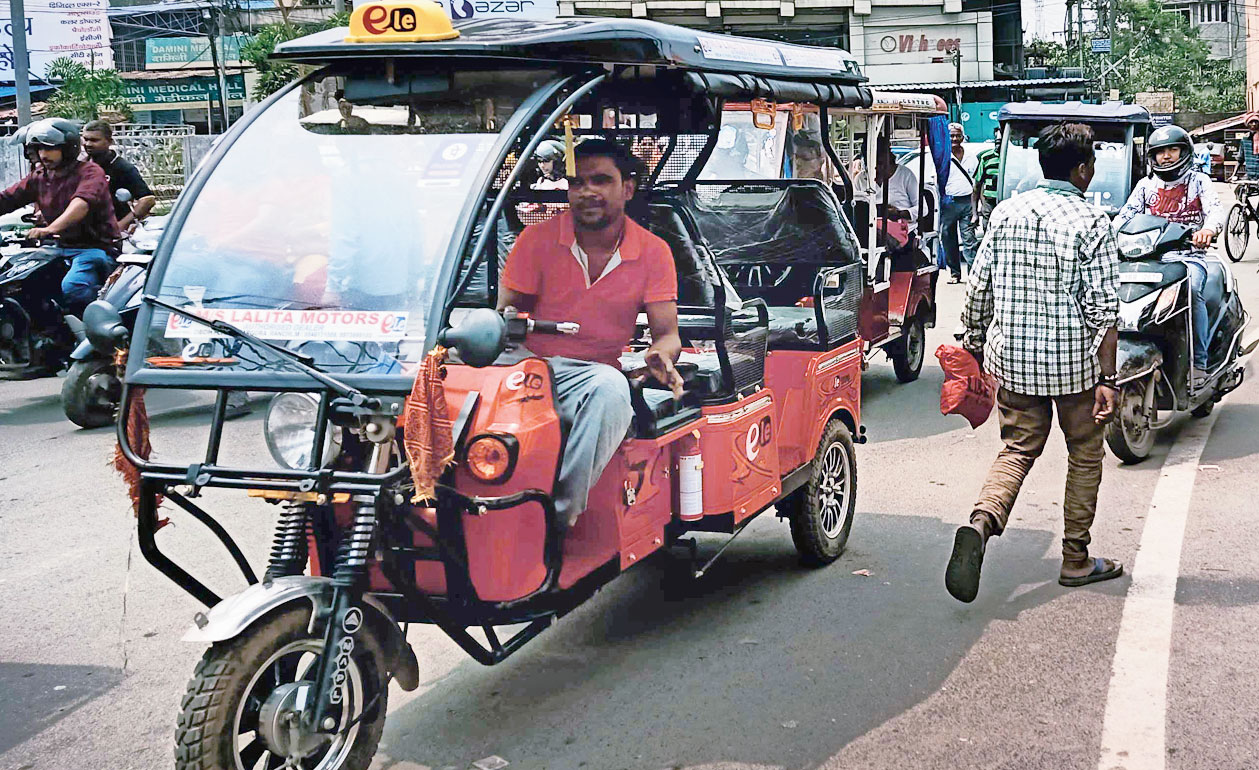 An e-rickshaw at Albert Ekka Chowk in Ranchi on Thursday.
Picture by Manob Chowdhary
---
Ranchi/Jamshedpur
|
Published 06.06.19, 06:42 PM
|
---
Erratic parking by unlicensed e-rickshaws on the 3km stretch of Main Road is not only causing traffic congestion, but also leading to losses for traders in the state capital.
"I was going to Ranchi station to receive my daughter on yesterday (Wednesday) evening," said Santosh Mishra, an advocate and a resident of Vishnu Talkies Lane in Upper Bazar. "Usually, it takes around 10 minutes for me to get to the station from the Sainik Market area, but I was stuck in a traffic snarl for over 20 minutes between Sainik Market and Sujata Chowk, mostly because of unruly parking by unlicensed e-rickshaws. Needless to say, I reached the station late," According to Ranchi Municipal Corporation (RMC) records, only 60 e-rickshaws have received the route pass to operate between Albert Ekka Chowk and Rajendra Chowk on Main Road.
However, for the major part of the day, one can see more than 300 e-rickshaws operating on the stretch, which is considered one of the busiest commercial hubs of the capital, triggering snarls on almost all the important roundabouts such as Sarjana Chowk, Kutchery Chowk and Shahid Chowk.
"The e-rickshaws that try to negotiate their way through the congestion often end up scratching the cars," said Deepak Maroo, president, of Federation of Jharkhand Chamber of Commerce and Industries (FJCCI). "At times, school children and even ambulances get stuck in the traffic jam. Business establishments also incur losses owing to a decline in footfall as people want to avoid congested roads. The authorities should find a permanent solution to this menace instead of levying fines once in a while."
RMC city manager Saurabh Verma, who looks after the enforcement wing and transportation, claimed they were doing their best to streamline traffic on Main Road despite manpower crunch.
"We have manpower constraints, but still conduct frequent drives against unlicensed e-rickshaws on Main Road by levying fines ranging between Rs 3,000 and Rs 20,000," the RMC official said.
Sources said only 300 e-rickshaws had been given the permit to operate on 28 routes. Instead, over 6,000 e-rickshaws ply on different routes daily.
Ranchi traffic SP Ajit Peter Dungdung said they had also been carrying out drives against e-rickshaws.
However, the president of Ranchi zilla e-rickshaw chalak union (an outfit of e-rickshaw operators), Dinesh Soni, said the authorities should demarcate proper parking spaces for e-rickshaws to prevent snarls.
"We are not against a drive on illegal e-rickshaws, but those having valid route passes should be allotted proper parking space to prevent them from parking on roads and causing congestion," Soni said.