Robots rule BIT-Sindri fest
Over 500 students take part in three-day event in Sindri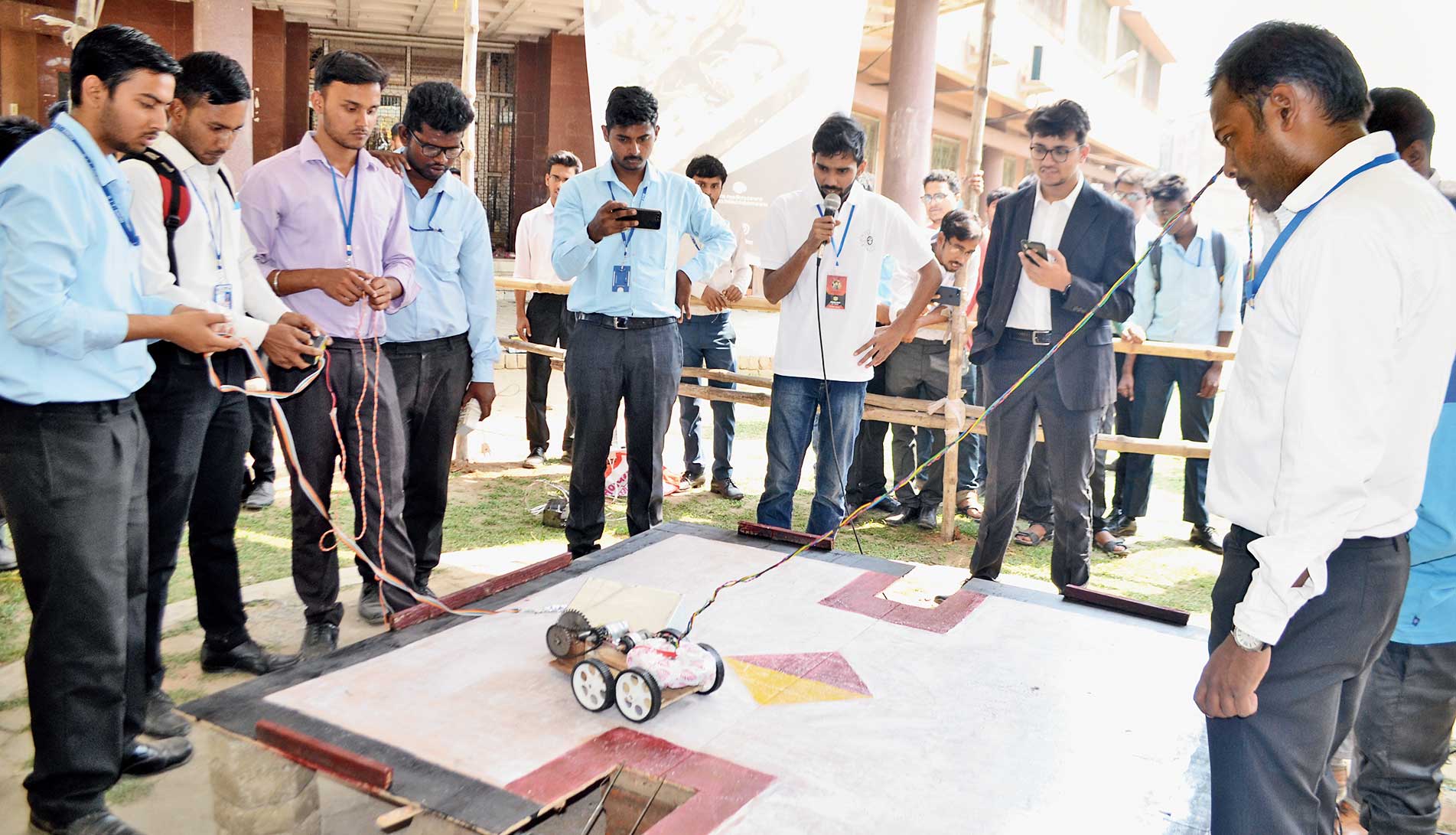 ---
|
Dhanbad
|
Published 17.03.19, 06:50 PM
---
It was a battle of robots as over 500 techies from BIT-Sindri and other engineering colleges like IIT(ISM), BIT-Mesra, IIT-Kharagpur, NIT-Patna, NIT-Jamshedpur and Asansol Engineering College took part in an array of events during the three-day technical fest of BIT-Sindri, which kicked off at Rajendra Prasad Auditorium here on Sunday.
Organised by four prominent clubs of the college — Institute of Electronics and Telecommunication Engineers, Indian Society for Technical Education, Model Club and Developing Club — the fest was inaugurated by director of technical (operations) of BCCL Rakesh Kumar in the presence of BIT-Sindri director D.K. Singh and others.
While addressing the students Rakesh Kumar stressed on the physical, mental and spiritual health of students. "Being physically fit helps you to execute a lot of activities while being mentally fit helps you to make the right decision. Spiritual fitness is required to take the right decision at the right time, which is crucial to achieve success," said Kumar, who is also a 1985 batch passout of BIT-Sindri.
On the first day competitions based on robotics like Dead or Alive, Kurukshetra and Carom Boat were held. In Dead or Alive students in 20 groups displayed all-terrain robots and made them cross hurdles like bridges, sand or greasy surface to reach a particular destination in the given area.
Similarly in Kurukshetra , robotic boats, made by around 65 groups of students, attacked one another in a given area. In Carom Boat, the robots, made by around 50 groups of students, were made to play carom.
In another event 25 groups of students presented their start-up ideas in front of BIT-Sindri teachers at the IT building.
Other competitions like Mr and Ms Engineer will be held on Monday.
Second rounds of all the events will also be held on the second day. The prize distribution ceremony will be held on the concluding day.