RIMS to check rapid test kits after high number of false positives
Over 100 people who tested positive for Covid on RAT found to be negative on RT PCR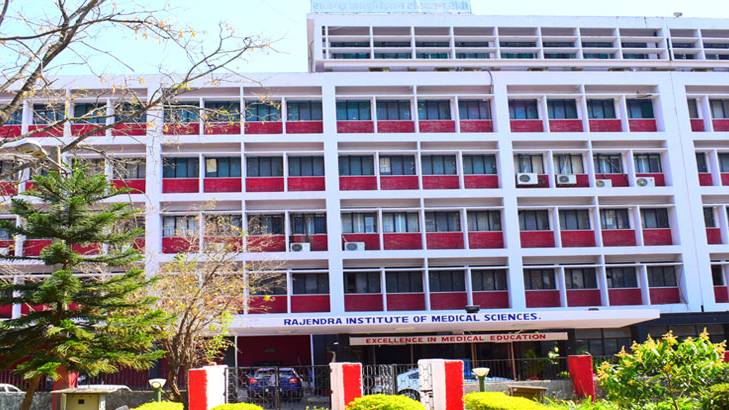 Rajendra Institute of Medical Sciences, Ranchi
File Picture
---
Ranchi
|
Published 27.10.21, 06:33 PM
|
---
An expert committee at Rajendra Institute of Medical Sciences (RIMS) will examine Rapid Antigen Test kits distributed among healthcare workers in Ranchi following complaints of faulty test results, officials said on Wednesday.
The Ranchi district administration wrote to the National Health Mission (NHM) to examine the RAT kits provided to the district after more than 100 passengers tested positive at railway stations and bus stands in the past one week, but were found to be Covid negative in confirmatory RT PCR tests conducted on the same day, officials said.
As per records shared by Ranchi Civil Surgeon Dr Vinod Kumar, of the 3471 people tested through RAT on October 22, at least 59 were found to be Covid positive. However, all these 59 people tested negative for Covid-19 in confirmatory RT PCR tests conducted later. Similarly, on October 23, of the 2,759 samples tested through RAT, 71 were found infected by coronavirus, but none of these 71 samples tested Covid positive in RT PCR test.
"An expert committee at RIMS will examine the RAT kits to check if there was something wrong with them," said NHM Director Bhuvnesh Pratap Singh.
The decision of getting the RAT kits examined by an expert committee, comprising doctors and researchers, was taken by Additional Chief Secretary (Health) Arun Kumar Singh after the Ranchi district administration wrote to the NHM twice, highlighting possible faults in the test kits.
Ranchi sub divisional officer Deepak Dubey said that getting such a high number of positive results on rapid tests of samples that eventually tested negative in RT PCR was a concern.
However, a doctor at RIMS said that rapid antigen tests were usually more sensitive than RT PCR, and the high positivity rate could be attributed to the fact that many people had some level of antigen in their body, either due to exposure to the virus or vaccination.
As per the standard operating procedure, passengers arriving at railway stations, bus stands and the airport in Ranchi are tested through Rapid Antigen Test as well as RT PCR if they do not produce a negative result of RT PCR test conducted within 72 hours prior to their journey.
While rapid test results are out in 10 to 15 minutes, RT PCR test results usually arrive after several hours. The passengers who test positive in rapid tests are secluded from other passengers and kept in isolation until their RT PCR tests arrive, sources said.